About Sobha Hartland Mohammed Bin Rashid Al Maktoum City
Unit Details :
Area for apartments on request

Studio

1 Bedroom

2 bedroom

3 bedroom

Duplexes



4 Bedrooms Villa
Area : 6259 Sq.ft To 6856 Sq. ft.

5 Bedrooms Villa
Area : 8416 Sq. ft To 9678 Sq. ft.

6 Bedrooms Villa
Area : 9800 Sq.ft To 17000 Sq.ft

For hartland price, size, location, booking and other details, kindly call +91 9820 575 619
About Project
Hartland in MBR City, Dubai is literally a dream come true. This is your home in the best location in one of dearest cities of the world - Dubai.

When you buy an abode in Sobha Hartland, it is not just a piece of real estate. In fact it is a treasure that generations can cherish and enjoy. A fine blend of modernity, architecture, design, technology and aesthetics - Sobha Hartland is your dream home in Dubai.

It has all the makings of a classic. Hartland is centrally located within Mohammed Bin Rashid Al Maktoum City. It is cozy yet spacious, homely yet contemporary, stylish yet warm and aboce all it gives you the perfect sense of peace and tranquility.


As you browse through the details of Hartland at this moment (September 2015) , this exclusive community in Dubai consisting of Fab Villas, modern apartments, fantastci duplexes is being constructed for you to behold and enjoy in the coming months and thereafter for many decades.


Apartment options in Sobha Hartland


Find your own cozy apartment right from a Studio, 1 Bedroom, 2 bedroom, 3 bedroom and duplexes in Sobha Hartland in Mohammed Bin Rashid Al Maktoum City. Referred to as the Hartland Garden Apartments, these modern and contemporary buildings have 8 beautifully laid out floors and overlook the awesome green locales of this magnificent project in Dubai.

A plethora of luxury options in Sobha Hartland - MBR City - Dubai


Hartland Villas

Four Bedroom Villa - your dream come true
Five Bedroom - beyond your dreams
Six Bedroom 'Signature Residences' - simply out of this world

Pick your cozy dream abode from the Hartland Garden Apartment:


At Sobha Hartland Dubai you are seriously spoilt for choice:


Studio
One Bedroom
Two Bedroom
Three Bedroom
Two Bedroom Duplex
Three Bedroom Duplex
G+20 Apartments
G+48 Apartments

A few Advantages of living in Sobha Hartland, MBR City


You get a great Community Living
One of the best International Schools in Dubai
The best Health Clinics in the vicinity
A natural lush neighborhood of 183 acres, with more than 30% Open Space
One of the best club houses in the World
Effective & Modern Security
A mix of commercial including Luxury Offices & Serviced Apartments, Hotel & Spa.

Very close to Burj Khalifa, Dubai Mall



Only Six Kms from DIFC



A mere Seven minutes drive to Dubai Airport

---
Specifications
* Concealed Plumbing
* Fire Fight Equipments
* Anti Skid Flooring in Bathrooms
* Concealed Wiring
* Modular Kitchen

* Private Swimming Pool
* Clubhouse
* Kids Play Area
* Ample Private Parking Space
* 24 Hrs CCTV Surveillance
* 24 Hours Security
* Housekeeping Services

---
Commonly Asked Questions about Sobha Hartland
Where is Sobha Hartland Exactly located?

Sobha Hartland is located at Dubai Al Ain Road, MBR City, Dubai.
What are unit options available in Sobha Hartland?

Sobha Hartland MBR City offers Studio, 1 BR, 2 BR, 3 BR, Duplexes, Villas of 4 BR, 5 BR & 6 BR.
What is the starting price of Independent House/Villas/Bungalows in Sobha Hartland?

Pricing starts from AED 2041/- Per sq ft (indicative).
What are the nearest landmarks?

Besides Sobha Hartland you'll find key landmarks such as Dubai Mall.
---
About Dubai
Real estate in Dubai Dubai real estate is one of the most enigmatic and attractive property stories in the whole world today. Some of the best luxury properties in Dubai are indeed some of the most luxurious properties on planet earth. There are many prime locations in Dubai to invest in properties and that includes low budget properties in Dubai as well some of the most expensive real estate that you could think of. As a location and as a global world city Dubai has prospered and blossomed int... Read more
Sobha Hartland Mohammed Bin Rashid Al Maktoum City Location Map
Address : Dubai Al Ain Road, MBR City, Dubai
---
Resale Flats / Investor Flats
About Builder - Sobha Developers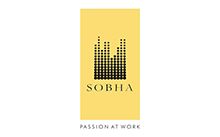 Sobha Developers Ltd, a Rs. 15 billion company, is one of the largest and only backward integrated real estate players in the country. With three decades of experience in creating resplendent interiors of palaces and masterpieces in the Middle-East, Mr. PNC Menon founded Sobha Developers in 1995 with a clear vision to transform the way people perceive quality in the real estate sector in India. Since inception the company has always strived for... View more
---
Tell more about Sobha Hartland Mohammed Bin Rashid Al Maktoum City
Add a Review