Benefits of buying
Balinese Residences
When you buy a Home at Balinese Residences, you get access to World-Class amenities, hotel, restaurants and The Blu. These homes come with Fixtures from leading international brands inside your home. Apart from these, The Balinese Residences also come with the unique facility of having a spa inside your very home. A whole body massage lounger, an aromatic diffuser, a face steamer, a feet cleanser, as well as a 3-fixture shower panel which includes rain shower, mid body shower and hand shower. In short, everything essential to enjoying a spa treatment at home. So you never have to step out to relax, as your home is equipped to help you unwind. All you need to do is take a deep breath and enjoy life
---
About Balinese Residences
| | |
| --- | --- |
| Address | Zuari Nagar, Chicalim, South Goa |
| Status | New Launch - Possession Around October 2023 |
| Type | Spa Condo, Spa Suite, Royal Spa Suite, Presidential Spa Suite |
| Area | 350 Sq.ft To 970 Sq.ft |
| MAHA Rera No. | PRGO09180612 |
---
Configurations
| Unit Typology (BHK) | Carpet Area |
| --- | --- |
| Spa Condo | 350 sq. ft. |
| Spa Suite | 510 sq. ft. |
| Royal Spa Suite | 735 sq. ft. |
| Presidential Spa Suite | 970 sq. ft. |
---
Amenities
Multiple Pools
Sunken Bar
Jacuzzi
Aqua Slides
Snorkeling Zone
Lazy River
Aqua Gym
Signature Drenching Fountain
Clubhouse
Poolside Restaurant
Private Cabana
Decks around The Blu
---
Five Fixture Home Spa in Balinese Spa Residences @ Adora De Goa
Hydro Bath Panel

Shower massage is known for relaxing muscles, lowering blood pressure and improve circulation. When pressure is pushing in from all sides, all it takes is a few minutes of hydro massage to help you relax the tense muscles and rejuvenate the body. This simple addition to your bathroom will transform the act of showering from a necessary hygienic ritual into a daily spa treatment right in your holiday home. The single vertical wall mounted Bath panel from a reputed manufacturer shall consist of

Rain Shower Head
Body Jets
Hand shower with Flexible Hose

Massage Lounger

Introducing electro-mechanical massage lounger can provide you an ideal neck to feet massage within the comforts of your home and help you recover from everyday fatigue. The electro-mechanical massager chair from a reputed manufacturer have pressure-point detection to scan and locates strategic body points precisely.

Portable Aroma Diffuser

The home spa at Balinese Spa Residences is designed to stimulate both your sense of touch & sense of smell. The portable Aroma Diffuser in your home will make you feel at peace and calm with a choice of fragrances that you desire. Just turn this on and enjoy a Spa like atmosphere in your home.

Portable Face Steamer

The Portable Facial Steamer provides soothing steam, which opens the pores and helps to eliminate dirt, bacteria and residual makeup after a long day at the beach. The self-help device can now give you a near-parlour like experience right within the four walls of your home sweet home.

Portable Pedi Care

Nothing like a soothing foot pedicure at the end of a long day at a goan beach. Your Balinese Spa Residence now comes with a Portable Pedicure device that can take care of your feet and rejuvenate your tired soles. Soak your feet and enjoy some bliss.
---
---
Location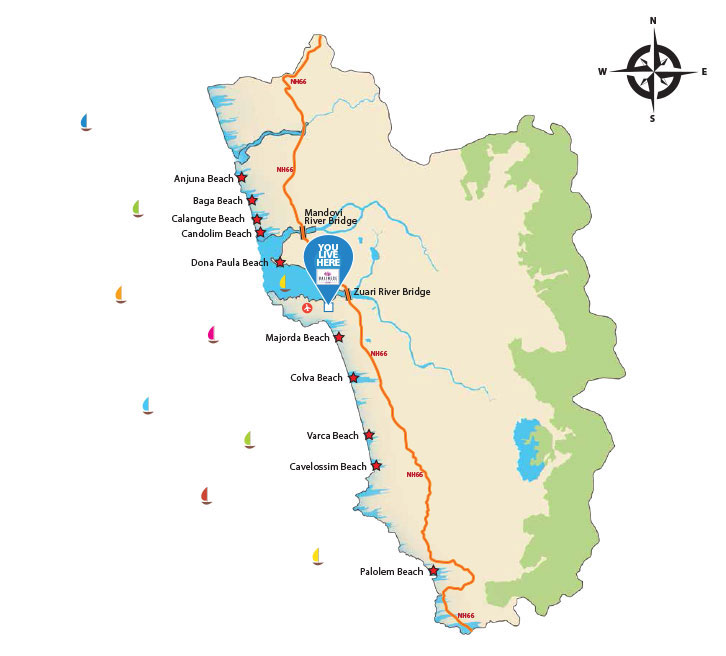 From Goa Dabolim Airport – 4Kms – Approx travel time 8 mins.
From Zuari Main Road – 0.6 Kms – Approx travel time 4 mins.
From Vasco Da Gama – 4.0 Kms – Approx travel time 12 mins.
From Panjim – 25 Kms – Approx travel time 40 mins.
75% OPEN AREA – with 4 acre Central Greens
5 Kms from Bogmallo beach
Schools: Naval Public School – 2 Kms
Vidya Mandir School – 3 Kms
Regina Mundi School – 3 Kms
Colleges: MES College – 1.5 Kms
BITS College – 2 Kms
SMRC Hospital – 2.5 Kms
Chicalim Cottage Hospital – 3 Kms
Pai Nursing Homes – 3.5 Kms
---
---
Contact Us
Get an Amazing Deal in Balinese Residences, Goa.
Disclaimer & privacy policy
This website is meant for information purpose only. It should not be considered / assumed as an official site. This website is owned by an authorized channel partner of Provident Housing Limited.
This website is only for the purpose of providing information regarding real estate projects in different regions. By accessing this website, the viewer confirms that the information including brochures and marketing collaterals on this website is solely for informational purposes and the viewer has not relied on this information for making any booking/purchase in any project of the company. Nothing on this website constitutes advertising, marketing, booking, selling or an offer for sale, or invitation to purchase a unit in any project by the company. The company is not liable for any consequence of any action taken by the viewer relying on such material/ information on this website.Please also note that the company has not verified the information and the compliances of the projects. Further, the company has not checked the RERA(Real Estate Regulation Act 2016) registration status of the real estate projects listed herein. The company does not make any representation in regards to the compliances done against these projects. You should make yourself aware about the RERA registration status of the listed real estate projects before purchasing property.

Privacy Policy
In our endeavor and commitment of protecting your personal information, we have designed this comprehensive privacy policy. This is to keep your interests and information safe on our website.

Updation of privacy policy
This privacy policy is subject to undergo change and review without any prior notice or approval. So to keep yourself updated on the changes introduced, please keep visiting and reviewing the terms and conditions of this privacy policy.

User information
By using our website, you agree to abide by the rules laid out by us and consent to collection and use of all such information that you may furnish to, or through, our website. In some cases, while you visit our website, you may not need to provide any personal information. But in certain instances, we must have your personal information in order for us to grant you access to some of the links or sites. Such links/ pages may ask for your name, e-mail address, phone number etc. The information furnished by you is used to provide relevant products and services and to acknowledge receipt of your communication or to send out information and updates to you. You have option of requesting removal from our mailing list. We do not give away your personal information to any third party.

Security
To ensure security while transferring sensitive information, all the ongoing transmissions between client and server are encrypted using advanced and standard protocols. We also practice restricted access by employees and hold them to high levels of confidentiality. Use of cookies We may use cookies for security, session continuity, and customization purposes. In case of a user opting to reject a cookie, he/ she may not be able to gain access to some of the limited services or use some features of the site.
View