About Builder - Vijay Group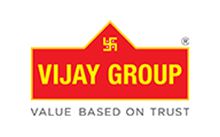 Vijay Group, a brand name signifying good quality, exceptional service, price worthiness and superior value today stands poised as a leading business group and a trusted name in housing. Moreover, the timely completion of projects has entitled us to automatic approval from the leading financial institutions of India.
The business activity started over a decade and a half ago has earned Vijay Group an impeccable market reputation, earned through the philosophy to forge ahead to heights of recognition, assuring quality all the time. With its unwavering commitment to satisfying the new home buyer, the Group lives up to its motto "Value based on Trust".
Focused on the development and management of upscale apartment communities for a wide spectrum of buyers, the group has built more than 3 million sq.ft in Thane, itself. The thoughtfully designed premium residential complexes fulfill the needs and dreams of our customers. The complexes built with superior materials, well-planned sites and modern amenities dotes the skyline of Thane - the city of lakes.
Our best source for new business comes via referrals from our customers - homeowners as well as realtors who have worked with us in the past.
Experience the best possible home building and home buying experience with Vijay Group.
Vijay Group - Builder Properties
Displaying 1 - 18 of 25 total results