About Builder - Supreme Universal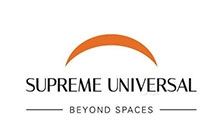 Recognized for upscale designs in the very best locations and acknowledged as an organization, which is committed to customer satisfaction, Supreme Universal believes in building excellence that nurtures quality in all it undertakes, creating innovative projects that deliver value to our prestiged clients.

Obsessed with utmost luxury and lifestyle since 1982, it has been a core value of the organization to set the highest standards of quality in the industry. The young and talented directors at Supreme Universal are the ones who along with the founders are responsible for growing the company by many folds in the recent past.

Responsible for developing some of the most luxurious and sought after residential properties in Mumbai, the organization took its operations to Pune in early 2000 and developed commercial as well as residential projects, which have been a great hit with the young IT generation.
Supreme Universal - Builder Properties
Displaying 1 - 18 of 29 total results