About Builder - Radius project Developers LLP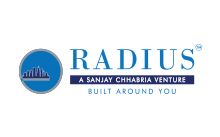 A whole new world. A whole new Radius.

Spearheaded by Sanjay Chhabria as its Managing Director, Radius is a modern take on Mumbai's real estate. Team Radius is a blend of professional flair and entrepreneurial passion. Sanjay is a renowned and respected member of Mumbai's real estate fraternity and Radius is his independent foray into real estate.

Radius is an amalgamation of integrity, transparency and an ability to deliver challenging projects on time. Radius is an outcome of the succession plan at the Wadhwa Group where Sanjay led the business as a Managing Director for over a decade. With founding principles imbibed from the Wadhwa Group we endeavour to hoist this value-legacy even higher with exquisite designs, latest technology and earnest ambition. Above all, everything that we do will be built around all our stakeholders.

Each development by Radius is an affirmation of its dedication. We bring to life unique concepts in urban real estate which remain faithful to the philosophy of 'Built around you'.
Radius project Developers LLP - Builder Properties
Displaying 1 - 15 of 15 total results