About Builder - Pranav Constructions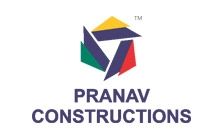 Pranav Constructions is one of the premiere construction company, engaged in the construction of Housing Projects. Company has a track record of successfully executing several construction projects on time. Pranav Constructions has a unique business model, with proven expertise in innovative thinking, project and cost management. We are focused on delivering high quality work within budgeted time and costs, as evident in the various accolades and repeat business. We know the blueprint for the successful execution of a project is as important as the blueprint for the project itself. That's why we develop accurate pre-construction budgets, as well as efficient and cost-saving construction methods.

Since start, Pranav Constructions has attained its name as a builder of landmark. Our success is grounded within the company's dedication to the success of its buyers and its individuals.
Pranav Constructions - Builder Properties
Displaying 1 - 5 of 5 total results