About Builder - Paradise Group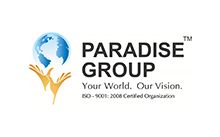 At Paradise Group, we are powered by a single-minded drive to be the best at serving you the very best. We are continuously reinventing ourselves so we can craft lifestyle solutions with the perfect balance of high-tech engineering, spatial elegance and practicality.
As part of our innovation mission Paradise Group's logo design has changed but our commitment to you remains the same. Our new logo is a symbol of our determination to progress towards our vision, to create a world of comfort and joy you love to come home.
Paradise Group - Builder Properties
Displaying 1 - 16 of 16 total results