About Builder - Mittal Builders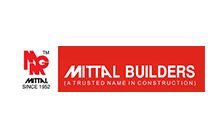 Mittal Builders are the most innovative provider of real estate services in India. Our deep commitment to community, our reputation of integrity and trust, our visionary culture makes us the real estate company of choice.
Having developed over 50 million square feet in more than 2000 buildings, the Mittal Builders have premium value associated with their name. Many of our buildings stand as landmarks in their own right. Blessed with incredible heritage & legacy, Mittal Builders are committed to continue developing Indian landmarks.
Anyone who buys into a Mittal Project is guaranteed of a quality product that will last generations.
Mittal Builders - Builder Properties
Displaying 1 - 18 of 29 total results