About Builder - Mahindra Lifespaces
---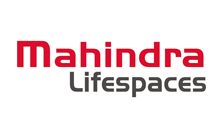 Mahindra Lifespaces Inspired Creations Service that makes a difference for healthy living. This is our motto. Mahindra Lifespaces live in not only building mere housed but we create homes for healthy and satisfying living experience. Through a process of co-creation with customers, Mahindra Lifespaces create spaces that add a sense of security and luxury to your everyday life. Mahindra Lifespaces ethical and transparent dealing coupled with unparalleled service make the overall home buying process a joyful, satisfying and hassle-free experience. Today, Mahindra Lifespaces has become synonymous with high quality, affordable accommodation and has earned first place amongst the fastest growing construction companies in India. Mahindra Lifespaces has undergone transformation and changed from Mahindra Gesco Developers Ltd. to Mahindra lifespace Developers ltd. the new Mahindra lifespace logo called the flowers of life is thoughtfully designed and exemplifies the spirit behind the companys creations. The name Lifespaces is tucked into the flowers of life and is comforted, cosseted and nurtured by it. And when they come together they stand for the very essence of life.
Mahindra Lifespaces - Builder Properties
Displaying 1 - 18 of 28 total results
Subscribe Now
Join 99sqft.com's free real estate blog & never miss a thing on real estate - ever.