About Builder - Dheeraj Realty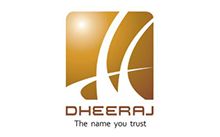 Dheeraj Group, Dheeraj Realty is one of the leading Mumbai-based business groups with diversified interests in Real Estate Development, Housing Finance, Retailing and Hospitality. Established in 1978, the Dheeraj Group, Dheeraj Realty is a renowned real estate developer with an array of world-class projects in its portfolio in several cities across India including the commercial capital of the country, Mumbai. It is reputed for across-the board expertise in real estate development and has developed over 100 residential, commercial and industrial buildings in the City itself.
Dheeraj Constructions is all of the strength of the Dheeraj name you've always looked up to in the past. Plus the international exposure the company has gained in the last few years in one of the most developed real estate markets - Dubai. So really, nothing has changed. Over the years,Dheeraj Group, Dheeraj Realty have merely evolved and added to all our strengths to meet your needs better.
Dheeraj Realty - Builder Properties
Displaying 1 - 10 of 10 total results