About Builder - Ahuja Constructions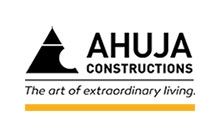 Ahuja Construction, a division of the Ahuja Group, is an established construction house. As a part of the construction industry we believe our work begins with the physical building of apartments and ends with the creation of stunning homes. Homes that people come back to at the end of long and hard days.
We are into greenfield ,society redevelopment, joint venture,as well as SRA development catering to luxury ,superluxury segment and MIG SEGMENT

Till now , ahuja groups have developed 43 projects amounting to as big as 2.53 million sq ft and around 2,760 units spanning the belts of Bandra to Borivali, Chembur to Mulund and Navi Mumbai.
Ahuja Constructions - Builder Properties
Displaying 1 - 18 of 40 total results