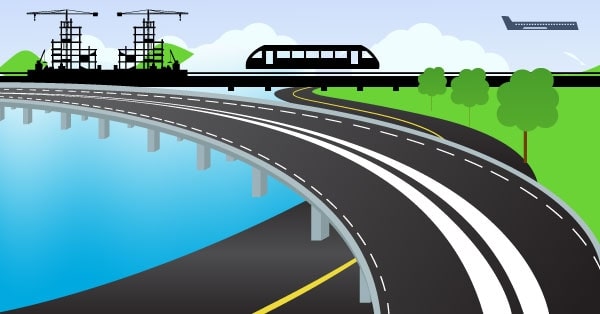 After the epidemic, Panvel has shown signs of making a comeback as a desirable option for homeowners in the housing market.

Panvel has been able to keep its stability with the assistance of the infra wave. On the one hand, the neighbourhood is home to many of the most important real estate projects that Navi Mumbai has to offer.

There are still many regions of the world that have not been fully explored.

Panvel's closeness to the Navi Mumbai International Airport (NMIA) has attracted buyers and developers from all over the country, although investors have been deterred from the area due of the slow pace of building. According to Rajat Prakash, an expert in the field of real estate consulting, "Panvel will never lose its significance as a place to invest since there are different advantages of acquiring a property here." Simply the construction of the airport will be enough to catapult the city's economic growth to new heights.

Because of this, there has already been an increase in the cost of real estate in Panvel.

Shedung and Thombrewadi are relatively new players in the real estate industry. Together, they provide a diverse selection of housing options, ranging from opulent mansions to more affordable homes or accommodation at a reduced cost. However, there is an opportunity for those who are interested in purchasing a luxury house but do not want to overextend their financial resources to do so.

According to one of the leading real estate developers in Panvel, an additional advantage for homeowners is the availability of affordable alternatives to luxury homes with spacious floor plans, which allows them to capitalise on the thriving housing market. A number of reputable real estate developers have recently joined the Panvel market in order to accommodate the growing demand for residential real estate in the area.

The fact that Navi Mumbai is one of the largest planned towns in the world gives it a number of advantages, including a solid municipal infrastructure and proximity to many of Mumbai's most significant neighbourhoods.

According to Sarital Dalal, 29, a professional home aspirant, "I lost my job following the closure and I finally acquired one six months ago." My current objective is to track down a home in Panvel that is both affordable and has at least two bedrooms and two bathrooms, and I feel that this location would be most suited for my family. As a result of the outbreak, my family and I made the decision to buy a property in Panvel. This house has wonderful facilities, such as a constant supply of water and electricity as well as ample room for my children to study.

Thombrewadi, Shedung, Bhokarpad, and Palaspe Phat are the new residential neighbourhoods that have been developed in Panvel.

When compared to other areas, Panvel's planned growth and connections give it a significant advantage.

The Mumbai-Pune Expressway is connected to the Panvel-Sion Highway, which means that those living along the Panvel-Sion Highway may take use of the Mumbai-Pune Expressway. The Mumbai-Pune Expressway can be reached from the Panvel railway station in about 14 minutes.

The Mumbai-Trans Harbour Connect (MTHL), which is currently under construction, is intended to link Chirle in Navi Mumbai with the centre of Mumbai. This would reduce the amount of time it takes to drive to Fort by forty minutes (Sewri). The distance from Panvel to MTHL is anywhere between six and 10 kilometres.

There has been a one percent increase in the cost of living in Panvel as compared to the prior year. As a consequence of this, investing in real estate in Panvel is something that can be done even in the face of rising prices.

In addition, a large number of new complexes are now under construction in Panvel. These developments are being constructed not just by businesses with headquarters in Pune and Mumbai but also by some of the most prominent real estate developers in Navi Mumbai. As a direct consequence of this, prospective homebuyers in the Panvel region have a great deal of leeway in terms of their choices.
---
--- ---
---