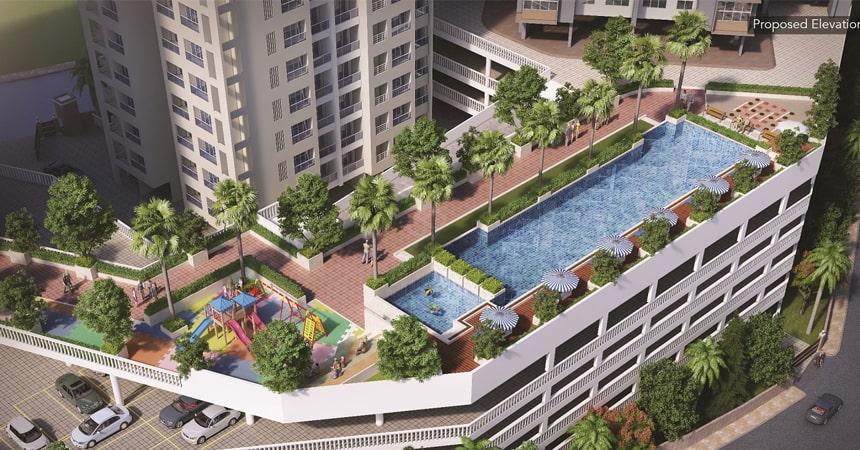 After the recent events of delayed real estate projects, the advantage of a ready possession flat in Goregaon west cannot be stressed upon more. Since the unfortunate episodes of the massive delay in the possession of some major residential projects in Siddharth Nagar, SV road - many potential buyers in new projects in Goregaon west are now insisting on buying a ready possession property in Goregaon west like Anmol Wadhwa Fortune.

There are a lot of buyers for Goregaon west properties and there is a lot of supply in the under construction segment in Goregaon west. However many buyers prefer peace of mind instead of discounts. By buying a ready possession flat in Goregaon west, the new home buyer actually ends up paying a slight premium in terms of the total cost of the apartment.

Wadhwa Anmol Fortune is a new construction but a ready to move in project in Goregaon west, Unnat Nagar near the SV road. Wadhwa Anmol Fortune plans are extremely smart and efficient. Many people from Goregaon west have booked in Wadhwa Anmol Fortune because they are upgrading from a smaller apartment in Goregaon west to a larger flat in Goregaon west.

The Wadhwa Anmol Fortune review by most of the home buyers who have moved in here has been very positive indeed as the property developer has developed it very professionally. Most of the buyers who prefer lock and key flat in Goregaon west mostly make up their minds to book in Wadhwa Anmol Fortune the moment they see the Anmol fortune sample flat as it gives them a proper idea of the final lay out, look and feel and utility of the flat that they wish to buy in Anmol Fortune.

The Anmol fortune c wing is ready to move with OC and naturally it has got a lot of inquiries for bookings. Another major reason that buyers prefer to buy ready possession flats in Anmol Fortune is that they can save on the GST cost. Ready possession flats with OC do not attract any GST charges and that also becomes a deciding factor when anyone is booking a new flat.

The F wing in Anmol Fortune also has ready possession flats with OC and therefore it also attracts a lot of home buyers.

Also referred to as Crown Residences, Wadhwa Anmol Fortune Goregaon west is now the only branded gated community residential project in Goregaon west that is ready for possession. Hence the demand for flats in Anmol fortune is extremely high.

Developed by the Wadhwa Group, The Anmol Fortune 2.5 bhk, The Wadhwa Anmol fortune 3 bhk as well as the Jodi flats for sale in Anmol Fortune along with the 3.5 BHK flats for sale and the 2 BHK flats for sale are extremely popular among property buyers in Goregaon west area.

As many updated buyers prefer a good branded residential project with amenities and facilities in Goregaon west, they prefer to buy in Anmol Fortune. As mentioned before the fact that Wadhwa Anmol Fortune is a ready to move in new project and also that many home buyers in Goregaon west prefer to avoid the extreme agony of waiting endlessly for receiving possession of their under construction projects in Goregaon west - the demand for this brand new residential project in Unnat Nagar Goregaon west is very high.

There is a constant rush for bookings and sites visits to Wadhwa Anmol Fortune with some of the best real estate agents in Goregaon west promoting Anmol Fortune aggressively to their clients.

The digital real estate marketing for Wadhwa Anmol Fortune is also happening very consistently across multiple portals like 99sqft, 99acres, magicbricks, etc. Real estate marketing for Anmol Fortune is also done through active real estate channel partners in Goregaon west and also through news paper ads, etc.

All in all Anmol Fortune which has been developed and constructed by The Wadhwa Group is definitely the most preferred ready to move in or lock and key project in Goregaon west and the year 2020 might see all the Flats for sale in Anmol Fortune being bought by ready possession flat seekers in Goregaon west location.
---
---
--- ---
---