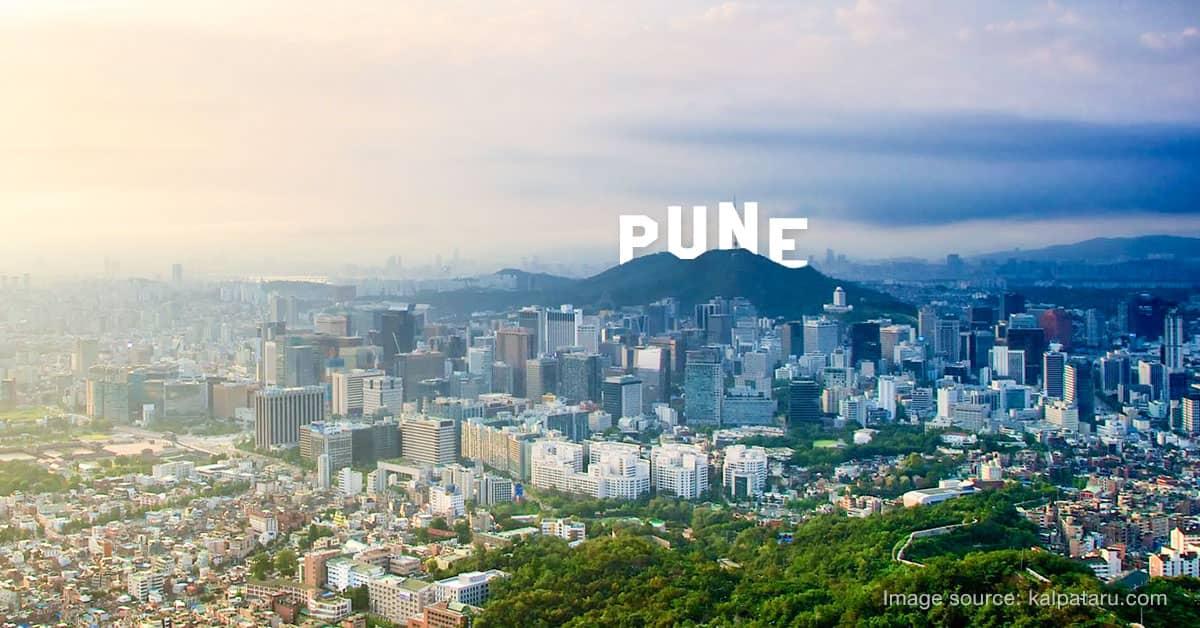 As we go into the year 2020 & beyond and based on the statistics,
The best places and the top areas to invest in Pune are as follows:
Kharadi
Wakad
Hinjewadi
Baner
Undri
Balewadi
Wagholi
Pimple Nilakh
Katraj - Kondhwa road
Bavdhan
Keshav Nagar
Pune, often referred to as the sister city of Mumbai has come a long way now and is an established & throbbing multi cultural vibrant city on its own. Pune real estate has grown along with the overall progress of Pune city in all aspects including education, industries, IT development, manufacturing, agriculture, warehousing, exports, finance, infrastructure growth, etc. There are plenty of job and business opportunities in Pune today making it a preferred housing destination for many.
There are multiple reasons to be bullish about Pune real estate going into 2020 and further as there are robust factors that would ensure that the Pune property market keeps growing and prospering in the years to come.
Let us now discuss in detail the individual locations in Pune that have made it to the best areas to invest in Pune list:


Kharadi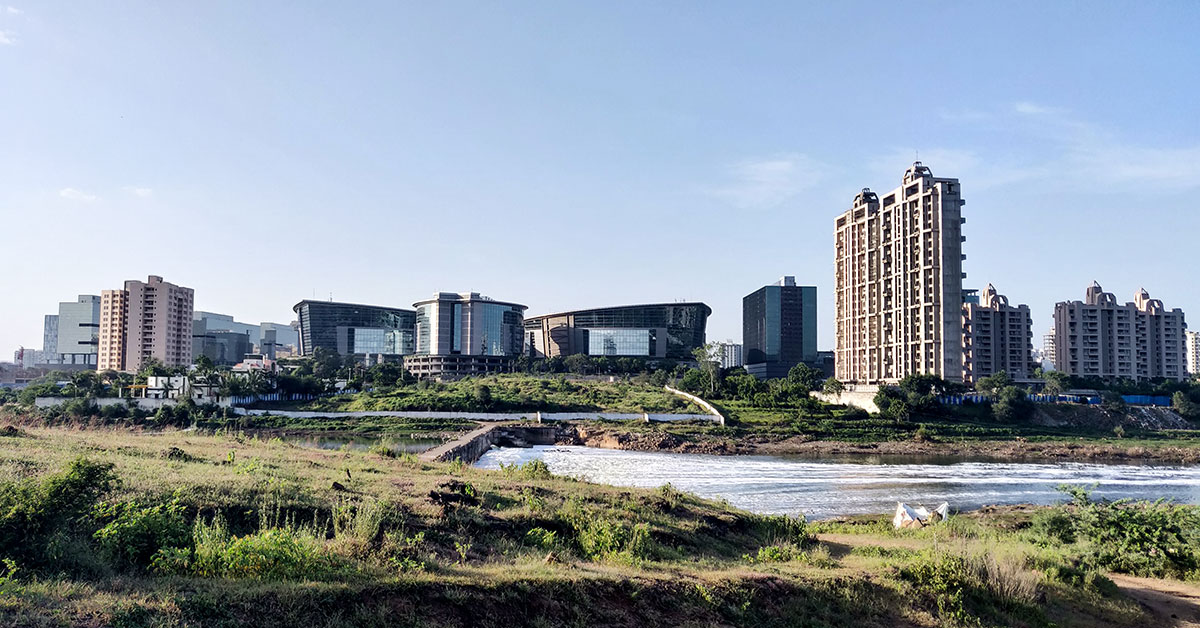 Kharadi is definitely the next big thing in Pune real estate. In terms of location this prime suburb of Pune which is located very close to the picturesque Mula-Mutha River, also has a big advantage in terms of connectivity from almost all across Pune. Prime areas in Pune including Kalyani Nagar, up market area like Koregaon Park, Viman Nagar, upcoming residential location like Wagholi, Hadapsar and Mundhwa are all located include proximity to Kharadi.
Being on the east side of Pune city, Kharadi has also emerged as the preferred IT market of Pune city with some of the major IT and technology giants having a presence there. As one of the fastest developing area in Pune, Kharadi property rates have been steadily increasing as this Pune location also has a healthy mix of other businesses & industries. Therefore you can find some of the best ITES players, hospitality brands, retail giants and quality education institutes today in Kharadi. It is therefore no surprise that with a giant footprint of commercial and business activities along with the presence of all 'quality life' ingredients, Kharadi real estate has been moving at a rapid pace in the past decade. In fact there are more than 200 new residential projects in Kharadi that include ready projects in Kharadi as well as under construction projects in Kharadi.
Because it is easy to travel from Kharadi to Pune city, many new-age IT professionals as well as young office goers prefer to buy a home in Kharadi and work in Pune or vice versa. Kharadi offers them a Walk to Work lifestyle which the new generation prefers.
Industrial areas near Kharadi


The presence of major industrial hubs including Hadapsar, Wagholi, Ranjangaon, Sanaswadi near Kharadi also presents a lot of jobs and working opportunities attracting more residents to come to Kharadi. Since there are so many earning opportunities many people flock to these areas and Kharadi real estate being the most vibrant among them attracts a lot of property buyers. The industrial areas around Kharadi are one of the trigger factors affecting the price rise and the increase in demand of Kharadi properties.
Kharadi social fabric, education institutes & health care

The social fabric and public infrastructure in Kharadi make it an ideal location to live, work and play. Some of the best educational institutes, hospitals, shopping centers, retail hubs that are present in Kharadi make it a very friendly place to live in Pune city. New homes in Kharadi and multiple under construction projects in Kharadi sell very fast due to the strong social infrastructure that promotes good living for residents here.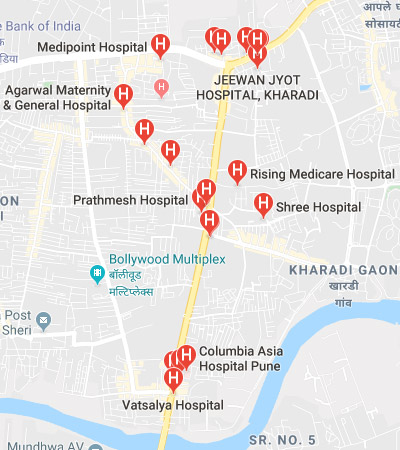 Some of the well known hospitals in Kharadi include:
Columbia Asia Hospital Pune in Santipur, Thite Nagar
Vatsalya Hospital Near Mundhwa River Bridge, Mundhwa - Kharadi Rd, Kharadi
Medipoint Hospital in Chandan Nagar
Jadhav Children's Hospital in Raghvendra Nagar
Gyan Deep Hospital in Tulaja Bhawani Nagar
Criticare Children`s Hospital at Bypass Chowk
And many more.
Some of the malls and shopping centres in Kharadi include:
Global High Street on Global Precioso Road, EON Free Zone
Amanora Mall at Mundhwa Kharadi road
Saroja Super Market in Thite Nagar
Estaller Kharadi at Kharadi South Main Road, Rakshak Nagar, etc.
Some of the educational institutes in Kharadi include:
Christ College at Vadgaon Sheri
Data System Research Foundations at Kharadi Knowledge Park
International Institute Of Culinary & Cruise Ship Management at Nyati Eureka, Magarpatta Rd, near Columbia Asia Hospital
Aiims - Mits, Zensar Campus, MIDC
Marathon international school and junior college, Chintamani Park Road, Tukaram Nagar, etc.
Connectivity in Kharadi
Connectivity is one of the major fortes that Kharadi boasts of as a prime location in Pune. You have smooth access to areas such as Pune-Ahmednagar Highway & Mundhwa Road. Also it is easy to reach Grant Road and Fountain Road from Kharadi. Moreover it barely takes 20 odd minutes to reach to the Pune international Airport from Kharadi. Smooth connectivity and further improving connections are additional factors influencing Kharadi real estate market.
Buses and the railway network also enhance the connectivity quotient of Kharadi and one can reach important locations including Hadapsar, and Pune Junction in hardly any time. Similarly it is relatively easy to reach prominent locations like Khadki & Manjari from Kharadi. Properties in Kharadi will get a further boost once the new and under construction Pune metro services commences its operations because then reaching Kothrud from Kharadi would also be relatively easier.
Companies in Kharadi


As discussed the entire real estate landscape of Kharadi is peppered with some of the biggest corporate entities and well respected companies in various business sectors occupying space in prime commercial real estate in Kharadi in commercial buildings like World Trade Centre, IT SEZs like EON IT Park, sophisticated IT hubs like Kharadi IT Park, special dedicated IT zones like Magarpatta Cybercity and Cerebrum IT Park. These commercial micro hubs within Kharadi are therefore full of skilled and educated work forces who scout for good housing options in Kharadi thereby driving the residential real estate market in Kharadi higher. The demand for rental homes in Kharadi has also significantly increased due to this factor and similarly the demand for rental offices in Kharadi as well as retail rentals & shops on rent in Kharadi has zoomed. For a Pune real estate investor planning to invest in a hot location in Pune, Kharadi presents a very strong case for consideration.


Kharadi real estate market 2020

The per square foot price for Kharadi real estate is still pocket friendly for most people. The overall real estate prices across the Kharadi property market have gradullay increased but there is still a very good scope to invest in Kharadi homes and even office spaces in Kharadi. The midlle class and upper middle clas real estate investors and home buyers have a lot of choice when it comes to choose resale properties in Kharadi and also new projects in Kharadi.
So although Kharadi real estate market has seen a great rise of more than 130% in terms of property price appreciation in the last decade, there is still room to invest in Kharadi real estate and earn handsomely. Kharadi property prices were around Rs.2500 psf around 10 years ago and in 2019 Kharadi property prices are around Rs. 6300 psf on average. Kharadi housing market and property rates in Kharadi are expected to keep rising gradually in 2020 and beyond. Therefore Kharadi is definitely a good location in Pune to invest.

Many real estate developers in Pune are developing new projects in Kharadi that includes 2 BHK, 3 BHK, 4 BHK apartments and flats for sale in Kharadi. Furthermore, there are many infrastructure projects that are advancing smoothly which when complete will stimulate the residential realty market. Reputed builders such as Kolte-Patil Developers, Goel Ganga Group, Mantri Developers, Godrej Properties, Marvel Realtors, etc. have on-going and launched projects in Kharadi. 2bhk and 3bhk apartments are the first preference of home-buyers in Kharadi.
Wakad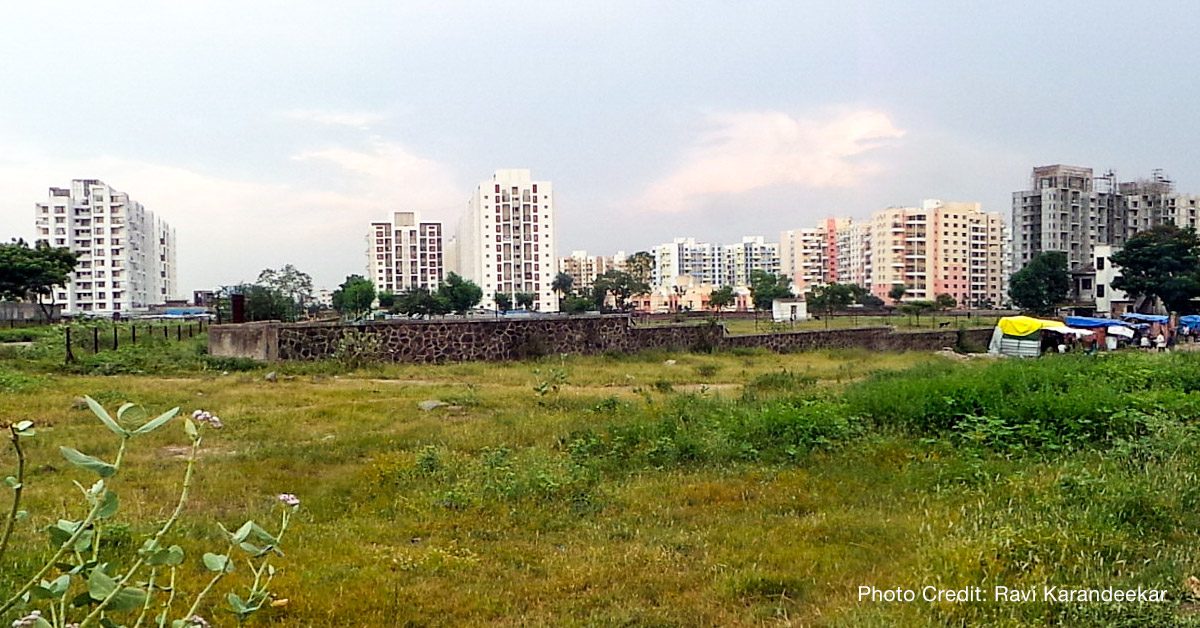 One of the best places to invest in Pune is Wakad and there are many factors that make it worth investing in.


Wakad is a strong property investment location in Pune and there are many factors that have put Wakad in this strong position including:

Wakad location and connectivity

Wakad has a huge advantage in terms of its location and if you look at where Wakad is exactly located in Pune, you can understand the reason clearly. Being on the western side of Pune, Wakad has prospered due to its smooth connectivity to almost all vital locations within Pune city and also to the National Highways that help reach Mumbai.
Some of the key residential real estate locations of Pune such as Pimple Nilakh, Pimple Saudagar and Aundh lie close to Wakad on its east side. On the South side of Wakad, you have prime locations like Baner, Pashan and Balewadi. On the North side of Wakad there are equally upcoming real estate locations of Pune like Akurdi, Chinchwad and Ravet.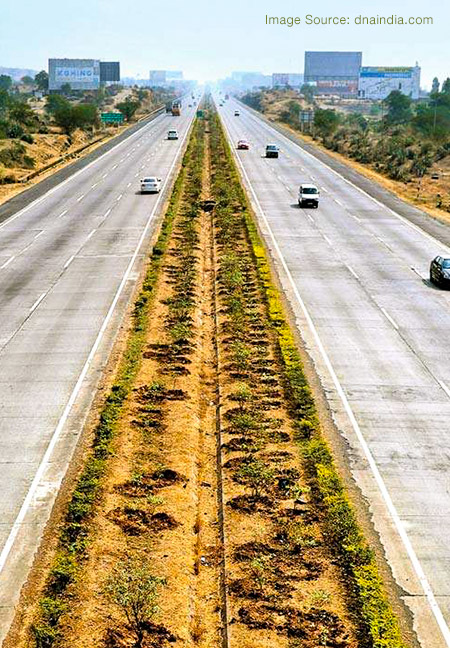 The west side of Wakad is of course the entire sprawling Hinjewadi IT zone. The south areas of Wakad are surrounded by the beautiful Mula river.
Wakad is located close to the PMRDA and the PCMC area. More importantly Wakad is easily connected to other major locations in Pune. Some of the vital roads that pass through Wakad include Wakad Road, the Kalewadi Main Road, and the very crucial Mumbai-Pune Expressway. One can get many buses from the Wakad Bus Stand to reach any corner of Pune city. Also there are many buses available from the nearby Pimpri Bus Stand which can be used to reach multiple locations across Pune. Wakad is also less than 10 kms away from the Chinchwad Railway Station and the Pune Airport is hardly a forty minute drive from Wakad location. These factors make Wakad a very well connected location and therefore the property market in Wakad, Pune has grown positively and consistently.
Another important reason that residential properties in Wakad are doing well is that some of the established real estate locations in Pune like Aundh and Baner are very close by. Home buyers buying flats in Wakad or booking in new projects in Wakad have easy access to the fantastic social infrastructure that Aundh and Baner offer. Another key area of Shivaji Nagar in prime Pune is also at a stone's throw distance from Wakad.
Some of the major travel points and key routes pass through or lie close by to Wakad like the erstwhile Dange Chowk Road referred to as Wakad Road currently. Wakad road is a critical road as it traverses the east to north-west direction of Wakad passing through the Mumbai-Pune-Bangalore Highway at Bhumkar Chowk. Going down it also joins with Aundh-Ravet BRTS.
Since the Mumbai-Pune-Bangalore Highway zooms through Wakad, the importance of Wakad is clearly understood. All travelers from Mumbai to Pune or from Pune to Mumbai inadvertently go through the beautiful locations of Wakad.
Wakad is close to major employment and IT hubs in Pune
Apart from being strategically located, Wakad real estate has also benefitted from the fact that Wakad lies in close proximity to some of Pune city's biggest IT markets and industrial areas thereby providing a lot of employment and earning opportunities to all residents in Wakad. Some of the key information technology hubs near Wakad include Rajiv Gandhi InfoTech Park, Hinjewadi Infotech, Quadron Business Park, Embassy Tech Zone and Biotech hub near Mumbai highway, DLF Akruti IT Park, International Tech Park and Panchshil Tech Park. Other prominent IT centres near Wakad are Nano Space, Teerth Technospace, Prabhavee Techpark, etc. where you can find large companies and corporate houses like Veritas, Cummins, Siemens, Vyomlabs, Pubmatic, Xoriant, etc. Wakad is also a major route to reach all the major IT giants inside Hinjewadi IT zone including companies like Tech Mahindra, Infosys, TCS, Dassault Systems and many others.
Hardly a distance of around half an hour, to the north side of Wakad one can find the famed Talawade IT Park with multinational companies like Syntel and others. This particular factor has also made commercial real estate investments in Wakad very popular too. Another important fact is that there are major commercial centres within Wakad area including Pushpak and Solitaire Business Hub.

Wakad Infrastructure
How is the infrastructure in Wakad currently? What are the upcoming infrastructure developments in Wakad? Wakad real estate has surely benefitted from the strong infrastructure that is currently in place in Wakad. As mentioned in the Wakad connectivity section, Wakad is very well connected to major locations within and outside Pune. Also there are some major upcoming infrastructure development projects in Wakad like: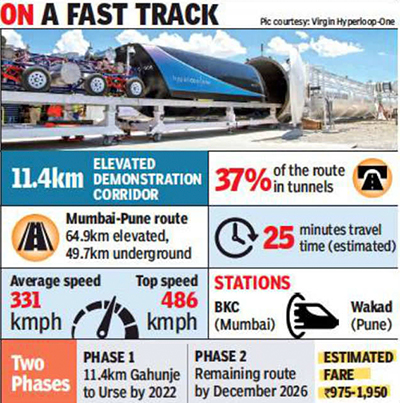 The New Pune-Mumbai Hyperloop
Wakad is part of the proposed Pune-Mumbai hyperloop connectivity project. This ground breaking travel initiative has already received the green signal from the Maharashtra state government and is set to reduce travel time from Mumbai to Pune to less than 30 minutes. Since Wakad as a location is physically part of the eastern end of the hyperloop, the impact on Wakad real estate is surely going to be positive.
Smart roads to be developed in Wakad
There is a state government initiative to bring to life smart roads that connect locations in Pune like Wakad, Pimple Gurav and Pimple Saudagar. These smart roads would be wider, walk friendly, well lit up by LED lights, well designed and modern. Apparently the cluster of Wakad, Pimple Gurav & Pimple Saudagar is slated to be developed on the lines of a smart city thereby impacting the overall property rates in Wakad in the near future.
The impact of Hinjewadi Mahalunge Road
Wakad is a busy location in Pune today. To decongest the traffic in Wakad, the development of the Hinjewadi Mahalunge Road is an initiative that is being pursued by the authorities. The upside of this road would be the ease of travel for people working in the IT sector of Hinjawadi who travel from Hinjewadi to Wakad regularly. Of course if their travel experience gets better, the IT professionals would end up buying more homes in Wakad and also investing in flats for sale in Wakad.
The development of Linear Garden in Wakad
The real estate landscape of Wakad would surely get a big make over with the development of a Linear Garden which has been Okayed for Wakad-Pimple Gurav road at a decent cost. The overall aesthetics of Wakad as location would surely improve making it a more desirable location in Pune and the demand for apartments for rent in Wakad along with the demand for new projects in Wakad would surely increase.
Impact of Palika Bazaar in Wakad
The Pimpri-Chinchwad Smart City program has multiple developments in store. One of them is the making of an underground market called as Palika Bazar for residents in locations of Pimple Saudagar and Wakad. This modern Palika Bazar would have good everyday shopping facilities along with all modern amenities like escalators, nice seating areas, etc. to make everyday shopping less tedious and more fun. The impact of this modern palika bazar on Wakad properties is obviously going to be positive.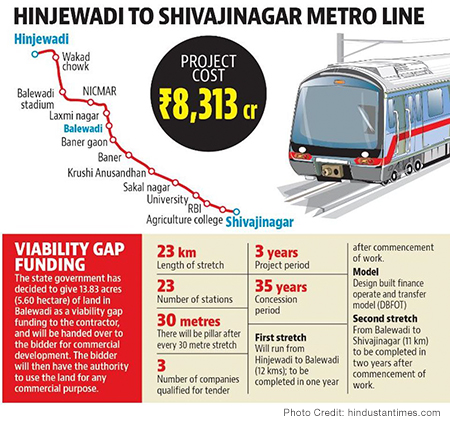 Wakad is part of the Pune Metro
The fact that Wakad is part of the Pune Metro Project means the connectivity of waked gets another boost. Wakad falls in the Hinjewadi-Shivajinagar route of the Pune Metro Project making it simpler for people living in Wakad residents to travel to many locations within Pune city in a matter of minutes.This news has already driven a lot of property investments in Wakad and also a lot of end home buyers have started booking flats in under construction projects in Wakad.
Wakad is part of PMRDA
Another big factor that has impacted Wakad real estate is the fact that the infrastructure and property developments in Wakad come under the aegis of PMRDA.
PMRDA which stands for Planning and Development Authority for the Pune Metro Region is an authority that is known for its proactive, progressive, orderly and systematic approach and action towards development of common public facilities, amenities in the regions of Pune that fall under its jurisdiction.
Since Wakad is a part of PMRDA, the development of infrastructure in Wakad and other public facilities have happened swiftly & professionally. This is another very strong reason to invest in Wakad properties, Pune.
Wakad Social infrastructure
The rich social infrastructure of Wakad has also had a strong bearing on the growth of real estate in Wakad. For people planning to buy properties in Wakad and create their own homes in Wakad, it helps that Wakad has a number of good education institutes, schools, colleges, shopping facilities, healthcare facilities, hospitals, etc.
The reason that there are many new property developments in Wakad for offer any time of the year is because the property developers in Wakad bank on its strong social fabric.
Reputed schools in Wakad include:
Wisdom World School at Park Street, Aundh Chest Hospital Road, Near Kalewadi Chowk.
Kamal Pratishthan Mount Litera Zee School at Pink City D.P. Road.
EuroSchool Wakad - ICSE School near Dutta Mandir, Adjacent to Palash Complex, Off Wakad – Thergaon Road
IndusChamps School at Dange Chowk-Hinjewadi Road, Near Bhumkar Chowk.
Some of the well-known colleges in Wakad include:
Indira College of Commerce and Science on New Pune Mumbai Highway, Tathawade.
IBMR College on Hinjewadi - Wakad Rd, Hinjewadi Village
Genba Sopanrao Moze College of Engineering near Balewadi, Haveli
Swami Vivekanand College of Education near Mumbai-Bangalore Highway, Near Bhumkar Chowk

A few of the malls and shopping centres in Wakad include:
Pristine Square at Shankar Kalat Nagar, Pimpri-Chinchwad area.
Commercia mall Wakad at Service Rd, Shankar Kalat Nagar.
Prime City Center at Datta Mandir Rd, Shankar Kalat Nagar.
Vision One Mall at Bhumkar Chowk
Xion Mall on Hinjewadi - Wakad Rd, Hinjawadi Village
West Icon at Kalewadi Main Rd, Maharashtra Colony, Pratham Reflections Society
Nisarg Plaza at Bhumkar Nagar.
A few hospitals and health care centres in Wakad include:
Lifepoint Multispecialty Hospital on Mumbai Pune Bypass Rd, near Hotel Sayaji
Surya Mother And Child Care Super specialty Hospital near Pune Octroi Naka, Hinjawadi - Wakad Road
Polaris Healthcare - Orthopedic & Gynecology Hospital at Dange Chowk Rd, near Datta Mandir.
Mediplus Speciality Hospital Pvt. Ltd. Near Bottoms Up Resto, Hinjewadi-Dange Chowk Road.
Well Care Clinic at Sanskruti Arcade, Chatrapati Chowk Rd, Kaspate Wasti.
Wakad property market 2020
Wakad real estate looks to be very exciting in 2020 and beyond due to all the factors listed above. Almost all RERA Real Estate Projects in Wakad are experiencing a good response from potential buyers and real estate investors in Wakad.
The good thing is that almost all under construction and ongoing housing projects in Wakad area are under the ambit of MahaRERA.
Therefore, investing in Wakad properties promises to be safe and profitable too. The demand for rental homes in Wakad is very high due to the proximity to the IT markets and so even if you plan to invest in a flat in Wakad and give your property on rent in Wakad, you will make a good rental income. The per square feet price of properties in Wakad is still very affordable and pocket friendly. This is the reason that there are many affordable homes in Wakad offered by some of the best property developers in Wakad.
Affordable flats in Wakad
Compared to Baner or Pimple Saudagar, the flats in Wakad are cheaper and more affordable. This has been a strong reason that buyers have been attracted towards Wakad property options. More importantly there is a still a lot of juice in the Wakad property market and property investments in Wakad in 2020 will increase as per Pune real estate market reports.
Growth of property investments in Wakad
As per most of the leading property portals in India including real estate marketing portals like 99sqft, Commercial real estate in Wakad, residential properties in Wakad as well as retail real estate in Wakad are slated to grow positively in the coming years. With several new projects in Wakad being launched by property developers including Kolte Patil Western Avenue by Kolte Patil developers, Paranjape Broadway at Shankar Kalat Nagar by Paranjape schemes, Pride purple park Ivory at park street by Pride purple properties, Kalpataru Exquisite at Kaspate Wasti and many more.
With real estate marketing in Wakad evolving and with increasing penetration due to digital real estate marketing of projects in Wakad, the overall growth of Wakad real estate looks exciting indeed.
Hinjewadi (Hinjawadi)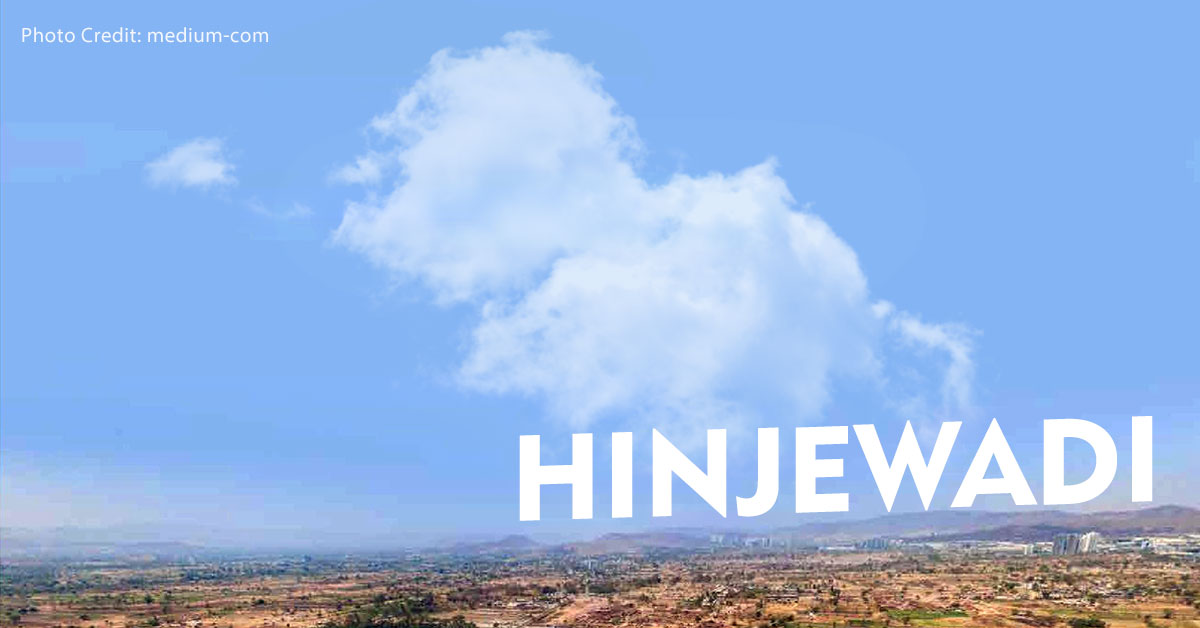 Hinjewadi real estate rides largely on the fact that Hinjewadi is one of the global hotspots for the IT industry today. There are many obvious factors that make property investment in Hinjewadi a very attractive proposition. As we read further we will discuss each one of them.

Hinjewadi location and connectivity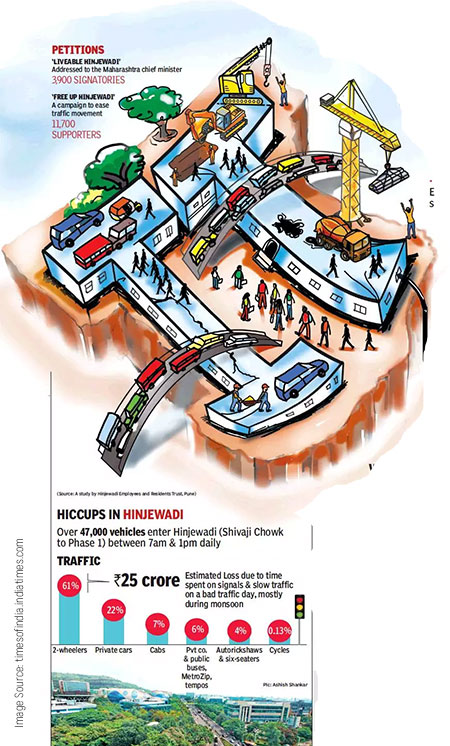 Hinjewadi used to be a far flung location in the yester years but since the development of The IT parks starting with the Rajiv Gandhi Infotech park, Hinjewadi real estate has grown by leaps and bounds.
Hinjewadi is now considered very much an integral part of Pune and Hijewadi property landscape is one of the most thriving in the country today. Hinjewadi is located in close proximity to Balewadi and Baner which are flourishing suburban locations of Pune city.
Hinjewadi also enjoys a very good natural surrounding with lush green areas and a clean environment. The Hinjewadi real estate market has also received a positive momentum due to the fact that there are a few major roads like The Hinjewadi Road and The Mumbai-Bengaluru Highway which make connectivity from and to Hinjewadi very smooth and robust.
Also the excellent bus services available from Hinjewadi owing to the Hinjewadi Bus Stand and the Pimpri Bus Stand make travelling from various parts of Pune to Hinjewadi and vice versa very easy and simple.
The Pimpri railway station which is a shade above 10 kms from Hinjewadi ensures that you can avail trains for any destination also increases the Hinjewadi connectivity quotient hugely.
Hinjewadi will have futher improved connectivity by virtue of the Pune Metropolitan Regional Development Authority's plans to connect Hinjewadi and Shivaji Nagar through 23 stations. Currently this transport line from and to Hinjewadi is challenged due to massive traffic and post the implementation of these plans the traffic flow will be much faster and easier.
The Pune airport is also within an hour's distance from Hinjewadi making it a popular destination with NRI property investors as well as with property buyers from other parts of India. It is therefore not hard to understand the reason that Property investment in Hinjewadi has been extremely popular with many real estate investors in Pune city.

Hinjewadi Infrastructure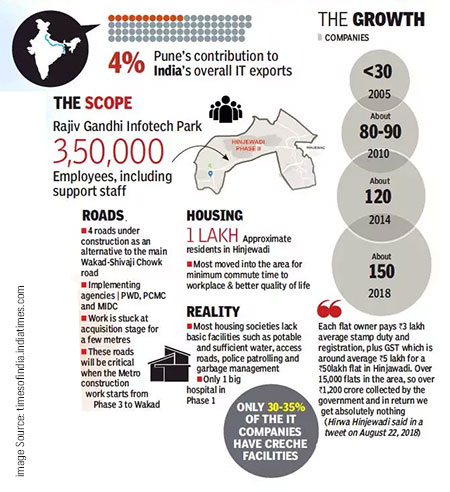 With some of the biggest IT and ITES companies of the world setting up their offices in Hinjewadi, it is no wonder that the infrastructure growth in Hinjewadi has been phenomenal. Great public transport, good physical infrastructure and a lot of further infrastructure development plans in Hinjewadi make it a very good location in Pune for property investments indeed.
The IT-ITes policy that was implemented by the Maharashtra government in the early part of 2000s has helped the growth of Hinjewadi tremendously. There have been a lot of investments in the commercial real estate space in Hinjewadi and as major corporate bodies and companies have pumped in more money into Hinjewadi, it has developed beautifully. These major corporatiions have also largely influenced the faster implementation of infrastructure plans and that in turn has improved real estate in Hinjewadi in a big way indeed.
The demand for housing in Hinjewadi has increased with the increase in the work population here. With improved connectivity and infrastructure in Hinjewadi the amount of new projects in Hinjewadi has soared and the overall impact on Hinjewadi property market has been extraordinary.
IT Park set up in Hinjewadi
The Hinjewadi SEZ brought to life in 2001 by the Maharashtra Industrial Development Corporation (MIDC) in the form of Rajiv Gandhi Infotech Park set a precedent for things to come in this location. Now there are multiple phases being planned to further grow the existing IT park size in Hinjewadi and this would be huge boost for real estate in Hinjewadi for sure.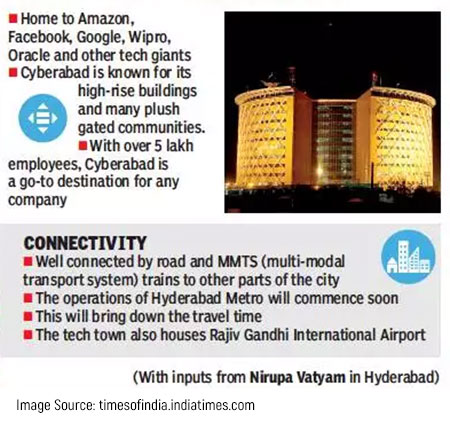 Employment opportunities in Hinjewadi
The very nature of Hinjewadi's set up means that it remains one of the biggest employment hubs in Pune city. There are more than 4 Lakh IT and other professionals working in Hinjewadi IT parks. Some of the biggest software behemoths including Satyam, Wipro, TCS, Infosys, etc. add to the Hinjewadi real estate market growth too. The Walk to Work property options in Hinjewadi attracts a lot of buyers from across Pune and other regions.
Employment zones in and near Hinjewadi
Rajiv Gandhi Infotech Park
DLF Akruti IT Park
Panchshil Tech Park
International Tech Park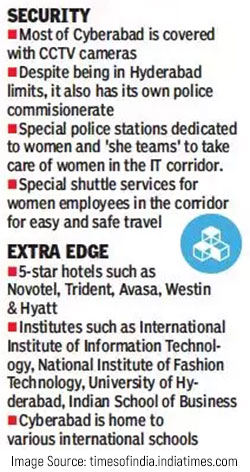 Hinjewadi Social infrastructure

With the footfalls of people increasing by the minute in Hinjewadi the social infrastructure of Hinjewadi has also improved in a big way. Hinjewadi has some of the best schools, colleges, education institutes, hotels, restaurants in Pune city today. There are many social places where people from across Pune can get together with families and friends and Hinjewadi real estate has surely benefitted a lot from its rich social fabric. Real estate developments in Hinjewadi carried out by some of the biggest property developers in Pune have been riding on the rich Hinjewadi social infrastructure.
Reputed schools in Hinjewadi include:
1. Blue Ridge Public School near Phase 1, Hinjawadi, Near Lemon Tree Hotel
2. Pawar Public School at Megapolis, Rajiv Gandhi Infotech Park, Phase III (SEZ, MIDC Phase III Main Road
3. Mahindra International School at P-26, MIDC, Hinjawadi Phase 1 Road
4. The Genius English Medium School at Mukai Nagar, opposite Hinjawadi Hospital and many more.
Some of the well-known colleges in Hinjewadi include:
1. Alard Group of Institutes at Allad College, Marunji Village, Hinjawadi.
2. Symbiosis Centre for Management and Human Resource Development at Plot No. 15, Rajiv Gandhi Infotech Park, MIDC, Hinjawadi Phase 1 Road and many more.
A few of the malls and shopping centres in Hinjewadi include:
1. Xion Mall at Hinjewadi - Wakad Rd, Hinjawadi Village
2. Global Highstreet in Phase 1, Hinjewadi Rajiv Gandhi Infotech Park
3. Krishna Market in Phase 3, Hinjewadi Rajiv Gandhi Infotech Park and many more.
Good facilities, entertainment zones, eating places have definitely spiced up the Hinjewadi real estate market in a big way and the number of residential projects in Hinjewadi is obviously increased every day.
A few hospitals and health care centres in Hinjewadi include:
1. Mediplus Speciality Hospital Pvt. Ltd. at Plot no. 32, Near Bottoms Up Resto, Hinjewadi-Dange Chowk Road.
2. Sanjeevani Hospital at Hinjewadi Road Above IDBI Bank, Shivaji Chowk, Phase-I.
3. Mulshi Millennium Hospital and ICU at Sai Shraddha Complex, Hinjawadi Village and many more.

The presence of these good quality health care facilities and hospitals in Hinjewadi has ensured that the demand for housing in Hinjewadi has constantly increased. New projects in Hinjewadi have therefore been rapidly increasing too.
Hinjewadi property market 2020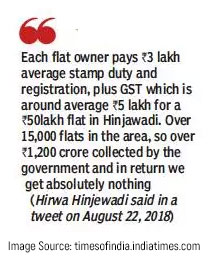 Hinjewadi property market looks poised to grow further in 2020 and beyond. Since Hinjewadi real estate offers a plethora of property options that include mid segment projects, luxury homes as well as affordable housing projects – the number of people booking homes in Hinjewadi is increasing day by day. The fact that all Hinjewadi RERA Real Estate Projects have also been priced sensibly is adding to the overall positive growth of the Hinjewadi real estate market. The per square feet rate in Hinjewadi still remains within reach for many buyers and under construction and ongoing housing projects in Hinjewadi are getting good amount of bookings from people connected to the IT industry as well as otherwise.
Demand for rental homes in Hinjewadi
A huge factor for the growth in Hinjewadi real estate is also the fact that the demand for rental homes in Hinjewadi is pretty high. Since Hinjewadi is a giant commercial and IT hub, many companies, corporate entities pick up rental apartments in Hinjewadi and therefore property investors in Hinjewadi manage to get uninterrupted and decent amount of rent from their residential as well as commercial properties in Hinjewadi.
Affordable flats in Hinjewadi
There is a decent supply of affordable flats in Hinjewadi being developed by some of the well-known property developers in Pune and developers from other locations in India. Since there are good options to buy low budget flats in Hinjewadi and once can still book flats below 20 lakhs in Hinjewadi, the popularity of Hinjewadi as an affordable housing location is very strong.
Reasons to invest in Hinjewadi properties in a nutshell
Looking at all the above factors and also taking into account the fact that the IT infrastructure in Hinjewadi is bound to grow by leaps and bounds, Hinjewadi property investment makes a lot of sense.
Here is a gist of the reasons to invest in Hinjewadi properties:
The presence and growth of IT and ITes Companies
Favorable location
Strong and growing Infrastructure
Strong property demand and supply
Exciting Future
Thriving social infrastructure
Walk to work home options
Robust commercial and retail growth
Baner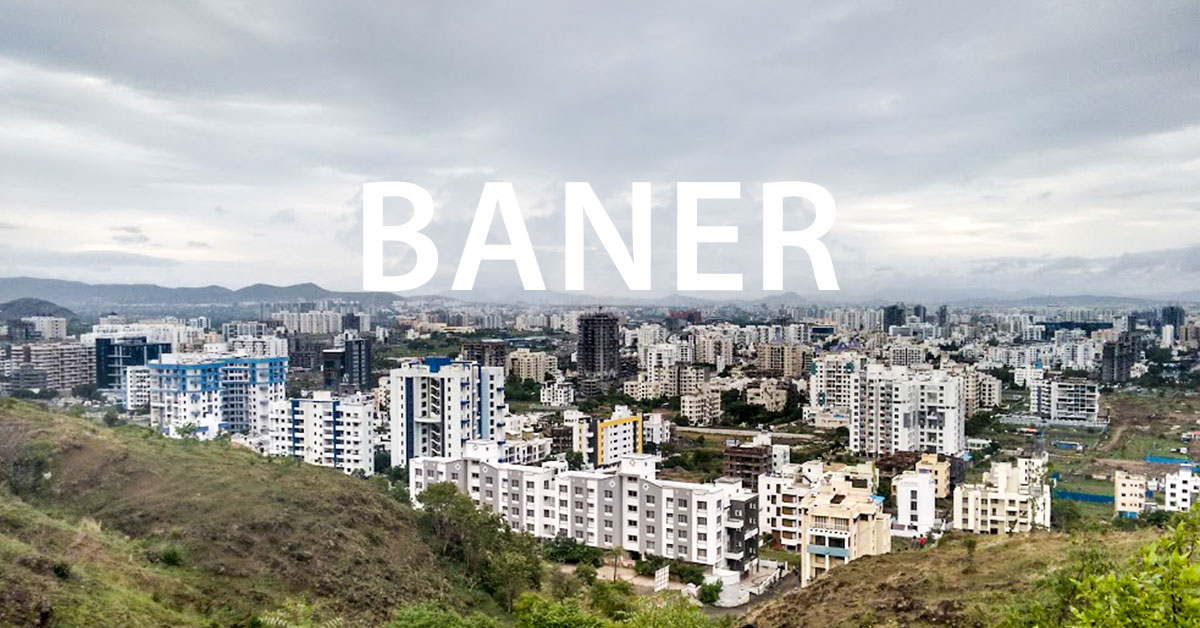 Baner real estate has taken huge strides and Baner has expeditiously grown into a prosperous suburb in Pune. Properties in Baner have also benefitted from the fact that Baner is in close proximity to key industrial zones and important IT hubs of Pune city. Well-developed civic facilities, social infrastructure and seamless connectivity to major locations within and outside Pune have ensured that Baner property has gone from strength to strength in the recent years.
Baner is a now a top ranking residential location in Pune city and definitely one of the hottest in demand Pune suburb. As a location in Pune that has a lot of history, Baner real estate is rewriting its popularity all over again.
Baner location and connectivity
Baner is blessed with the presence of some important connecting roads including The Pune Bypass Road and The Mumbai-Bangalore Highway. Apart from these two roads, the presence of The Gopal Hari Deshmukh Marg and the Mumbai-Pune Expressway near Baner makes commuting via road very easy indeed.
Baner has a robust bus service and there are numerous buses ferrying passengers from the Baner Bus Stand and the Shivaji Nagar Bus Stand across multiple locations in Pune.
The Shivaji Nagar railway station which is a shade below 10 kms from Baner offers many trains travelling across India.
From Baner you can get to Pune Airport within 30 mins.
These strong connectivity factors have increased the value of Baner real estate over the years.
Baner Infrastructure
IT Park set up in Baner

Employment zones in and near Baner
A plethora of job opportunities in Baner location due to the presence of huge IT parks as well as commercial business set ups has also added to the charm of Baner real estate market.
Such employment zones in Baner include:
The Pune IT Park located around six kms from Baner.
The ICC towers and the Maharastra Chamber Of Commerce Industries & Agriculture.
RMZ Westend is also amere stone's throw away from Baner.
Anpther big IT hub called Nanospace IT Park is also present in Baner adding to the numerous job possibilities.
Baner Social infrastructure
Reputed schools in Baner include:
The Orchid School at Baner - Mahalunge Rd, Lalit Estate
VIBGYOR High School, Balewadi inSus Village, Bengaluru - Mumbai Highway
The Ecole Heritage School at Park Marina Road,, Balewadi Phata
Educon International School Off Pancard Club Road, behind Beverly Hills Society
Some of the well-known colleges in Baner include:
Vishveshwarya Group of Institution on Baner - Balewadi Road
Ethics Institute of Management and Technology at Shriram Yashoda Tower, Baner Road
Aditya Horizon School & Jr. college on Pan Card Club Rd, Samarth Colony
Sanjay Ghodawat Institutes Global School Of Management on Baner - Aundh Road, Varsha Park Society, Pashan
A few of the malls and shopping centres in Baner include:
Primrose Mall close to Dutta mandir
Suyash Commercial Mall
Westend Mall close to Parihar Chowk, Harmony Society
Royal fortune on Pan Card Club Road
Naresh super market on Baner - Mahalunge Road
The Pavillion on Senapati Bapat Road, next to JW Marriott hotel
A few hospitals and health care centres in Baner include:
Jupiter Hospital close to Bharatratna Dr Babasaheb Ambedkar Bridge, Prathamesh Park
Gupte Hospital Extension Clinic, Shiv Shakti Complex, Riviresa Society
Aarogyam Ayurvedic clinic at Baner gaon
Life Line Hospital on the Baner Balewadi Road
Umarji Mother and Child Care Hospital at Baner-Balewadi Phata
Vital Life Clinic close to Kodak Mahindra Bank, Balewadi Phata
Baner property market 2020
With the location advantage that Baner has along with the robust infrastructure, roads, connectivity, and social infrastructure – real estate in Baner is poised to grow further in 2020. Baner is a strong property micro market in Pune with good quality apartments, modern flats, new buildings and many upcoming real estate
projects
. With a number of IT companies close by and a strong social infrastructure in place like malls, shopping centers, schools, colleges, hospitals, etc, Baner real estate market promises further growth in 2020.

Demand for rental homes in Baner
Flats on rent in Baner are in demand due to the connectivity and the social infrastructure that Baner offers its residents. Investors who have invested in Baner properties are enjoying a good return through steady rentals for their Baner homes, offices and shops. With major commercial market places in the vicinity and such a huge number of skilled people working in and around Baner, residential and commercial properties on rent in Baner would always be in demand.

Affordable flats in Baner
Baner offers a whole range of real estate options for buyers. This includes quality affordable flats in Baner that have good amenities and facilities for the modern lifestyle.

Reasons to invest in Baner properties

Here is a gist of the reasons to invest in Baner properties:
Baner has a very good social infrastructure.
The location advantage, connectivity that Baner offers is fantastic.
It draws a lot of crowd from within Pune and outside as well during weekends due to the various social activities that it provides. This in turn ensures that real estate in Baner grows steadily and strongly.
Baner connectivity in terms of location and transport make it an extremely popular real estate location in Pune
With multiple new projects in Baner being developed to cater to almost all price ranges including luxury as well as affordable, the real estate growth story of Baner looks brighter in 2020 and beyond.
Undri
Undri real estate has grown rapidly and this location has become popular much faster than many other locations in Pune.
As one of the fast changing suburban areas of Pune, Undri real estate has benefited due to its location, being a flourishing industrial zone and also a prime IT hub of Pune city. The fact that Undri Pisoli has well developed civic facilities, good infrastructure, great connectivity and access to other key locations in Pune has definitely helped the growth of real estate in Undri.
Being located in the South of Pune, Undri is now a well-established residential and sough after real estate investment area in Pune.
As NIBM Road grew and then reached saturation point as hot real estate location in Pune, Undri has now come into the real estate limelight.
Undri location and connectivity
Of course like any successful real estate location, Undri is definitely a winner when it comes to its super location. It lies in close proximity to Hadapsar, which happens to be one the prime commercial areas of Pune city having 3 giant SEZs – Phursungi IT Park, Magarpatta City and Amanora Park Town. With multiple well reputed IT companies including Honeywell, TCS, IBM and Accenture present here, the employment opportunities for residents of Undri are very good. This factor has also ensured that there are many new residential projects in Undri today due to the strong demand for housing there. Apartments in Undri have a very strong demand due to the strong working population nearby.
In terms of connectivity, Undri has many good roads that make it easily accessible from various parts of Pune and elsewhere.
Kondhwa Road, Mumbai-Hyderabad Highway, Solapur Road, etc. running through Undri help it get connected easily to respective parts of Pune.
Undri residents also have the facility of a robust bus service with the Katraj Bus Stand and the Market Yard Bus Depot being strong bus set ups in close vicinity.
You can choose to use trains form the closest railway station at Hadapsar. Also the main Pune Junction railway station is at distance of less than 10 kms from Undri.
The Pune airport is merely 45 minutes from Undri.
Undri Infrastructure and Employment zones in and near Undri
As discussed one of the major reasons for the growth of the real estate market in Undri has been the plethora of job and work opportunities that this location offers through the following and more:
Within a distance of 10 kms from Undri you can find the Phursungi IT Park, Magarpatta City and Amanora Park Town.
The gigantic SP Infocity and the Mega Centre are hardly 8 kms from Undri.
RMZ Westend is not more than 20 kms from Undri.
The vibrant World Trade Centre, Cerebrum IT Park and the humongous EON IT Park by Panchshil developers are very close to Undri.
Undri Social infrastructure – The fact that there are multiple under construction projects in Undri at any given point in time shows the good social infrastructure that Undri real estate provides.
Reputed schools in Undri include:
Sanskriti School in Undri NIBM Survey Number 12, 13, Link Road Undrigaon.
Orchids The International School, Apex Hills, Katraj-Hadapsar Bypass Road, Atur Nagar.
Anisha Global School, NIBM Road, Kad Nagar, Mohammed Wadi.
Caelum High School.
The Lillian School, Maharashtra Fellowship for Deaf, Mohammadwadi Road, etc.
Some of the well-known colleges in Undri include:
Rehmani Junior College Handewadi Road, Indira Nagar.
Sinhgad Law College on Kondhwa-Saswad Road, Kondhwa (Bk)
Pragnya Junior College of Arts, Commerce & Science, Handewadi chowk.
A few of the malls and shopping centres in Undri include:
Undri City Centre, Undri - Hadapsar Rd, Bellagio.
Bramha SKYONE, Ayesha colony, Atur Nagar.
Margosa Shopping Complex, NIBM Annex, Mahadev Wadi
A few hospitals and health care centres in Undri include:
Kalpataru Hospital, Opp Bishop's school, near Ganesh Mandir, Kad Nagar.
Vimal Superspeciality Clinic at Hadapsar Road, Kad Nagar.
Londhe Hospital, Tarawade Vasti.
Undri property market 2020
Undri property market seems to have all the ingredioents that could spell success for it in 2020 and beyond. With a lot of budget homes in Undri available in affordable housing projects in Undri like Mantra Essence Phase 1, Venkatesh Bliss in Bellagio, Florista County in Handewadi road and many more, there is good momentum there. Also with more than 300 ongoing projects in Undri of local as well national level real estate developers, the supply of quality apartments in Undri will improve further. All in all real estate investment in Undri properties and bookings of new flats in Undri in upcoming projects look very promising indeed.
Demand for rental homes in Undri
Rental properties in Undri have been demand especially in the last 5 years as there has been a positive growth here. With commercial hubs and IT parks close by the demand for rental homes and rental apartments in Undri is quite healthy indeed. The demand for retail shops and commercial spaces on rent in Undri is also quite good and property investors in new projects in Undri keep this factor in mind while booking properties in Undri.
Reasons to invest in Undri properties
There are obvious strong reasons to invest in Undri properties and also to buy in under construction projects in Undri. The good organic demand, the increasing and improving infrastructure, the very strong social infrastructure, the presence of quality real estate projects in Undri – all indicate a very good real estate market future in Undri. Also the fact that Undri real estate and Undri property market is essentially end user driven gives a lot of confidence about the overall Undri real estate scenario in 2020 and also after that.
---
---
--- ---
---
Comments
---
By Atul Enterprises on 28th Jan 2020
Thanks for sharing such nice information. Are you in a search of a good 3 BHK flats in Baner . Then Atul Enterprises is a trustworthy firm where you can buy beautiful 3 BHK flats in Baner at a reasonable price.
By Arjun on 23rd Jan 2020
Hey, I noticed your Article. I just loved it. SLN Ventures achieved success through immense care in planning and choosing the right resources and execution, be it the drawings, construction material and Vaastu to a clear title. One of the finest top real estate companies in hyderabad. Find your place that is waiting for you nearby hyderabad right now If you like it feel free and share it. Cheers. Arjun
By Bharat Kate on 12th Jan 2020
Very useful information. Interested in kharadi or wakad
---