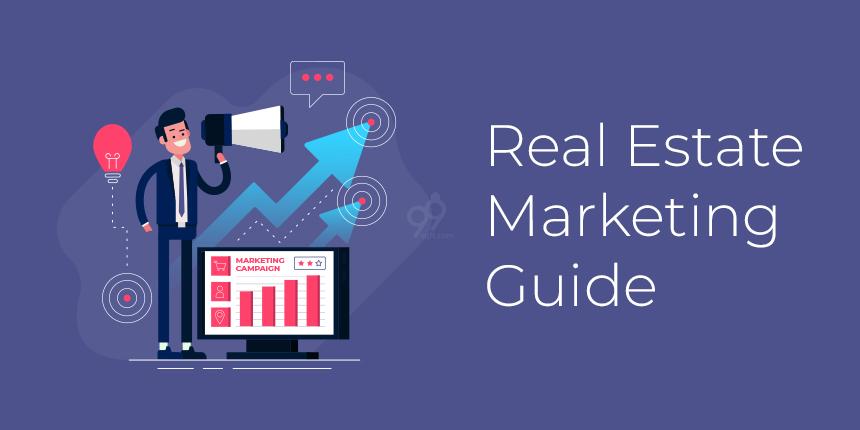 The ultimate detailed guide to real estate marketing with 99 practical & powerful techniques step by step

As a real estate agent or property consultant or even as a real estate developer, you need to have a very strong real estate marketing strategy especially in this day and age. The amount of competition, the information overload thanks to millions of real estate websites, the real estate WhatsApp groups, etc. have made sure that the real estate market in every location is updated (rightly or wrongly is debatable).
Therefore, as a real estate marketing professional, one needs to be really adaptable in terms of the new real estate marketing strategies as well as being abreast of all the new real estate marketing tools in the market today. This complete guide to real estate marketing will help you with all of these and more.
The real estate industry has gone through a lot of turmoil in the past few years and with some major new disruptive real estate marketing ventures out there, the task of the new age real estate marketing professional is indeed cut out. Real estate marketing in India is also catching up with the developed world.
One needs to have a very precise, consistent, ongoing online real estate marketing strategy combined with street smart offline real estate marketing ideas too. To generate real estate leads online was quite an easy task a few years back but with number of property websites, real estate listings multiplying crazily today, the competition has really gone thousand notches higher. With the help of this ultimate guide to real estate marketing, you will rediscover the magic of generating real estate leads.
The traditional days when potential real estate buyers or likely real estate sellers would simply call up a real estate agent to help with a property transaction are over. Almost 95% of home seekers, office buyers, and potential property sellers now use their mobile phones to reach out to the wider world to help them buy or sell real estate. The days of being complacent as a real estate agent or as a property developer are over. Real estate buyers and real estate sellers spend a lot of time online to search for properties as well as property related information before actually speaking to an actual real estate person. Real estate research is now very easy as everything is in the palm of your hands through your mobile phones.
It is therefore absolutely critical to have a very strong real estate presence online where your real estate brand is reflected in the proper way and potential real estate clients find it attractive enough to call or email you. A robust digital marketing strategy for real estate is now a must for every professional real estate company that plans to excel in the real estate industry.
Although a property owner, a property broker and a property developer are all dealing the same category that of real estate, their real estate marketing strategies will differ. Marketing strategies for real estate developers will involve a specific pattern while marketing strategies for real estate agents will have another. Similarly marketing strategies for property owners will differ from both of the other ones.
The best property marketing strategy, however, still remains to be honest, transparent, diligent, proactive, and consistent in your communications & dealings with your real estate audience.
Having said that, find below the most potent 99 real estate marketing ideas for real estate professionals, real estate brokers, and real estate developers looking to reach and attract potential clients. This complete guide to real estate marketing gives you a detailed peek into some of the most successful real estate marketing strategies' examples. Find all the awesome real estate marketing techniques and ideas in this ultimate real estate marketing guide covering both digital real estate marketing as well as offline real estate marketing.
1. Create a real estate brand
No matter how small or big your real estate organization is, create a proper brand for your real estate service. Think of a good name; get a good creative logo along with good colours so that you clearly send out a message to the market that you are a professional real estate company. Your approach has to be for the long term and you should believe that like some of the best real estate companies you will leave a real estate legacy forever.


2. Create a professional business card
Yes. Even in this day and age of online real estate marketing and WhatsApp property marketing, a professional and well designed business card for your real estate business is an absolute necessity. Make sure that you hire a professional business card maker and use your real estate business card as a strong marketing tool.



3. Understand, absorb and apply customer service fundamentals
Customer service in real estate is the most important marketing tool in real estate business. Make sure that you and your entire team learns, imbibes and practices good customer service fundamentals both before and after a property transaction because there is no stronger real estate marketing tool than this. Word of mouth marketing and referrals from real estate customers are the most precious real estate business leads that one could ever ask for. No amount of paid advertising can replace a satisfied customer referral.



4. Create a professional mobile friendly real estate website
Ensure that you have a very easy to use responsive real estate website with an easy to remember URL. Apart from displaying informative real estate listings for your clients, you can also add real estate information that is useful for customers visiting your property website. A well-laid out, pleasing, responsive, informative and interactive real estate website is the foremost digital real estate marketing tool for your real estate marketing business online.



5. Use good and easy to read copy on your property website
Many a time people get diverted from simplicity in the quest for impressing. Make sure you keep the copy on your real estate website as simple and easy to understand as possible. You can use the services good real estate copywriter who can ensure that your real estate website is not only beautiful but also sensible.



6. Use good quality and high resolution images
All property images used on your real estate website have to be of great quality. This is simply because the first thing that a visitor to your real estate website will notice is the images. If they are lousy, the chances are that in spite of you having put some very good and useful content the real estate customer will log out in a jiffy.
7. Create & regularly update your Social Media accounts
In this day and age of Social Media, you need to have your real estate social media accounts with the leading platforms like Facebook, Twitter, Pinterest, Instagram and even TikTok. Your real estate social media accounts need not be a one way communication platform. Make it interesting, informative, and interactive in a way that all users visiting your social handles could derive strong values from them. Apart from promoting your property listings, your social media accounts could be used to update and inform everyone about the micro details about real estate in a particular area. You could share any updates on changes in real estate regulations, property price updates or even share anecdotes from the real estate industry. Social Media Marketing for real estate is less about promotion and more about sharing. The more you share real estate knowledge, real estate marketing tips, real estate buying and selling ideas, property flipping ideas, etc. the further your real estate brand could go.
8. Treat every real estate social media handle uniquely
While setting up and updating all your real estate social media accounts, it is important to note that every social media platform is unique. You need to upload all your real estate content keeping this factor in mind. For example Instagram is a highly visual site – therefore it makes more sense to upload the best quality property images on Instagram to attract more followers and likes. Your Twitter real estate account can also be peppered with images but here these should be accompanied with certain key highlights or points that could possibly trigger discussions or idea sharing among your twitter followers. The same goes for your real estate account on Pinterest or your Face real estate account. The message is to use and treat every social media platform uniquely to enable to extract maximum benefit out of its uniqueness.
9. Keep yourself updated about new social media platforms
As the social media landscape keeps changing, you need to be updated about any new trending social media platform that is witnessing an increase in popularity in terms of users and views. For example TikTok has really shot up rapidly in terms of popularity and this (year 2020) is the right time to jump and take advantage of this popularity. Again your TikTok real estate handle has to adapt itself to the uniqueness of this platform and engage users in a style that is relevant to the TikTok audience.
10. Leverage your YouTube real estate account
No doubt that YouTube still remains the best real estate video sharing platform that can help you reach out to millions of clients in the most impactful manner. With Google's search technology at play; all your real estate videos can get the maximum reach if they are adding value in terms of knowledge, updates, etc. Make sure that you keep uploading new content on your YouTube real estate channel regularly with good quality videos, optimize them using the best practices and within no time your YouTube channel could be generating a lot of footfalls for real estate brand. You can refer to various learning materials and YouTube marketing videos by guys like Neil Patel & Brian Dean to enhance your own understanding and the applying such ideas to your channel.
11. Add multi share button on website pages
In this day and age of mobile internet, make sure that not only is your real estate website is responsive and mobile friendly but also that there is a visible share button on every page. This includes your property website homepage as well as the property listing pages on your website. Make sure that this call to action share button is placed in a way that is not irritating yet prominently visible. This will ensure that when a user wants to share any of your property website content with any one through any platform including WhatsApp, Facebook, Instagram, Email, etc. she or he can do so immediately and easily. That is the best and easiest way to get your real estate marketing brand and all your property listings to spread across the ecosystem.



12. Mobile first has to be your online property marketing mantra
With Google creating a separate search advantage for mobile optimized websites, Mobile First has to be your core mantra when it comes to your real estate website. The biggest search engine Google strongly advocates responsive web design. With more than 80% of searchers including those searching for property or real estate related websites using their mobile first, guess what you should do? Yes, this is just a quick reminder that you should make absolutely sure that whatever real estate content you are putting out there through your property website has to be mobile friendly.

13. Remember real estate is always local
Always remember that when it comes to real estate, it is always local. It means that you could sell real estate across the world but when it comes to real business, knowledge of the 'location' that you are selling is of paramount significance. So whether you are single man real estate professional selling properties in a single location or you are a multiple real estate agents company selling real estate in myriad locations, always remember that local knowledge and display of the same on your property website is crucial. It helps convince a potential buyer or a seller to make up her or his mind whether to contact your company. With real estate, although you can go national or global but you always have to be very strong in terms of local.
14. Create an informative real estate blog
One of the best tips for real estate marketing includes the creation and subsequently regular updating of a real estate blog that helps users in the real sense. Please get a good blog design implemented with a very prominent subscription button so that registered users are always updated about any new blogs being posted on your real estate website. Ensure that you post good, useful, informative and easy to understand real estate related content on your website. Although many real estate professionals take a real estate blog lightly, the attraction power of a good property blog is overwhelming, if done properly. A good real estate knowledgeable blog writer could make a big difference to the footfalls on your real estate blog. You can mix your real estate blog with a variety of important information that could include technical as well non-technical material on real estate. A strong real estate blog is one of the strongest pillars of a real estate marketing plan, indeed.
Make sure that your blog content is primed and optimized for SEO rankings. This will make certain that your real estate website shows up on relevant real estate keyword search organically which can spike your business in a big way.
Make use of SEO tools including Google Analytics, AHREFS, Ubersuggest, etc. to identify the specific real estate search key words as well as important key phrases that your potential clients type in while searching. You can also get a lot of important topics and blog ideas to write about using this research.
You can spice up your blog with good quality relevant images and infographics to amplify the content and also ensure stronger user interest and stick time. After all this hard work please do not forget to add call to action buttons and easy navigation guides to enable your real estate audience to come to your website home page or any page of your choice, easily. One of the important reasons to bring them to your real estate blog is to subsequently help them discover and understand the real estate business that you offer.

15. Comment on third party real estate blogs/sites/forums
There are many real estate forums, real estate platforms and real estate blogs where you can share your comments or share your ideas on real estate. Such informative and interactive real estate platforms help spread property knowledge. By participating you can increase your own knowledge and also increase the awareness about your real estate brand. All the value that you add to the real estate fraternity in general will automatically benefit your real estate business online as well as offline. Yahoo real estate, Indian real estate forum, Qora, etc. are popular platforms where a lot of real estate related queries, doubts, cases, issues are discussed.

16. Reply to comments on your real estate blogs/social handles
While it is important to create a real estate blog as well other real estate social media accounts, it is more important to be active on them. Any query, comment or issue that is posted in response to any of your real estate blog or real estate post on your social media accounts, you need to reply to them as soon as possible. Remember these are real people commenting and any response form the actual source (you), sends out a strong signal to the user that she or he is dealing with a professional real estate company or individual.

17. Improve and increase your network
Remember the saying – Your network is your net worth. Well if this is most applicable anywhere, it is in the business of real estate. Any real estate agent or property broker worth his salt has to be strongly networked. Meet people, improve your network, join organizations like BNI (Business Network International) and increase your presence socially. If you plan to tap the HNI (High Net worth Individuals) in your city or area, find out about the clubs or social circles that they frequent. Try and be a part of such clubs or social circles (Not easy but doable). Create contacts with rich and affluent individuals who could buy real estate as well as keep giving you references for future business as well.
18. Post listings on all possible property platforms
There are a lot of property websites and real estate portals where you can post your property listings for free. Please make great use of this. Also if you have the budget you can use the premium features of these property portals and leverage their reach to tap into a lot of potential customers for your property listings.

19. Write for real estate columns in newspapers and magazines
If you can, you should surely write for real estate columns in newspapers and real estate magazines. These are read by a lot of people and any well researched article that you share automatically increases your real estate brand value multifold. Also you inadvertently increase your network by writing for authentic and well followed real estate columns.

20. Attend and participate in real estate seminars
Make sure to attend as many real estate conferences and seminars happening in your neighbourhood or in your city or town. You could also participate in these real estate events as a speaker or as a research assistant. This will ensure that not only your own real estate knowledge increase but that you also share your own real estate experience with others. Any way you look at it, this exercise will greatly improve your real estate network.

21. Attend real estate exhibitions
Real estate exhibitions are another fertile ground for networking with your peers and competitors from the real estate industry. Try and attend all possible real estate exhibitions because you get a lot of updated real estate data. At the same time you get to meet a lot of people currently working for real estate developers. Networking with them can help you understand more deeply about a given property developer's new projects, available inventory, future plans, etc. The materials – brochures, plans that you can easily get during real estate exhibitions is priceless. You can use all this available real estate data to update your property website / real estate blogs, etc.
22. Use creative newspaper inserts to reach a specific audience
Many times as a real estate consultant you know that you need listings from a certain building or society. Or maybe you know that potential buyers for the real estate inventory that you have listed with you stay in a specific location / building or society. In such cases, you can reach these potential real estate clients directly through smartly designed paper inserts that go along with the newspapers. You need to tie up with the local newspaper supplier in a specific area who will charge a fee for this service. Since newspapers go directly into each house (whoever has subscribed to them), you have the maximum chance to catch the attention of your potential clients and get some good real estate business going. This is one of the best real estate marketing ideas if you are targeting a micro market and highly affordable too.

23. Send real estate post cards
In today's times it is relatively easy to get the office or home address of a certain real estate prospect. Once you have that in place you can get a good real estate creative or messages about a new project or a description offering your real estate services sent across to such real estate prospects. In these times of continuous bombardment of WhatsApp messages and digital real estate marketing, the old school tactic of using printed material for your real estate message can make it stand out. In fact real estate post cards are pretty effective as well as cost effective.
24. Be updated on your local real estate market
If you are a real estate agent then it is very crucial that you remain updated on your local real estate market and also keep your audience updated about the same. For example, be updated about the latest deals that have happened in your neighbourhood as well as any major changes in terms of rules and regulations. Keep your real estate website and your real estate social media handles updated about the same. In this way you become the go to source for any real estate updates in your neighbourhood. Be useful and market your real estate services by default.
25. Display your contact details CLEARLY
Many times in the hustle and bustle of creating marketing materials including property websites, social media pages, print materials, etc. one can forget the aspect of simplicity. Make sure that your phone number / mobile number / email id are clearly and boldly displayed for your customers to contact you easily. Do not make them search for it as nobody has the time for it and people tend to move away from one website to another in the twinkling of an eye. Therefore if you have got their attention, make it super simple for them to contact you.
26. Visit non real estate events too
Any event that has got a large number of visitors coming and attending should be of interest to you as a real estate professional. Your real estate brand can reach as many people as possible in the most cost effective manner and a large event can help amplify your property brand.

26. Inbound traffic is the most valuable
Ensure that your SEO strategy is bang on target when it comes to your real estate websites. The reason is very simple – the quality of inbound traffic is a lot better than leads generated through outbound tactics. Therefore you should hire a professional search engine optimization team that can help optimize your property website for certain key words and key phrases for certain locations that your specialize in. One genuine inbound lead is much better than hundreds of outbound leads because the customer intent is very specific in the former case. Of course for your high valued real estate deals, you need motivated and really interested customer leads that will convert faster.
27. Remember inbound traffic is the most valuable
Ensure that your SEO strategy is bang on target when it comes to your real estate websites. The reason is very simple – the quality of inbound traffic is a lot better than leads generated through outbound tactics. Therefore you should hire a professional search engine optimization team that can help optimize your property website for certain key words and key phrases for certain locations that your specialize in. One genuine inbound lead is much better than hundreds of outbound leads because the customer intent is very specific in the former case. Of course for your high valued real estate deals, you need motivated and really interested customer leads that will convert faster.

28. Deploy smart real estate email marketing campaigns
It is critical that your audience knows every time you upload an informative real estate blog or add new property listings relevant to them. By creating a fortnightly or monthly e-newsletter with a preview of real estate blog material, you can alert your real estate audience to the same. Ensure that they can also share this information easily so that your blog can reach more people. Also by reaching out to registered users whenever relevant new property listings are available, your real estate website can be really useful to them. It goes without saying that maximum details along with listing links including good quality property images, a video walkthrough of the property, if possible and / or a virtual inspection of the property will create a world of difference for the clients.
29. Virtual property showcase
Time is a premium commodity especially when it comes to really busy real estate buyers. One strong way to create a hook for a certain property is to create a virtual property showcase. By utilizing a set of virtual showcasing tools, you can let potential home buyers to taste a home virtually, creating an experience as close as possible to a real one. Online property showcasing allows you multiple benefits: it saves time, it creates an interest in the buyer, it negates the excuse of lack of time and it of course lays down the platform for an actual inspection and a deal thereby. Virtual property showcasing can be the next big real estate marketing tool in India for the Indian real estate professionals.

30. Create real estate Videos
One of the standout tools for any business including real estate is the video. One of the most powerful real estate marketing tools today is a well created video. You can create videos about a property or create knowledge sharing videos or create client testimonial videos, etc. The impact that even a simple yet well thought of video will have on your real estate marketing efforts can be tremendous. With strong social media platforms like WhatsApp, Facebook, Instagram, Twitter, etc. the reach and effect of a good real estate video can be amplified numerous times.
31. Provide free home and property valuation service
Any potential home or office or any kind of real estate seller is keen to understand his or her property market value. You can attract a lot of property selling clients by incorporating an easy to use home and property valuation kit on your property website.
By default, the home and property evaluation tool will capture all the essential details of the seller's property. This would include the complete address of the property as well as the contact details of the seller since she or he would want a detailed property valuation report through your real estate website. You will automatically have an actual seller's details which you can follow up and offer your real estate marketing services. In the true sense, real estate marketing is more about giving than receiving.
32. Offer moving and packing services for free
Okay, don't be shocked! For all your local clients with whom you have successfully closed property deals, you can offer a completely free moving and packing service. The movers and packers and the moving vehicle can all display your real estate brand during the service provided. There are two ways you can do this.
a. If you have the money to invest, set up your own mini moving and packing service. Use it to provide free services to clients for whom you have successfully closed deals. During other times run it as a proper local moving and packing business.
b. The other way is to simply tie-up with a local moving and packing company. Bargain for a discounted price based on the fact that you will provide them with multiple orders in a given year. Every time a client purchases or sells his or her property through your company, offer the moving and packing as a compliment. Ideally keep this offer as long as the moving is intra city or else the budgets could go haywire. By doing this you will surely get a client for life, get a good branding time for your real estate services and of course the goodwill that your real estate business will earn will be phenomenal.

33. Create a real estate forum online or turn your blog into one
For a real estate blog to be more effective, it has to be interactive, almost like a real estate forum. Get your in house team to research on certain relevant, tending and key real estate topics and start a thread on it. You could let people in your area to start discussions, ask questions and clear doubts with regards to any real estate topic. You could also bring in specific experts to answer technical questions to ensure authenticity with regards to the discussion. Real estate is a highly sensitive topic since any investment or disinvestment in the same impacts people hugely due to the high level of capital involved. If your real estate blog or your real estate forum can sincerely address and resolve the real estate questions raised by people; congratulations! You have seriously got a super-effective real estate marketing machinery on your side.

34. Wish, Happy birthday / Happy Anniversary to your clients
The best way to humanize your real estate marketing business is to make it behave like one. In the quest to close deals & make money, many a time we forget that every real estate client; be it a buyer or seller, is a human being. Human beings have emotions and when you show respect, gratitude and awareness, you manage to forge a more meaningful and deeper relationship. Create a proper database of all your clients; maintain all their details including their addresses, phone numbers, email ids, birthdays, anniversaries, etc. Ideally you should have a mechanism to gather this data from every client during the first meeting itself. It could be like an easy to fill form online or offline. Nurture and increase this data every day, every month and every year because this data is more valuable than pure gold. Set up dynamic yet simple systems to wish a particular client a Happy Birthday or a Happy Anniversary through an email, SMS or WhatsApp message.
Make sure that you (the promoter of the company) or every senior member of your real estate company gets an alert too. This way you can also wish the client personally as well as send a bouquet or a card at their address. Everyone appreciates such gestures and this will add the human touch to your real estate marketing making it grow organically with each passing day.

35. Highlight your neighbourhood, make it a hero
One important factor to remember in real estate is that people don't buy homes. They buy homes and the neighbourhood. While you are busy creating the best videos for the properties that you are trying to sell, create videos, creative of the neighbourhood too. Include all the salient features, highlight special areas, great facilities, display pictures of shopping areas, schools, entertainment zones, etc. and essentially bring out the best from your neighbourhood (or the neighbourhood where you are trying to sell a property). As a local real estate expert, the concerned agent from your team can review a certain neighbourhood and highlight all the unique features that the area has to offer. When someone buys a home, the aspects of the immediate neighbourhood (the micro) become a crucial priority compared to the aspects of the city or town (the macro). You can always choose to highlight the macro aspects too but only after you have covered all the micro factors in detail. Since all this critical information is well presented and it is coming from a genuine and authentic source (a local real estate agent), a potential buyer will surely get all the motivation that she or he requires coming down for an actual property inspection. Remember to display your contact details properly so that a client can get on touch immediately. This is definitely one of the most subtle ways of real estate marketing where well displayed information plays its role.
36. Use Instagram Stories for real estate marketing
As discussed earlier in today's times social media is an indispensable tool for real estate marketing. However every social media platform is unique. One of the biggest platforms today is Instagram without any doubt. The option of creating stories on Instagram gives you a very strong possibility to interact, engage and communicate with your Instagram followers effectively. This can definitely help you take your real estate brand forward in a manner where business generation becomes a byproduct.
The trick, however, is to be consistent and adaptable. Reach out to influencers who can help you with the growth of your real estate brand on Instagram. Search google to understand different Instagram marketing strategies for real estate. There are numerous articles, sample cases on How to use Instagram to attract qualified leads for your real estate business? Study those or simply get one of your team members to be dedicated to Instagram marketing for your real estate business. If your budget permits, you can also hire a real estate digital marketing agency to help you with your real estate Instagram marketing. Instagram has a whopping 1 billion plus users globally with a healthy number of users getting added every day. Instagram stories have crossed the 500 million daily users' threshold highlighting the strength of this platform (Source 99firms & SproutSocial). It is therefore almost mandatory that your real estate marketing plans have a clear and ongoing Instagram strategy.

37. Use TikTok for real estate marketing
Some of the biggest modern Gurus of online marketing have stressed on the fact that we have to focus on creating stronger brands which can ride on any rapidly evolving social media platforms. At the same time it is critical to ride the wave of popular trending social media sites at given points in time. Within no time (roughly 3 years), TikTok has breached the 500 active million users mark (source: Oberlo). Although it is a bit challenging but TikTok is a superb platform for real estate marketing if applied and used smartly. Study all resources online on 'How TikTok Can Help You Market Your Real Estate Business'? and get your real estate brand consistently active on this fast growing platform.
Create 15 to 60 second real estate content videos on this video sharing app. Broadly, you can try to create and share contents on TikTok like:
Interesting, yet unknown facets of your real estate business.
Good quality property collage videos with interesting background music.
Real estate videos with relevant hashtags.
Anything cute, funny or even shocking!
38. Devise games, competitions, puzzles and quizzes and target malls with footfalls
Shopping malls drive a good number of footfalls throughout the year. Device a few smart engagement mechanisms like games, competitions, etc. to interact with the visitors without disturbing their shopping or entertainment agenda. Essentially the whole idea is to create interactions that can blend with the environment, engage the audience creatively, expose your real estate brand and help capture crucial data of potential real estate buyers or real estate sellers. You could distribute non-expensive yet useful or attractive gifts with your real estate brand name as takeaways for the participating audience. This below the line real estate marketing activity can be designed with the help of an agency that specialties creating and executing such activities to get the best results.

39. Use infographics effectively
Make sure that your real estate company uses infographics very smartly and effectively across all its presentations including blogs, articles, proposals, listings, etc. The usage and creation of good infographic materials is paramount when you want to capture and hold attention of your real estate audience. Ensure good quality images, good modifications for specific presentations using Photoshop and most importantly usage of the infographics justifiably. Maps, charts, pictures, figures, numbers and comparative analysis using graphs create a very strong visual communication tool. The human mind by design is immediately attracted to strong visuals and any storytelling, be it technical or otherwise creates a deeper impact with the aid of strong visuals.
You can also experiment with inserting comic images, caricatures, funny one-liners, wherever possible, while sharing real estate knowledge materials. This would help your real estate marketing efforts a lot as it would make you stand out from the crowd immediately. Hiring a professional graphic designer/illustrator even on freelance basis can make the reactions to your real estate materials either 'okay' or "wow'. Importantly readers tend to share interesting and engaging materials immediately through WhatsApp, Facebook, etc. increasing the reach of your property website or your social post exponentially.

40. Use viral internet memes for real estate marketing
A pinch of fun to anything in life can work wonders. Well, real estate marketing is no different. You can connect with your audience more effectively through smartly executed communication materials peppered with latest popular memes making the rounds of social media at a current point in time. When it comes to your real estate social media handles, a funny post with a hilarious meme can help establish an immediate connection with your audience. Real estate is on the whole a serious business – any deviation on the lighter side without going overboard can help get your message across and highlight your real estate brand in a positive manner. Also remember that a well-executed real estate meme can travel almost at the speed of light on WhatsApp / Facebook and other social media handles. This is one of the most cost effective and fastest means to reach and influence potential real estate clients, period.
41. Get your real estate brand on smart T-shirts
For highly effective and impactful on the ground real estate marketing, you can create smart T-shirts with peppy real estate one-liners, real estate memes, and captions. You can offer your real estate branded T-shirts to local stores, to local tournaments, to existing clients, as competition gifts, etc. You can also sell them online under your real estate brand. A long lasting good quality and highly creative T-shirt can work as a super real estate advertising tool for your brand. Make sure that your real estate website / social media handles are prominently displayed on your T-shirts so that clients can reach you instantaneously.

42. Explore the power of handwritten notes for real estate marketing
Wherever you have the postal addresses of your clients or potential clients, make sure to send them direct handwritten notes via post or courier.
No form of digital outreach can offer the option of sending an actual handwritten note and you should use this option of direct mail judiciously. As per marketing experts, a well written and well-presented personalized handwritten note can enhance the response to an advertising campaign by almost 50 percent.
This exclusive real estate marketing strategy of personalization could be applied to all your luxury real estate marketing campaigns.

43. Form and nurture a healthy referral system
Among all the noise of digital marketing and other kinds of real estate marketing techniques, please keep in mind that word of mouth marketing is still the most effective. This is especially true when it comes to real estate leads. Referrals from satisfied clients work wonders and can be a super-rich and perennial source of real estate buyer as well seller leads across your life time. As per major researches across various categories, many sales prospects are never discovered because we hesitate to ask. Make sure you are always asking (gently & smartly) for references from existing customers who are happy with your real estate service
As your real estate business grows, it might become almost impossible to stay in touch with every client personally. Ensure that you build a robust email / sms / whatsapp system wherein you can stay in touch with all of your clients seamlessly. Ideally, regular emails can help as they are not considered intrusive. To get a strong referral system for your real estate company also focus on post sales service which is very big potential area especially in real estate marketing. Most real estate agents, real estate developers and property brokers tend to forget their clients once a real estate deal is over and the brokerage or deal money is received.
By providing a regular and professional post sales service and being in touch with valuable real estate tips can help your real estate brand occupy a good mind space among your clients. Guess whose name they would think of when it comes to anything to do with real estate? Your real estate brand, of course.

44. Highlight every member of your team with a strong introduction
Since you are creating all possible opportunities for real estate prospects to come and visit your real estate website through SEO, Social media marketing, networking, referrals, etc. you will get a lot of visits. When clients visit your website, the About us page has to reflect your company values, mission and vision along with your unique story. Also the Team page has to have the founder's / each individual agent's / employees' complete introduction / bio with a proper professional photograph of each individual along with qualifications, achievements, a bit about their personalities, etc. This factor is highly crucial and is one of the subtle ways of real estate marketing. Since the client is landing on your property website without speaking to you or your team, your About & Team pages become the first points of impression. If they manage to capture the user's attention, create a connection and convince her or him of your professionalism, you are in business.
45. Invest in Tele-calling
Investing in a proper tele-calling set up can help you generate a lot of real estate leads. It can also help you sharpen your client follow up method to a large extent. There are many ways that a telecalling set up can help your real estate marketing business. You can procure a strong data base of a certain locality or community or fraternity and deploy a calling activity on the same for a given real estate project. If the data is genuine, you are bound to generate warm leads that can go further into the calling pipeline to be converted into actual deals. A good quality data base and a smart set of professional tele-callers can literally create magic. However, if you are cold calling please make sure to create a strong reason for the approach. Also as per the locations, check with regards to the rules applicable to such an activity before embarking on the same.
A tele-calling team is also crucial when you have generated a lot of real estate leads from a certain high powered campaign. It is of paramount importance to get the callings done at the earliest to gain the maximum out of such leads. As the response time from your end gets delayed so does the interest of the potential client withers away too, in most cases. Ensuring an immediate quality calling to all property leads generated against a campaign can help you fetch some very hot leads indeed.

46. Keep a strong ready-to-use pitch for fresh leads
As your real estate marketing business expands, it would become more and more challenging to speak to every new lead/client personally. Keep a ready to use pitch handy for your entire real estate team to use when speaking to a new lead or a new client. Of course some basic level modifications would have to be applied to this pitch but at least the basic skeleton will help your real estate marketing team transfer the core values of your real estate company and also create the desired first impression on the client.

47. Brand and distribute utility items
Apart from T-shirts as mentioned before, you could also get your real estate brand highlighted in your area of operation by branding useful items like pens, key chains, bottle openers, fridge magnets, book markers, etc. You can share such branded items during competitions as prizes or simply gift them to your clients during special occasions. In fact you can create a series of branded gifts which are time specific, occasion specific and most importantly are utility oriented. With your property website and other details printed, these utility gifts can be your silent real estate marketing soldiers operating far & wide and for a long time.
48. Invest in No parking signs
Branded 'No Parking' signs are good and long lasting and affordable real estate marketing tools too. If created correctly and if placed strategically, No Parking signs can help your real estate brand get a lot of exposure for a really long time indeed. Many real estate agents and property professionals have confirmed that with the No Parking sign campaigns, they have witnessed a phenomenal increase in the number of local property listed with them. Yes, the amount of local real estate business that you can generate using branded No parking signs could actually surprise you.
49. Barter with Outdoor hoarding & OOH media companies
Huge billboards, hoardings on bus stop shelters, signage on public transport are extremely effective but expensive. You can definitely give a stupendous boost to your real estate marketing plans by getting your real estate brand on Outdoor Media. Since it is an expensive affair, you can try for a barter deal with OOH media and billboard companies where they can display your real estate brand when they have vacant spots and you can promote them on all possible materials that you have got including your website, social media handles, etc. Even if you have a few outdoor media companies tying up with you that could actually stimulate your real estate brand enormously.

50. Appeal to your clients to rate your services online
Ratings online do matter. You look at some of the biggest travel portals or even real estate portals – client ratings, opinions, experiences, etc. are definitely taken seriously. This can impact your real estate business positively or adversely. If you are confident of real estate marketing services, you should ask your clients to review your services online with all honesty and this could surely open the door for your real estate company for more business.

51. Request happy clients for testimonials
Ideally as a real estate business your best real estate marketing strategy is to keep all your clients happy and satisfied. You should work zealously to achieve this goal. Delighted and satisfied clients are anytime more powerful than all the real estate marketing methods that you can think of. You can request for their testimonials including written as well as video testimonials. Display these positive testimonials about your real estate services clearly on your website and social media handles wherever appropriate. Positive testimonials help any new coming client to your business decide about doing business with your company as well as provide the confidence to trust you.

52. Sponsor local events
As discussed many times, real estate marketing including real estate broking, real estate consultancy is always a local business. Any real estate client would want to work with a property professional who understands the given location. Therefore being known as a trustworthy local real estate brand is of paramount importance to a real estate firm. Wherever possible, try and sponsor and be a part of local community events including sports, cultural activities or any other. Your real estate brand can add a lot of value other than money like mentoring, helping reach out a larger audience for the said event through your platform or network, etc. Being on top of the mind as a local real estate brand among the local community can work wonders for your real estate business.

53. Create personalized email signature with your image
An email is still a very powerful and formal way of communication. Therefore make sure that every email that you or any one from your team sends to anyone should have her or his personalized email signature with a personal image. This would automatically help create a better brand experience and a personal connection with every email communication that anyone from your company shares. This again is an example of a very subtle way of real estate marketing through existing collateral.

54. Share free real estate knowledge & research based pdfs
Engage the best methods to research on key real estate information, real estate news, real estate updates, technical aspects of real estate, analysis of a locality in terms of its real estate future and other such core real estate issues. Using your real estate website, your real estate blog and your social media handles offer your best research materials for free downloadable pdf files to all your readers. As a condition, simply request for the person's details before allowing her or him to download any material. This real estate marketing method is based on the give to get philosophy. You end up getting a lot of data that you can nurture for your real estate marketing company after giving a lot of value based data absolutely free. It is a good bargain.
55. Insert squeeze pages on your real estate website for capturing leads
An easy to fill lead capture form is a crucial factor to gather necessary information from potential clients. All your creative real estate advertisements or property banners upon being clicked should take the user to a specially designed squeeze page along with a lead capture form enabling you to receive the details of the lead including her or his requirement and complete contact details. Any real estate marketing effort without a proper lead capturing technique is incomplete.
Essentially you can set up data capture forms at every possible location on your property website where a visitor has to submit his or her data to receive additional information. Also while creating squeeze pages, ensure that you take the help of a professional (you can get good options from sites like Unbounce, Aweber or Instapage, etc.). If you want to create your own real estate squeeze page, you can understand the concept from helpful online sources like Backlinko or Neil Patel.
56. Integrate real estate chat bots on your property website
With advancing times, your real estate marketing and interaction with clients has to evolve too. To ensure uninterrupted interaction with your clients and enhance your website's communication, integrate a real estate chat bot. Being a completely automated piece of software, a chat bot interacts with your website visitors real time and helps secure and filter property from customized digital real estate marketing campaigns or from anywhere on your property website.
A real estate chat bot can be a real shot in the arm for your real estate marketing efforts. It is a real-time assistance for visitors – A real estate chat bot can attend any property website visitor instantly thus increasing your business chances.
A real estate chat bot is like having a property expert available on your website 24×7. So any query from clients even from different time zones is attended to professionally,
Also, a real estate chat bot: provides customized solutions – based on unique needs of the specific client, improves engagement quality, is more efficient & time saving, makes follow up easy and effective, records complete interaction history, pre schedules site visits and provides instant 360 degree virtual showcase. Check The 10 reasons you need Chat Bots for real estate business and understand all the advantages of implementing chat bots in real estate marketing.
57. Use Social proof (both static & dynamic)
We have already discussed one part of Social proof in real estate marketing. It consists of the ratings, reviews, written testimonials, video testimonials, and likes on social media, etc. for your real estate service. The other kind of social proof is the dynamic one where actual visitors on your real estate website can see other visitors' buying/registering/availing some kind of real estate service on your website, real time. Of course social proof is critical in real estate and other business verticals because new / fresh clients are more likely to make a purchase or deal with a certain entity with an understanding that other customers have done so before and are doing so right in front of them. It is almost like people queuing outside an already crowded restaurant and ignoring an empty one because they believe that if the crowd is there, the place must be good.
For implementing dynamic / real time social proof widgets on your property website/ real estate portal, you can check options available like wisernotify.com, popkit.club, provely.io, provesrc.com and others. Apparently perfectly implemented and well executed static and dynamic social proof methods can prove the ultimate real estate marketing boosting tonic for your company.
58. Add real estate tools like home loan EMI calculators, property finance related calculators, and similar tools to your website
Almost all of the visitors coming to your property website are there for buying a property or selling a property or letting or availing a property on rent or something similar. Create simple and easy to use calculators for your clients which they can use to calculate the total expense while buying or selling a home or office including government charges, etc. Also provide home loan EMI calculators that can give them a sense of the EMI that they would have to incur on a certain amount of loan so that they can plan their finances before taking any decision. These value added services will help potential clients take informed decisions and also highlight your real estate brand as a professional and helpful one. Empathy is one of the most important aspects of real estate marketing or any marketing for that matter. In fact you can keep your website updated with more advanced real estate tools as they come and become a reliable source for the same.
59. Implement call to action buttons smartly
After doing all the hard work of getting users to visit your property website through a well written blog or through a landing page or through a well created listing page, etc. make sure that the visitor has a clear idea about what to do next. Essentially, correctly worded & attractive call to action buttons that are placed strategically across your property website can be highly effective in generating good quality leads. As a real estate marketing company, you should integrate clear 'call to action' buttons across all of your real estate marketing materials.

60. Offer free real estate guidance to website visitors
Depending on whether you are a property developer or a real estate agent or a public real estate portal, every visitor can be broadly divided into 4 categories in general. The visitor could be a property buyer, property seller, real estate broker or an information seeker. For any of the category you can create real estate guides, property resources that cover technical and legal real estate issues or anything that could be relevant to any of your visitor. For example many first time property buyers have a lot of anxiety about property legalities or security of their investments. You could create a comprehensive real estate guide around such topics and keep it handy for them to download. Also there are new real estate agents who would like to understand more about real estate marketing or about better ways to handle property leads and so on. Your real estate portal could offer a complete real estate guide for such property professionals too.


61. Offer free real estate resources like online property ready reckoner
Depending on the country or region that you come from, there are a lot of different technical topics like real estate taxes including stamp duty, registration fee, lawyer fees, etc. For a given location you can offer a completely updated online real estate ready reckoner that can offer all this information easily. This would definitely increase the value of your real estate marketing website and ensure regular visitors who will log on to your property website to use such a property ready reckoner. Of course while they are there, you can deploy the best possible call to action mechanisms to increase your real estate business.
62. Create multiple, specific topic or location websites
A specific location or real estate vertical targeted website has a better impact on visitors than a general one. It projects an image of specialization in front of customers and also helps in higher rankings on search engines. Creating multiple real estate websites could be a part of your real estate marketing strategy if you are dealing in various locations or various real estate verticals. For example suppose you are dealing in preleased properties, hotel sales and purchase, corporate leasing, co-living spaces, warehousing real estate, commercial properties, etc. you can actually have at least 1 website for each of the above topics. This strategy will help you rank higher on each of the specific topic with the help of the specific website that you have created. You could execute the same idea with regards to each separate location too. However this should be done diligently and only if one has the bandwidth and perseverance to nurture each website justifiably.
63. Measure your real estate marketing and monitor your property websites
Keep a real time tab on all that is happening on your real estate website both on the macro as well as macro level. It is critical to know which website pages are working well, the ones that aren't and also the kind of responses that they are able to generate. This will help you fine tune your real estate marketing efforts as far as your real estate website goes. You can to this with the help of web analytic tools like Google Analytics, SEMrush, Spring Metrics, Woopra, Kissmetrics, Crazyegg, etc.
From tracking and analyzing data about web traffic to knowing which keywords are attracting most visitors to your web pages, to understanding which factors of your web design are working or not working.
Also having real-time conversion analytics, knowing top converting sources, diving into keyword & landing-page analysis and much more is possible through many of the advanced analytical tools available today.


64. Make creative listing boards on Pinterest
Pinterest is a great platform and real estate marketing on Pinterest can be quite effective. Creating useful and creative boards on Pinterest covering multiple aspects of real estate can help you use Pinterest as a great real estate marketing tool.
Apart from property related information, location scenes, highlights of a location your boards could share general real estate tips and advice for sellers & buyers.
Make sure that pin only high-quality images or videos. You can attract both real estate buyers and sellers by creating boards with topics like Unique Home décor ideas, Dream Home designs, cute kid room tips, living in style, Maximizing small spaces, Easy home improvement tips, home painting ideas, killer ideas for fast selling and many more.
You should add your contact details, link to your website or a specific landing page so that anyone who likes your pins can contact you easily.
65. Have specific plans for each Social Media platform
Make sure your real estate brand adapts to the unique personality of each Social Media platform. All of these social media sites have their own individual flavor and style that have enabled them to create their phenomenal number of audiences. To make the maximum advantage of your real estate brand's presence on these social media sites, present your brand and customize your content in alignment with the character of that particular platform. If done correctly and consistently, real estate marketing on social media is a highly productive activity indeed.

66. Include Social Media remarketing in your real estate marketing plans
Remarketing is a powerful way of marketing and consists of following your leads across the internet with connected offerings. In most cases, many visitors to your real estate website won't convert to customers instantly and that is where remarketing or retargeting can help you immensely. Remarketing can also be applied to a list of contacts you already have with you through an email campaign or other real estate marketing campaigns.
For remarketing to visitors coming to your website, a code (cookie) is placed on the page that the visitor lands on, which activates your customized advertisements to follow that cookied visitor across the internet including on social media platforms or on other websites.
For remarketing a cookied visitor on other websites, you can work with Google Ads which will enable you to remarket through the massive Google Ads platform by generating specific rules driven remarketing lists. By using Google Ads you can retarget or remarket all visitors on your real estate website or visitors who came to a particular page on your property website. Google will trigger and display your advertisements to the same visitors on websites that they visit within a time frame across the gigantic Google Display Network.
Similarly when you wish to remarket to a visitor on Facebook, a Facebook pixel on your real estate website will enable to trigger your customized advertisement in front of the same visitors when they the log into their Facebook account. A similar remarketing or retargeting strategy can be applied across other social media platforms including Twitter, YouTube, Instagram and LinkedIn.
Remarketing is a super powerful way of marketing and should definitely be one of your 'Go To' methods in your real estate marketing strategies. It helps you remind real estate clients already familiar with your real estate brand and reconnect with them strongly irrespective of their location.
67. Be regular with social media postings
It is critical that your real estate brand's presence on Social Media is not simply cosmetic and you don't create social media accounts just for the sake of creating them. The idea is to be consistent, regular, relevant and in constant engagement with your audience. Also the more engaged you are with your current audience with regular posts and updates, the better the chances of the growth of your audience size of your audience organically which will ultimately help your real estate marketing in a big way.

68. Display your Social Media buttons prominently on your real estate website
Consider this – if a visitor likes your property website, the chances of her or him following you on your Social Media handles increase largely. By ensuring that your website visitors can do so easily, you will automatically ensure a constant and meaningful contact with your real estate prospects forever. That also increases your real estate marketing prospects to their contacts and so on. You get the point, right? It is therefore very important that all your Social Media handle buttons are displayed prominently on your property website. Ideally most of the leading web designers club all social media handle buttons together and a user immediately will immediately know that this particular cluster is the one for Social Media.

69. Adopt Social Media Management for your real estate business
For making the most of your real estate marketing on Social media, it is critical that you make use of Social media scheduling tools. With the help of a streamlined social media management process many things like blog posts, announcements, property details, and real estate tips can be scheduled in advance with tools like Sprout Social, CoSchedule, Feedly, Airtable, Tweetdeck, Planable and others. Thus your real estate marketing on social media will be more efficient, seamless and help you forge deeper connections with your followers translating into business possibly.

70. Create and share infographics and slideshows
Rich, vibrant and informative real estate knowledge presentations created using images and multimedia can have a deeper penetration that plain text. Convert all of your important real estate content into nice slideshows or infographics and share on popular sites like Visual.ly, Infographic Reviews, Fast Company, Infographics Showcase, Flickr, Reddit, Infographic Bee, Infographaholic, Flowing Data, Daily Infographic, Mashable Infographics, Cool Infographics, NerdGraph, I Love Charts, Infographic Labs, Media Caffeine, News I Like, Infographic Journal, Infosthetics, Graphs.net, etc.

By producing and sharing rich infographic, useful and informative real estate content on the above mentioned online platforms can invigorate your real estate marketing overall.
71. Participate in real estate discussions on Twitter and also start your own ones
As per sites like Oberlo, Twitter has more than 330 million users today. Therefore having Twitter into your real estate marketing plans is surely a prudent choice. Using Twitter, you can involve in professional discussions / tweets with real estate professionals across multiple locations highlighting your brand by default. You can also share tweets, suggestions and ideas with your real estate clients. By following important real estate and property related conversations and providing your valuable thoughts or even posting relevant questions, you can help your estate brand considerably.
Creating your own real estate Twitter chat, will help you formulate a topic and drive conversations and discussions around it. A move like this could help your real estate marketing hugely as it would position your real estate brand as a thought leader in a particular location or in general.
72. Join popular platforms to particiapte in, comment on and discuss about real estate
Apart from popular social media handles there are many real estate and general forums like Indianrealestateforum.com, Indianrealestateboard.com, PropertyForum.com, Realty Fact, JustProp, Reddit.com, 99acres real estate forum, Magicbricks real estate forum, Quora, Bigger Pockets, Agents Online, City-Data,Wall Street Oasis, REI Club, CRE Online, CREPIG, Topix, Meetup, etc. where you can participate in conversations. As a subtle real estate marketing strategy, you can comment on ongoing real estate conversations as well as start a new thread of your own by posing interesting real estate related questions that trigger further discussions from other real estate professionals and property stake holders. Quality and organic back links from these sites will helps your property website's SEO rankings and also improve your real estate brand value for sure.

73. Write quality real estate articles and publish on websites with strong domain authority
Invest time, research well and write informative and useful articles on key real estate topics. Approach the topmost websites of the world that have strong DA (Domain Authority) like Forbes, Mashable, Entrepreneur, BuzzFeed, etc. Even a single real estate article published on such strong websites can help your real estate marketing big time and increase your real estate brand value as well.

74. Organize social media contests under your real estate brand
Thoughtful and interesting contest on popular social media platforms like Facebook, Twitter, Instagram can work wonders for your real estate marketing plans. You will be able to generate good quality real estate leads as well as further the brand power of your real estate company. The important thing is that each contest has to be interesting and customized as per the decorum of the specific Social media platform.
75. Include Native Advertising in your real estate marketing plans
Although considered old school, native advertising has made a strong comeback as one of the most effective ways of digital marketing. You can fruitfully use native advertisements for your real estate marketing business and generate more property leads. Native advertising in real estate can also be a very strong addition as well as an option to paid ads on Google or paid campaigns on Facebook or Instagram.
Native advertising is a very subtle way of marketing as Native Ads blend with the content and form of the particular website that they appear on. Hence the chances of a user reading through or experiencing a particular native ad is very high as it appears as an extension rather than a distraction in the original content which she or he is consuming.
One major advantage is that native ads influence both divisions of the brain. It means that they are able to connect to an audience on both the emotional as well as the rational level. Real estate purchases are high priced ones and therefore decisions are seldom impulsive since the commitments are capital intensive. Therefore Native advertisements are truly tailor made for real estate offers since they can engage your customer on a deeper and subconscious level. Native advertisements and customized content campaigns can help you generate good quality real estate leads and boost your online real estate marketing strongly.
You can run your real estate native advertising campaigns for great results with native advertising specialist like: Taboola, RevContent, Content.Ad, AdNow, Outbrain, Adversal, Rightnative and many more.
76. Use Google Ads (AdWords)
It is almost impossible to rank on top for all relevant keywords or key phrases in your real estate category. The best way to ensure that you do not lose out on any critical keyword search is to run google AdWords for those keywords. For example if there is any new real estate project launch that has happened and you HAVE to appear on top in the Google searches INSTANTLY, simply opt of Google Ads immediately. Google Ads can be used regularly as a part of your inbound online real estate advertising for generic real estate keywords. However, that could be expensive but worth doing, if affordable. Google Ads should be especially used when you know that timing is critical and it is imperative to appear in a particular real estate search at that moment simply because you know that the inbound real estate leads at that moment will CONVERT. In such cases Google Ads can work miracles and fetch you good real estate business.
77. Run paid Facebook campaigns
Real estate marketing on Facebook can play a big role in your real estate marketing in general. With almost 3 billion users on Facebook, you need to explore the power of Facebook for successful digital real estate marketing for your company. You can generate authentic property leads through smartly created Facebook marketing campaigns.

Paid Facebook marketing provides laser guided marketing options that include targeting through location, demographic, interests, and targeting based on behavior. You can also target potential real estate buyers through Zip Code, Age factors, income criteria, home ownership status and even people with a 'likely to move' status. With such potent options, if you can be really creative with good videos or effective graphic designs, the amount of quality real estate leads that a paid Facebook real estate marketing campaign can generate is phenomenal. There are real estate agents, property professionals, real estate developers who have got huge success with Facebook marketing.
78. Keep your data updated & Sync your leads and contacts
Most property professionals and real estate agents are extremely busy. It is critical that you always have the data that you need available to you anytime, easily. Real estate deals are highly dependent on the quality of follow-up of leads and prospects. Therefore having all your data including leads, clients, prospects, follow-up history on your fingertips is crucial to your success. When it comes to real estate marketing, generating leads is one half of the story and keeping it organized, accessible and following up on the same relentlessly is the second half which makes your success story complete. Make use of some of the best and latest real estate automation solutions and automate your data base, contact management so that you can save time and close more deals at a faster pace.

This is ONE very important STEP that you need to take if you wish to improve your real estate marketing results and close more real estate deals – SYNC all your data and streamline it seamlessly across all apps & devices for all your real estate agents.
Data syncing apps like PieSync can help you easily sync all your real estate apps and your real estate marketing tools so that you can keep a real time tab on all your leads, data, updates and close more property deals.
You can search a list of the best real estate apps for 2020 and use them for your real estate marketing business.
79. Use Video Email Marketing smartly
Real estate marketing video strategy can be a very good addition to your armory of real estate marketing techniques. By using real estate video email marketing in place of simple text based emails, you can increase the effectiveness of your email communication exponentially. A plain text email without any character, you can simply video shoot your real estate message and make a more profound connection with your real estate audience to whom you are sending those emails.
With video emailing, emails are a making a strong comeback as an impactful way of communication.
By making personal videos that has your sound, face, body language and essentially the authenticity that only you can bring about, you are fortifying your communication in a big way indeed.
You can plan your real estate marketing video emails in terms of customized videos for new clients, cold leads, etc. You can also create thank you videos for old clients / clients who have closed deals with your Real Estate Company or even clients who have trusted you for a potential purchase. Creating a video for your real estate team and using the same to motivate, share business plans, etc. can be effective as well.
A Video email increases the chances of the email being opened and there is a strong reason to that. By sending a video message you are giving a face, a personality to your real estate brand and coming across as a real estate company that has empathy. Many real estate professionals agree that by attaching a good quality video to their email messages they were able to majorly boost their email opening and response ratios. As per statistics available from leading real estate email marketing companies: emails with video enjoy 80% more replies, almost 70% leads get converted more and more than 50% clients share more referrals.
With the help of personal real estate video emails you can spice up property updates and make real estate news more engaging.
You can also make quick, customized real estate video emails for potential clients and also keep a tab on your real estate video engagement. For the best results you should simply amalgamate your real estate video emails with your real estate CRM.


80. Maintain Relationships and deals will happen
This is a quick reminder that all your real estate marketing efforts are nothing if you cannot create and maintain relationships. Remember that all the technologies that you use, all the techniques that you apply are the means and not the end. The main goal is forge new relationships and maintain & nurture the ones already formed. The amount of referral business that a real estate professional can earn simply through relationships can last beyond a life time. Your mantra has to be to maintain relationships and real estate deals will simply flow as a byproduct.
81. Explore Symbiotic Marketing
Real estate compliments a lot of businesses like moving and packing, interior designing, architecture, hospitality, furniture and many more. Make sure you stay in touch with proactive business owners who run businesses that can align with your real estate business and run cross promotions. That way your real estate marketing happens through their business and their marketing happens through yours. Symbiotic real estate marketing can help you market your real estate brand to a whole different variety of audience and get you real estate leads from unexpected quarters. Apart from that Symbiotic real estate marketing could be totally barter based and will literally cost you nothing except for the creative and collateral that you create.
Find multiple ideas on Symbiotic real estate marketing here.

82. Great real estate content equals great real estate marketing
When you publish well researched real estate content – be it real estate news, real estate updates, real estate guides, real estate ideas, real estate investing tips, home flipping ideas, real estate marketing ideas, home loan updates, etc. you are automatically creating an invaluable real estate marketing machinery that runs all the time and pays you in multiples for a lifetime and beyond. When your real estate website or your real estate social media handle becomes a rich source of information or guidance for real estate, you are practicing the Win-Win principle in the real essence and spirit. The goodwill and the benefits that this will have on your overall real estate business will be phenomenal to say the least. Get the right people to research, write and publish quality real estate content across all your real estate platforms consistently and regularly.
83. Collect real estate reviews on social media
As discussed, Social media is definitely an indispensable real estate marketing tool for your real estate business. One very important part of your social real estate marketing strategy is to get your existing customers to review your real estate service on social media. This is because one study indicates that the chances of an online real estate buyer contacting a real estate agent increase by over 60% if they come across positive reviews on social media about that agent.
Given the very nature of the medium, Social media is a powerful source for a consumer to share his or her opinions and also to form his or her opinions based on the feedback of others.
Satisfied customer reviews, testimonials, positive words on a social media platform works very similar to your neighbourhood word of mouth publicity. However iwhen it comes to word of mouth publicity on social media, the scale is much bigger and the speed is much faster.
The golden rule to get good customer reviews on social media for your real estate company is to give them fantastic real estate service. There are other ideas like offering them free appraisals, a discount on brokerage or other incentives. However the best idea is to give them world class real estate service so that the review is a heartfelt expression rather than a fake one.
84. Use relevant hashtags across your real estate content
Some of the most powerful real estate marketing tools in the world of social media, real estate hashtags are actually words or phrases which come before a hashtag (#) sign. Some of the biggest social media platforms like Instagram, Twitter, and Pinterest utilize hashtags to segregate content into specific topics.
Other visitors on these social media sites are able to click on such hashtags and discover all the posts under a particular topic.
By using relevant hashtags smartly in your real estate marketing campaigns, you can actually attract a lot of potential real estate clients and reach out to people who might have otherwise missed your content.
Essentially you are just publishing real estate content like you have been doing but armed with the perfect dose of branded or generic hashtags. Now your content becomes a potent force in terms of creating your real estate brand awareness across social media and will go a long in way in raking more real estate business for you.
Check the best 99 Real Estate Hashtags for 2020 on Instagram, Twitter & Pinterest
85. Quality real estate leads nurturing will help close more deals
Well, for any real estate marketing company, a success in lead generation can create a lot of excitement. Although that is good, it is important for you not to take your eyes off the real goal; which is to close property deals. Lead generation is just the means and not the end. To make sure that you and your real estate marketing agents are able to close more deals, you need to nurture all the leads that your property marketing efforts are generating, put them in a pipeline, follow up religiously and move the leads up the marketing funnel in the process. REMEMBER that every 'Lead' is an actual person and needs to be treated with respect & attention. Adopt a nurture strategy for each and every lead that you generate. Having said that you can also identify the best and the not so good leads and then have a system to segregate these leads into Hot, Warm, Cold or Useless ones. Accordingly then you can set priority levels for each lead.
If your 'Lead Nurturing' is constant and of high quality, your actual real estate deal closures would be awesome too. One more guaranteed benefit is the branding that your real estate company will enjoy due to the quality of follow-up.
86. Use the power of LinkedIn for real estate marketing
With over 675 million users globally, LinkedIn is the world's largest professional network and highly effective too. You can use LinkedIn in a very effective manner for increasing your real estate brand awareness and generate some really genuine real estate leads. The immediate advantage that you can get out of LinkedIn is the wealth of network that you can create and explore both locally and otherwise. By publishing useful, informative real estate articles, updates, news, opinions you can raise awareness among the best in real estate business about your real estate brand. By creating groups to reach local community members you can create a niche for yourself as a real estate professional in a particular area. By consistently sharing interesting real estate and related content of varying types including blogs, articles, anecdotes, memes, curated topics, etc. you can occupy your audience's mind share as a go to source for real estate knowledge. By integrating social sharing plug-ins to your real estate company page you can attract a lot of meaningful traffic towards the same. You can also use the paid marketing and sponsored options on LinkedIn to grow your real estate brand further. Since LinkedIn is a strictly professional network, your real estate marketing on LinkedIn will help your real estate business in establishing your credentials.
87. Buy free/paid listings popular real estate portals
Remember no matter how good your own personal real estate website is, there will always be a lot of real estate traffic that huge public property portals attract that is almost impossible to match. The reason is that these property portals like 99acres, Magicbricks, 99sqft, Zoopla, Zillow, etc. act like real estate marketplaces and collate millions of data from multiple resources including real estate agents, property owners, real estate developers, etc. The amount of real estate related visitors that such public real estate portals are able to generate is phenomenal. You should advertise on such property portals and use options including free listings as well as paid listings. Of course the amount you spend would be as per your real estate advertising and marketing budgets. However the advantage and the real estate leads that you can extract from such real estate advertisements would be huge. You can get a lot of fresh property leads and generally real estate leads from good public property portals are meaningful converting into deals if followed up professionally.
88. Deploy attractive graphics for real estate ads.
No matter where you are displaying your real estate advertisements in the form of banners, slides, videos, memes, infographics or any other elements, make use of the best graphics. Get the help of professional graphic designers to create quality real estate ads that can attract a lot of audience. Instead of creating multiple mediocre property ads, create few but highly impactful ones with the help of mesmerizing graphics. Your real estate advertising will simply come to life through this and deliver a lot of quality real estate leads to you in the process.

89. Identify and advertise in popular local newsletters
You can identify newsletters of popular businesses within your neighbourhood or your city which have a lot of circulation. By providing value added content to such newsletters you can market your real estate brand through them. You can also choose to avail paid advertisements with such local newsletters for highly effective local real estate advertising. Since the audience is a highly targeted one within a micro market you are absolutely sure that you are speaking to the exact audience that you want to.

90. Create 'How To' real estate videos
The best real estate advertising happens when your real estate brand can create a value addition in the life of potential customers. Identify challenging real estate topics and create videos on the same offering the best possible solutions. Market such How to videos on YouTube and reach out as many people as you can. You can create videos on technical aspects of real estate or on topics like How to paint your house within a low budget or even how to increase the value of your homes with simple up gradations, etc. You can create such helpful real estate videos for everyone in the real estate ecosystem. This should include potential real estate buyers, real estate sellers, real estate developers, property agents, movers & packers, architects, interior designers, real estate lawyers and others.

91. Enhance advertisements of exclusive properties
When it comes to any exclusive property listing that you receive, the real estate marketing for the same has to be unique as well. You should use a mixture of rich graphics, engaging high quality videos, high resolution images and all possible creative elements to highlight the unique features of the said property. By doing so, you can grab a lot of attention of the target audience and close deals faster.
92. Update your real estate business on Google My Business (GMB) listing for powerful local SEO
Google is a default search option. Therefore by setting up your real estate brand on Google My Business your real estate business will have a great possibility of showing up in Google's Local Pack, Local Finder, Google Maps along with Google organic rankings too.
These are some of the most prominently displayed searches especially when it comes to local searches and therefore by simply submitting your name, address and phone number in your profile ensures that your business appears prominently in Google's 3-pronged map listing:
By getting your real estate agency to show up in Google My Business (GMB) listing is VITAL as your real estate business will get a lot of attention due to the combined visual power of three elements:
Google map
Google ratings
Displaying your website and directions links
Providing Call button on mobile instruments for quick contact
By ensuring that you have your real estate business listed in the top 3 Google My Business (GMB) listing, you increase your chances of generating quality local real estate leads tremendously.
If you have not yet claimed and verified your Google My Business Listing for your real estate business you can simply go to https://www.google.com/business and start.
What's also important is that Google My Business is absolutely free to use and you should make the best of it as a real estate marketing business.
Read more on: How to optimize Google My Business for real estate?
93. Use the art of storytelling & graphics to enhance engagement for your emails.
By incorporating interesting storytelling features and creative real estate videos or attractive graphics, you can improve click-through and conversion rates for your emails substantially. Your real estate marketing can be a lot more potent with effective email marketing strategies.
Read more: The incredible guide to real estate email marketing
94. Set up Schema Markup For your Real Estate Website
Schema is currently one of the critical ranking factors of SEO. By using Schema you arrange elements on your real estate web site in a method that assists Google understand all the data that you have displayed. Through well planned schema markups, you are actually helping Google how to display the information on your real estate website attractively to a visitor. All the pages with schema boost SEO rankings and increase the property leads generated for your real estate marketing business.
Read more: The conclusive guide to Schema Markup For Real Estate Website
---
---
--- Written by
Robin Gangawane
A soft spoken and modest guy, Robin is a powerhouse when it comes to getting a job done online. On the professional front, Robin is an SEO & SMO geek working meticulously to ensure the best rankings for all his web c

Read more
---
---