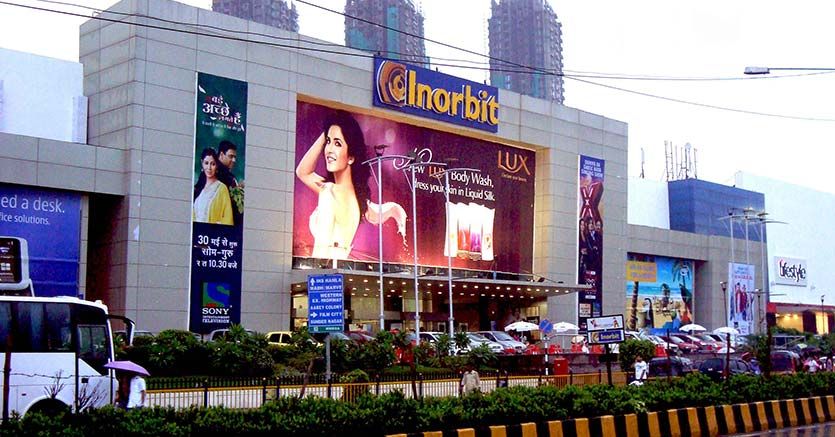 One of the hottest and most happening real estate patches in the western suburbs of Mumbai today happens to be the Goregaon-Malad link road belt. Some of the tallest residential towers, the biggest commercial and IT zone – Mindspace, retail spaces, restaurants, hotels, showrooms, etc throng this vibrant location in the heart of Link road. The property prices in Goregaon-Malad link road have shot through the roof. The demand for 1/2/3/4 BHK apartments for sale in Gorean-Malad link road is always very high. It is a fact backed by actual figures that Goregaon and Malad Property investors & land owners have more than quadrupled their property investments within a matter of years and the real estate development in this belt is still making herculean strides every passing moment.

It is therefore almost unbelievable to hear and accept that the Malad-Goregaon west link road belt was a highly deserted and highly undeveloped zone just 2 decades ago. There was a huge dumping ground almost of the size of the Inorbit Mall exactly at the same place where Inorbit Mall stands today !!


The crucial triggering event – Inorbit Mall

So what have been the major triggers that have led to the amazing Goregaon-Malad real estate growth story? Well there have been many reasons that have led to the phenomenal rise of the Goregaon-Malad link road as a super location but one of the most crucial & prominent one is definitely the establishment of Inorbit Mall.

Inorbit Mall was brought into existence by K Raheja Corporation in the year 2004 and it was surely one of the biggest retail masterstrokes in the history of Mumbai western suburbs. Inorbit Mall started attracting phenomenal footfalls as the concept of full-fledged mall of international standards was definitely an alien one to the local residents in this belt and also to most of other visitors who flocked to this mall from various parts of Mumbai. Inorbit Mall became a landmark within no time and the crowds that came here for shopping and entertainment only grew in size and in regularity as the days passed by.

It's been 15 years, more than one and half decades that Inorbit mall set the tone for a huge upsurge in the real estate and lifestyle landscape of Goregaon-Malad Link road and it is still one of the top most magnetic forces that draws people to this location.


More about Inorbit Mall

The insatiable demand for shopping, entertainment and leisure from the burgeoning population of Mumbai and especially the Mumbai western suburbs had to find an answer. Inorbit Mall has played its part in satisfying those demands to large extent. The popularity of this mall is such that visitors brave the crazy Goregaon - Malad link road traffic congestions to come here with family and friends. Among all the shopping hubs that have sprung up after 2004, Inorbit still remains the topmost of the lot.

One of the major factors that have led to the success of Inorbit Mall is that it has been a thinking & smart mall. The developers have simply not created physical structures with facilities but have infused life and excitement into each Inorbit mall and that in turn has provide amazing experiences to customers and made life fun and interesting for them.

The world class Malad Inorbit Mall was the first to open in 2004 and turned out to be a blockbuster hit but the success did not just stop over there. All the other Inorbit Malls that opened subsequently have been great success stories in their own rights. These include the ones at Vashi – Navi Mumbai, Hyderabad –Telangana, Whitefield- Bangalore & Vadodara – Gujarat and probably more to come in the coming years.

All the Inorbit Malls have class stamped on them through and through. Each one of them appeals to the most discerning audience and has been successful in providing the best of international standard experiences in terms of fashion, lifestyle, food and entertainment. It is therefore no wonder that Inorbit Malls have been honoured with multiple awards (more than 65) from some of the most coveted bodies and organisations. One of the most prestigious wards bestowed upon them includes India's Most Trusted Mall by Brand Trust Report 2014. Apart from this Inorbit Malls have been recognized in various national and international forums like IMAGES, Asia Pacific shopping Centre Awards, ICSC, Asia Consumer Engagement Forum, EFFIEs and ABBYs for their extraordinary contribution to the Indian retail landscape and being instrumental in creating a life-centric destination for everyone.


The brand behind the Inorbit Mall brand

A group company from the stables of K.Raheja Corp, the Inorbit Mall brand has now a huge footprint across India. The Indian retail landscape is definitely richer because of this phenomenal retail brand. K. Raheja Corp – the force behind the Inorbit Mall brand has its own legacy of more than six decades. It has been a real estate company that has earned its reputation by sheer performances and the delivery of some of the major real estate landmarks that the country has witnessed. A highly trusted real estate development brand, K. Raheja Corp has extended its influence across almost all segments of real estate right from residential, commercial, retail, hospitality and more. Some of the best conceptualised and well executed self-contained residential townships and commercial business districts have been brought to manifestation in India by K. Raheja Corp. As real estate has evolved as an industry in India so has the product offering from K. Raheja Corp evolved too. In the recent years K. Raheja Corp has delivered amazing and trail blazing real estate projects especially the Mindspace brand in Mumbai – Malad and Navi Mumbai - Airoli east, Airoli west, Juinagar. Mindspace has its footprints in Hyderabad – Pocharam, Madhapur, Shamshabad as well. Also projects in Pune & Chennai like Commerzone, Yerwada, Gera Commerzone Kharadi & Commerzone Purur, Commerzone Pallikaranai (upcoming) have created a huge impact on the commercial landscape there. All the above are massive commercial townships/hubs and they have revolutionised the modern day work lifestyle of an average individual, company, corporates and everyone concerned.

In the residential real estate space, K. Raheja Corp has three major divisions – Premium, Luxury & Ultra Luxury. Raheja Vivarea in South Mumbai offers an amazing range of 3 BHK, 4 BHK & Duplex residences for the luxury connoisseurs. On the other hand the ultra-luxury 4 BHK residences for sale in Raheja Artesia, Worli are the perfect luxury homes in South Mumbai for the discerning home buyer.

In the hospitality segment, K Raheja Corp has the superbly created Chalet brand and also premium hotels like The Resort, Madh-Marve & J W Marriott Juhu.


New real estate projects in Goregaon-Malad link road


The torchbearer of the organised retail revolution in the western suburbs of Mumbai – Inorbit Mall has been the catalyst for the major real estate project developments in the Goregaon-Malad Link road belt. As the location became a hub for shoppers and as the movement in this area increased multi-fold, so did the footprints of residential and commercial developments increase in this location. Inorbit Mall has definitely been definitely a harbinger of the real estate growth in Goregaon-Malad link road. The demand increased because of the movement & the activity and this in turn set into motion a rapid real estate momentum. Real estate developments like Kalpataru Yugdharma, Kalpataru Pinnacle, Kalpataru Regalia, Raheja Serenity Heights, Raheja Whispering Heights, Raheja Quiescent Heights, Raheja Interface, Bhoomi Classic, Nestle Apartments, Kalpataru Shravasti, Rustomjee Ozone, Rustomjee Elanza, Acme complex, Rustomjee Elanza, Sheth Auris Serenity and many more new residential projects in Goregaon-Malad Link road owe their existence to Inorbit Mall in some way or the other. The reason to think and execute some of the best commercial buildings in Goregaon-Malad link road has been due to the momentum that Inorbit Mall has been able to generate and in many ways it has acted as a pivotal hub for all these developments around it to come to life and prosper.
---
--- ---