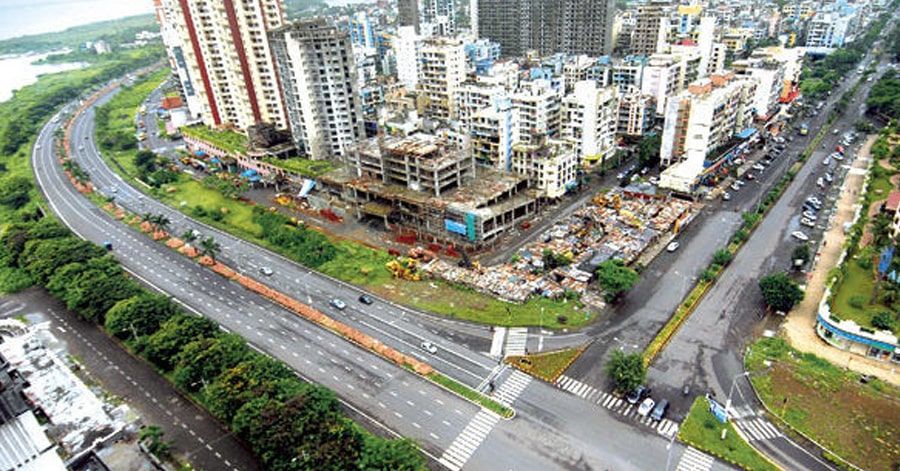 Ever wondered if Navi Mumbai is a smaller replication of Mumbai?

Or if Navi Mumbai is better planned than Mumbai ?

Have you wished to have a property of your own in Mumbai?

Is the history of Navi Mumbai a concern to you before showing an investment interest?

If you are looking into investing, in a planned city, with a constant growth, then you are at the right place. Read along to know more about Navi Mumbai.


Quick peek into the History of our planned city.

In the late 1960's a civil engineer - Adi Kanga, and some of his friends bemoaned that their city the bustling Bombay, was getting overpopulated. Being the commercial capital of India it was attracting a large number of citizens, which the available infrastructure could not cope with. So they came up with the concept of building a new city as in a New Bombay across the seven islands of the old city.

Navi Mumbai was legibly added as the last mega settlement zone of the MMR region in '70s. Other cities and conurbations already existed prior to the creation of this planned satellite city. Today, Navi Mumbai's success as a city is vouchsafed by its own tremendous growth over time. In a span of four decades, it has not only caught up with the existing settlements but has also become the second-largest settlement city within MMR in terms of population share. In the last decade (2009-2019) Navi Mumbai has grown at an incredible speed with 88% being the highest growth rate in the region.

Even though its growth rate is high and the population size is burgeoning, the population density in Navi Mumbai is just about one third of the density of the Greater Mumbai, while it is the lowest among all the other cities in the MMR region. This is one of Navi Mumbai's key defining aspects and its biggest USP in a real estate market and also cannot forget to mention the quality of life, available in this city.


Shoulder to Mumbai.

The real estate prices shooting up in Mumbai, has a cause effect of a not so surprising fact that some of the demand has been shifted to the more affordable township of Navi Mumbai. It could be said that it is the next best option to Mumbai, as it is developing rapidly as a commercial and urban area. The township appears to be the preferred location of new immigrants in search of work. It has relieved Mumbai of much of its population-related pressures over the past few years by drawing crowds to its affordable neighbourhoods.

The cost of a 2 BHK apartment in a well-developed neighbourhood in Navi Mumbai could cost between INR 50 -75 lakhs, while a similar property in interior Mumbai could cost twice as much. However the prices have only been seeing a rise since 2015 and up till 2019.


Development (CIDCO)

The City and Industrial Development Corporation's (CIDCO) recent decision to convert 875 acres of land, which was earlier reserved for government projects, into residential plots in Navi Mumbai, is one of the main factors for the township's new-found popularity. The privatization of the land has led to its development as a residential area over the past few years.



Reasons to invest in Navi Mumbai properties:
● Progressive infrastructure and metro line.

● Planned development under CIDCO.

● Consistent appreciation in the Real Estate market.

● More and better job opportunities for people from IT hubs and more.

● Mumbai Trans Harbour Link (MTHL), longest sea bridge in India that is connecting the main city Mumbai to Navi Mumbai.


Facts you need to know before you invest in navi mumbai.
Swachh Navi Mumbai

Navi Mumbai has two poles that divide it - North Navi Mumbai and South Navi Mumbai, situated across two districts namely Thane and Raigad. Among 73 other cities, Navi Mumbai ranked 12th, when surveyed for cleanliness and hygiene by the Union Ministry of Urban Development (MoUD) and Quality Council of India (QCI) as a crucial event of the Swachh Bharat Abhiyan.

Business and education
The city rightfully homes various educational institutions that offer courses in several streams like - engineering, medical sciences, interior designing, and hotel management. Whereas various well known multinational corporations like Siemens, McDonald's, Bureau Veritas, Bizerba, Reliance, Accenture, and Larsen & Toubro have their Head offices & branches across this city making it an active business hub.
Chosen localities
The localities worth your investment are spread throughout this satellite city. However the best localities developed under the surveillance of the CIDCO are as follows (with the growth in the average price rates from 2009 - to 2019.)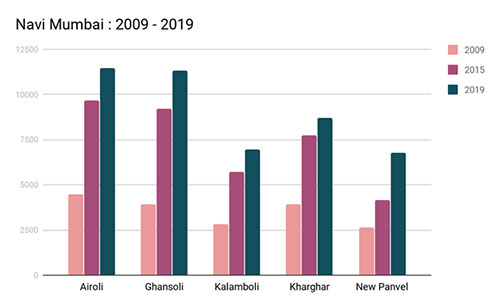 Other reasons why people consider Navi Mumbai as a good Real Estate option are:
1. Affordable Housing
– There are many new Housing projects by the best of top builders that are coming up, with a Range of Rs.6000 to Rs.15000 per square feet also with all modern amenities. Compared to other parts of Mumbai, the costing is extremely affordable.
2. Less polluted
- It is way less polluted and manages to be clean as compared to the other cities. Navi Mumbai ranked 12th in terms of cleanliness and hygiene, by the Union Ministry of Urban Development and Quality Council of India, as a part of 'Swachh Bharat Abhiyan'.
3. International Airport (NMIA)
- The proposed International Airport to be completed by the end of 2019 is one of the major reasons how Navi Mumbai soon will be recognized as a standalone Global city. After the development of the International Airport, the property rates too will automatically rise.
4. Good Connectivity
– Navi Mumbai is a hand that connects other parts of the city as well as the state. For instance the Mumbai-Pune Expressway starts at Kalamboli in Navi Mumbai connecting them all. Navi Mumbai is considered as the entry point of Mumbai City.
5. Good Transportation
– Navi Mumbai offers a good public transportation system for the commuters like the buses of Navi Mumbai Municipal Transport (NMMT) and the Mumbai Suburban Rail. Whereas the Metro Rail project is also under construction at the rapid pace which will offer more ease of commuting.
6. Well Planned City
– A well planned city like Navi Mumbai has been developed as an environmentally friendly city, comprising of beautiful landscapes with public parks and gardens. The mountain terrains, lakes and maintained green spaces cover almost half the total area. Wide roads, modern infrastructure, huge open spaces and recreation areas are a major part of its infrastructure while the world class Railway stations, broad roads with plenty of flyovers and interchanges are also included.
7. Recreational facilities
Navi Mumbai has also developed considerably in the area of recreation. Several restaurants, clubs and theme parks have popped up in recent years, making it a fun option not only for those who live there, but for Mumbaikars who want a break from the city.
Due to these factors, Navi Mumbai is no longer just a satellite city on the outskirts of Mumbai- it is a burgeoning extension of the bustling city, and clever investors have taken note of this. Soon, with the completion of its proposed projects, its prices will soar. It is a good idea to invest in its real estate now, before its prices catch up with those of the city's central areas.
Get a better idea about the prices and availability of the
houses and properties in Navi Mumbai
Related search:
Real estate in Mumbai
;
Real estate in Bangalore
Disclaimer: The views expressed above are for informational purposes only. We do not guarantee the accuracy and completeness of the information and shall not be held responsible for any action taken based on the published information.
---
--- ---