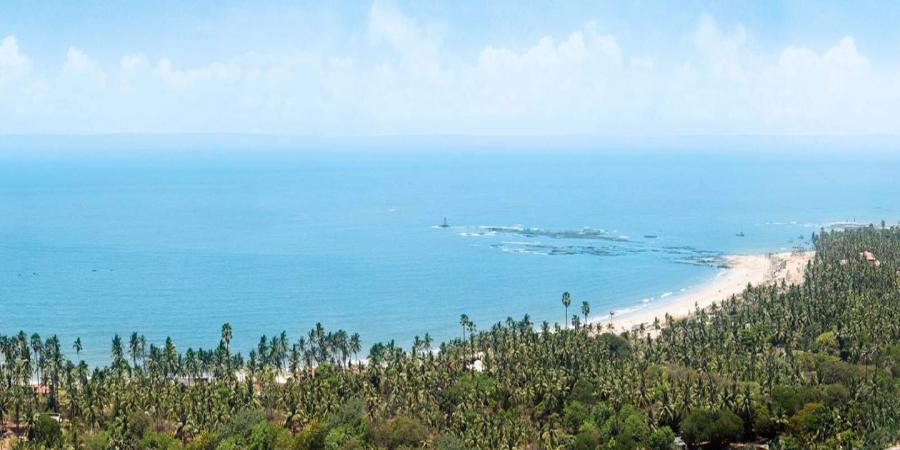 In every city or a developed town, you will come across locations or areas that feel very different in the urban context. Madh island is definitely one such location in the western suburbs of Mumbai. Close to everything yet it feels completely different, almost like a weekend destination that appears to far away from the maddening pace and rush of the city life. The beach and the greenery that surrounds Madh Island give it a picturesque appeal that belies the fact that it is sandwiched between Andheri Versova and Malad west areas of Western Mumbai.



Madh island property investment boom
Madh island is very well connected to Malad west via the Madh Marve road and as you pass through the beautiful green lanes of Marve, cross Aksa and come closer to Madh, you can see many plots in Madh island that have been converted to film shooting and production houses. The television industry has taken to Madh island as a fish takes to water and Madh island commercial real estate has prospered enormously due to this factor over the past couple of decades. Many real estate investors who had bought land in Madh island for throw away prices in the late seventies and early eighties when the demand for properties in Madh island was very low have multiplied their investments many time over today. One of the main reasons for this steep price increase in Madh is because that Mumbai is a land starved city. The land and open plots in Madh island are a rarity in a city that towering sky scrapers and almost all property development is vertical. Having land or a villa or a landed house in Mumbai is considered a luxury and is definitely a sign of prosperity.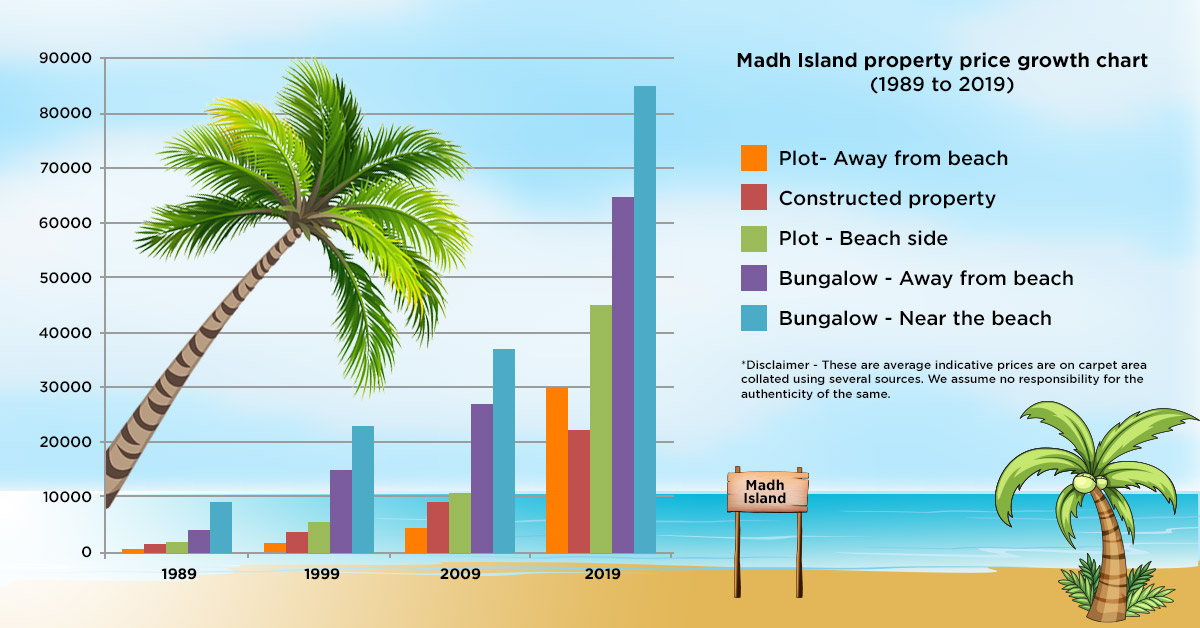 Madh Property prices
The current property prices in Madh island are testimony to the phenomenal popularity that this location enjoys with property buyers from across South Mumbai, Bandra and of course the western suburbs. Many non resident Indians have also invested heavily in Madh island plots and have also developed huge bungalows and villas in Madh island for themselves. After the development of Marve Road and the real estate boom that Malad west link road has witnessed over the past few years, Madh island is no longer the property investment secret that it used to be. The above property price chart shows the trajectory that Madh island property prices have followed in the past 40 years. As is obvious the tranquil and peaceful location for living that it is, Madh island a super powerhouse location for property investment with a growth that has multiplied more than 12 to 15 times in some cases over the past 4 decades with a major spike coming in the last 15 years. As per property invest experts this is just the tip of the iceberg and Madh properties are a goldmine for investment even today if you are looking at the next 5 to 6 years horizon. Whether you pick up some of the prime or not so prime Madh island plots for sale today, you can still develop it and sell it for a decent profit in the next 5 years. Similarly if you buy a beach touch villa for sale in Madh island then not only are the chances of your capital appreciation high but you can also make phenomenal rental returns on your investment on a regular basis. Some preleased properties in Madh island are yielding more than 12-14% returns as the demand for strategically located and scenic bungalows and villas in Madh island is very high especially from the creative industry. Many creative folks from the film and television industry who fell in love with the character of Madh island and bought real estate here just for the love of it have actually, by default turned into big time investors in Madh island. Mud is gold when it comes to Madh island and the early investors from the 80s and 90s will surely vouch for that. The Madh island plots which were picked up at extremely low prices have some of the best and luxurious homes, hotels, restaurants, lodges, villas, bungalows, guest houses that you could imagine in the western suburbs of Mumbai. If you have any hesitation to invest in Madh properties then a quick glance at the Madh property rates chart and the Madh island infrastructure upgrades that are going to happen soon will surely make you change your mind.
Madh island & its lucky talisman - the Sea
One of the major reasons that Mumbai residents are attracted towards Madh island is its proximity to the sea. The obsession that Mumbaikars have with the sea is a very open secret that every real estate developer worth his salt has explored and exploited across the island city. Sea facing homes, sea facing bungalows, beach touching villas in Madh island are a craze amongst the rich, elite and celebrities who live in Mumbai. The smell of the majestic Arabian Sea, the sounds of the waves and the overall aura that Madh island offers is breathtakingly irresistible for buyers who can afford to indulge.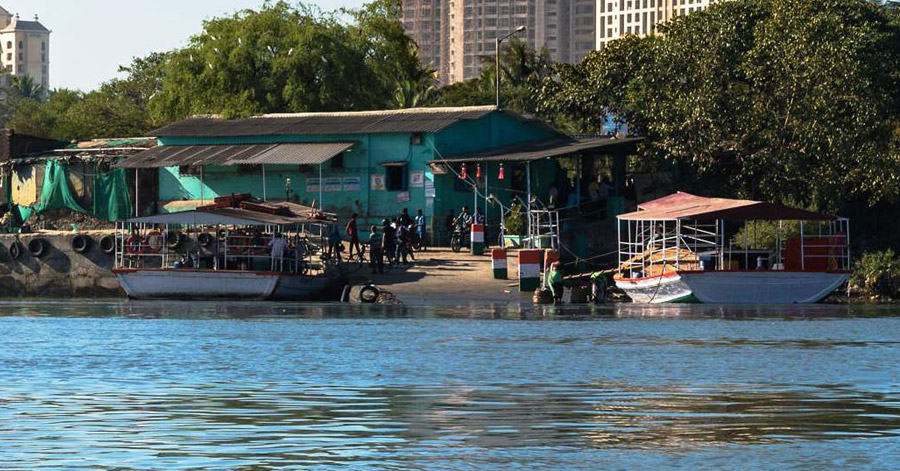 Sea facing homes is Madh - the hideout for the famous in Mumbai
They use their Mud island homes as a getaway and to enjoy some time away from the constant public and media glare. In Mumbai, one can find some of the most spacious, beautiful, charming bungalows with jaw dropping sea views in the quaint little pockets of Madh island. These luxury properties in Madh island are literally hidden gems that are owned by the who's who of India and yet have managed to be incognito for many number of years. The villa and bungalow real estate market in Madh island operates in a very word of mouth manner with no big banner advertising so to speak of. Most of the luxury inventories in Mudh island literally change hands without ever actually being listed anywhere and hence there is always a mystery about the specific owners of these million dollar homes.
Raheja Exotica – the game changing property development in Madh island
In the initial years the location and the lack of connectivity was a cause of concern for many property developers and investors in Madh island. There was hardly any real estate traction and this is exactly where many hard core property investors found great property investment opportunities in Madh island and took advantage of the same. As they say history is created by the ones who have the courage to dare and the perseverance to then follow up their conviction till its logical end. Raheja Universal is one such property development company that took a plunge in developing a 33 acre residential property development on a land parcel that they had acquired in the mid-eighties presumably. It was a huge gamble at that point in time around 2001 because Madh island was a deserted location with hardly any action. However the far sighted vision of the Raheja development team could foresee the huge potential that this challenge held inside its core and they launched Raheja Exotica, a Spanish themed mini township with brilliantly crafted villas along the periphery of the lush green plot. With a clear blue print for the future phases and with a positive attitude Raheja Universal planned & executed meticulously thereby coming up with some of the best villas, sea facing apartments in Madh island with a staggering 5 acre club house. The host of amenities and facilities that Raheja Exotica introduced were unheard of in Madh and the project attracted attention from every corner. Property investors from far and wide invested wholeheartedly in Raheja Exotica Madh island and as of today the project has completed 4 phases. All phases in Raheja Exotica, the ocean city have been sold out and this gated community project in Madh island will add more phases in the coming months and years. The variety of real estate within Raheja Exotica is literally a source of awe for many property enthusiasts. Imagine a combination of villas, 2 BHK, 3 BHK, 4 BHK apartments along with the options of a compact studio, 1 BHK, 2 BHK and 3 BHK duplex. The palatial penthouses with mesmerizing sea views and the grand 5 BHK apartments in Sorento add to the glamour quotient further.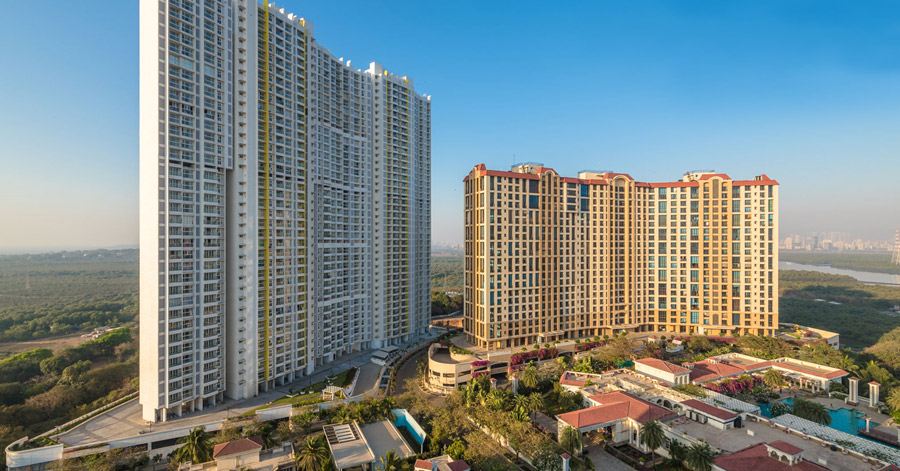 The heritage of Madh Island
With the sprawling Arabian Sea on its west side and the vast expanse of the Malad creek on its eastern side, Madh Island is the favourite of many picnickers, greenery and solitude starved Mumbai city dwellers. Today you will find a mix of people who call Madh their home or second home, in many cases. However the fishing community (referred to as Kolis in the local Marathi dialect) was and is the main occupant of this beautiful island. Apart from them, the East Indian Roman Catholics and Marathis form the other group of aborigines here. These communities have been here for many centuries and have made the Mudh island safe and friendly for other communities to also move in. These original people live in gaothans which are spread across the Madh landscape along with some of the most pristine bungalows and villas in Madh island. In fact long before Madh island real estate became a favourite property investment destination for home and land investors, it has been and will always be a great getaway destination, especially for Mumbaikars. The original inhabitants are very friendly and their hospitality combined with the unbeatable natural beauty of Madh island, has been greatly responsible for the mushrooming of many local restaurants, eateries, lodges, film shooting studios and picnic spots here. This combined with the fact that Madh island commercial real estate has become a hot location for film and television shootings has led to a surge in the property rates in Madh over the past decade or two.
Madh Fort – Among the most famous Madh island heritage sites is the ever green Madh Fort. This fort which falls in the South of the Madh village also known as Versova Fort, was built by the Portuguese during the 17th and 18th century and was captured by the Marathas later. The Madh bus stop is just a stone's throw away from Madh fort and this location is one of the favorites for the visitors who throng Madh island every year. The Madh fort is also a well known film shooting location and has been a factor in pushing the Madh property prices northwards. This affinity for Madh island by the film and creative fraternity is one of the main reasons that many film producers, financers, Bollywood actors, singers, etc. have bought a number of plots for sale in Madh island and independent houses in Madh island.
St. Bonaventure Church – This church which is a 5 century old one in the peaceful confines of Erangal Village is close to the jaw dropping and beautiful Erangal beach. It remains one of the must see places to visit when in Madh island.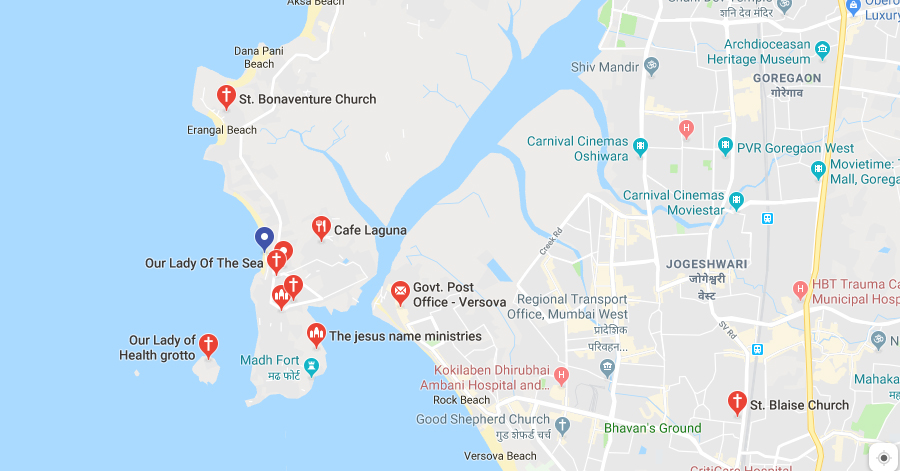 Our Lady Of The Sea Church – Perched just across the beach on Madh - Marve Road in Sai wadi close to Patil Wadi in Madh island, this iconic plae of worship is a very picturesque church overlooking the vast expanse of the Arabian sea.
The social fabric of Madh island with its deep rooted culture and centuries old longevity has ensured that although this location is off the main city, life here is thriving at its fullest. No wonder property buyers in Madh island appreciate the rustic charm, the warmth of the local people as well as they feel the pulse of the new infrastructure as well as property developments in Madh island about to come. This has created a very unique place for Madh island as a property investment location. It is offbeat and yet it remains mainstream in many ways.


Infrastructure in Madh island


Infrastructure has developed slowly in the location of Madh island. The connectivity to Madh island is one of the most challenging part as there are currently two major ways to reach Madh. One of the first is the Madh Marve road which originates from Malad west and the other way is the ferry which plies passengers and light motor vehicles like two wheelers to and fro between Mud island and Versova, Andheri west.
Therefore even with all the growth that Madh island real estate market has already witnessed, it is just the tip of the iceberg as per Mumbai real estate experts. The logic is simple – because Madh island has limited connectivity, majority of property buyers have bought Madh island as a weekend home or second home option. Even with that mindset of buying, Madh island property prices have spiked over the years. Once home buyers start buying into Madh island as a first home then the real increase in property values will felt across this nature's paradise in all earnestness.
The two major infrastructure developments that could swing the fortunes and prices of properties in Madh are the connecting sea bridge from Versova to Madh island and of course the coastal road. These two connectivity factors have the potential to affect a 25-50% jump in the Madh – Marve property rates. Even when they start these projects, the price rise and rise in Madh island homes will be seen across the western suburbs of Mumbai.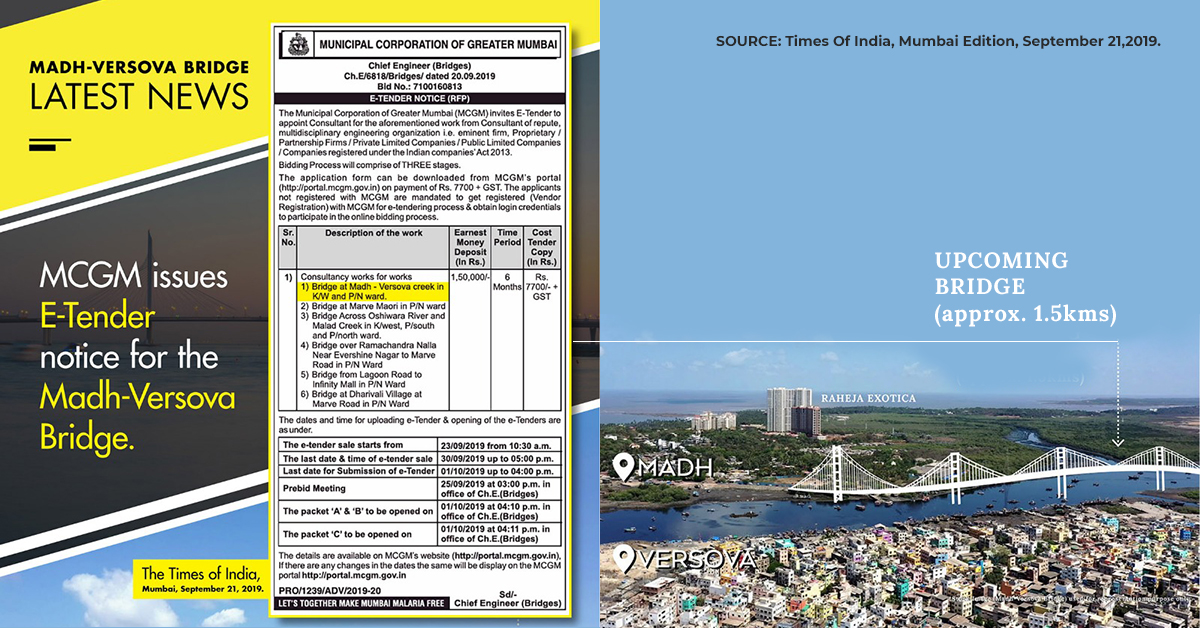 1.The Madh-Versova bridge will a major game changer as people travelling towards Andheri or from Andheri to Madh would then be able to drive to these locations and reach easily saving a lot of time in the bargain. Also the bridge will practically convert Madh island into Versova and the property prices that Madh will command will be higher than the best residential projects in Versova. The entire Versova region does not have gated residential project as vast as Raheja Exotica and also does not have the kind of villas and bungalows that are spread over the tranquil island of Madh.
2.The coastal sea road which is proposed to pass through Madh island as part of the Nariman Point-Kandivali coastal freeway will have a larger and macro level impact as it will ensure that time taken from Madh island to reach to locations in South Mumbai like Worli, Lower Parel, BKC and also other parts of Mumbai would be largely reduced.
The scope of affordable homes in Madh island
The 2034 DP or the 2034 Mumbai Development plan has a proposal to develop and construct affordable housing and low cost residential properties in Madh island. The availability of cheap homes in Madh would definitely be a big booster towards making this location a more primary residential location and impact the overall Madh property market positively. Of course with the growth in residential housing, the Madh island retail real estate market is poised to grow too.
The scope of growth of luxury homes in Madh island
With the already existing popularity of Madh island as a luxury location among the rich class, the next level of connectivity will usher in an absolutely new era of luxury real estate in Madh island as the upper class would appreciate the enhanced connectivity combined with the natural beauty of Madh and this would lead to more real estate developers developing luxury projects in Madh island in the years to come. One can definitely expect more designer, futuristic and extravagant villas in Madh island to rub shoulders with the Palm trees dotting the beautiful landscape. There are a lot of bungalow projects in Madh island and we can expect these to increase too with the connectivity improvement to Madh. The luxury property market in Madh island would definitely a big money spinner for the State government in terms of the stamp duty & other relevant taxes as well as for all other property development stake holders.
For a property investor both in the short term and in the long term, Madh island property investment has to be in his or her investment scheme of things surely.
Luxury hotels in Madh island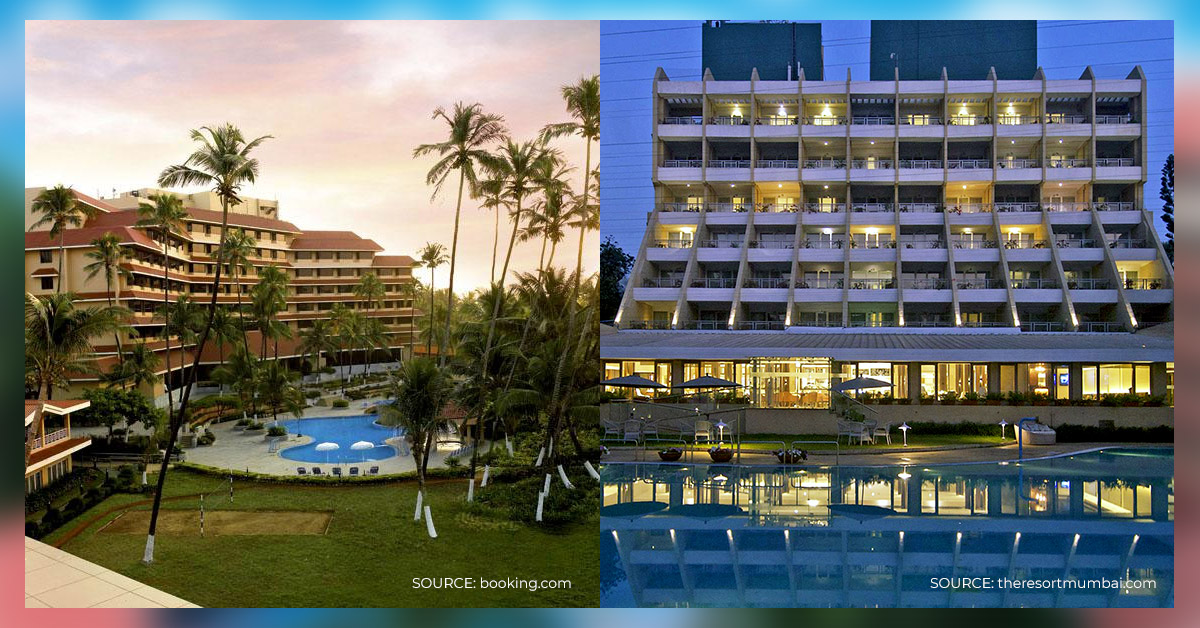 There are two iconic luxury hotels in Madh that have some of most exquisite facilities in the western suburbs of Mumbai. These are The Retreat Hotel and The Resort Hotel.
Owned and managed by K Raheja Hospitality, The Retreat Hotel & Convention Centre, Madh Island, Mumbai is a beach resort located exactly in Madh Island, Erangal Beach, Madh Marve Road, Madh, Malad (west), Mumbai – 400061. The Retreat Hotel and Convention Centre is a favourite location in the Mumbai suburbs for destination weddings, corporate meetings, company and family get-togethers, business meetings, exhibitions and similar activities. It remains one of the best hotel properties in Madh island with the perfect view of the deep blue sea and the perfect ambience that its luxury interiors offer. In fact it also boasts of one the finest banquet halls in Madh island and probably across the city of Mumbai.


The Resort is another gem of a hotel in Madh-Marve Road, Aksa Beach, Malad (West), Mumbai - 400 095 and has some of the most breath taking views of the Arabian Sea on the Aksa side. Again a go to hotel for any big destination wedding or business, family get-togethers – The Resort is another hotel in Madh island that you would like to visit and be mesmerized.


Essentially these hotels in Madh have managed to transform Madh island into a landmark for corporate meetings and wedding destinations within Mumbai. Most of the rich and elite classes of Mumbai prefer The Resort or The Retreat to organize such events as they get the feel of being at a weekend beach side destination with all the five start facilities without actually leaving Mumbai. This factor of these luxury hotels have also managed to boost and increase the demand for property in Madh island as the constant stream of up market visitors ensures that the real estate investment in Madh island properties is always ticking the right boxes.

The Madh Island development plan


The year 2019 has been buzzing with some very positive developments and updates about the Madh island bridge. It appears that after many years of patience and perseverance by many concerned, the Versova-Madh island elevated road will most likely become a reality in the next couple of years. However, like in the previous years, this updated news about Madh island has to be taken with a pinch of salt too. The reason is that the Madh island bridge slated to join Versova, Andheri and Madh, Malad west has been under consideration and under 'construction' for more than 2 decades. There have been hopes developed only to be delayed further and further every year. It is but natural that all the residents of Madh island, Versova as well as property investors in Madh island view all such Madh island news with a lot of skepticism.
Having said that this time it seems that things are really moving in the right direction and the Madh Versova bridge latest news seems to be backed up with a lot of concrete supporting materials to indicate that the work on this bridge may seriously start soon.



Madh-Versova bridge – a brief history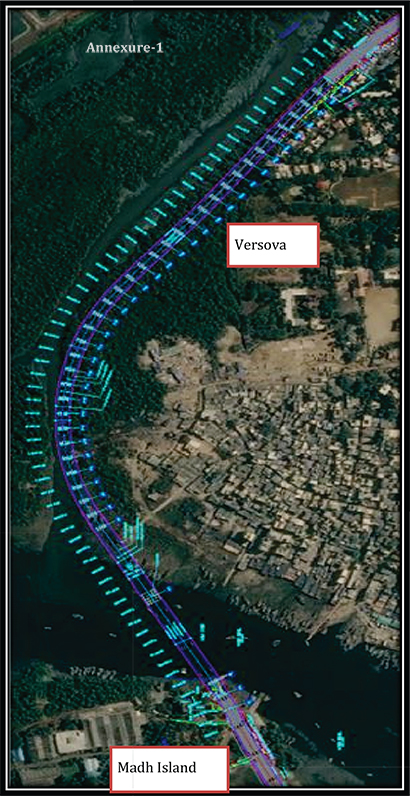 This all important bridge was thought of and brought into consideration way back in the year 1991 by the BMC. There was some action taken but a momentum was achieved only eight years later around 2009 as there were challenges with regards to procuring land for the project.
The initial plan would have the part of the bridge on the Madh side to be based around the Madh fisherman's village area and that would mean sacrificing a lot of houses in that particular location. Of course the Kolis who are the existing residents of Mud village opposed the bridge project vehemently and the entire project came to a standstill. There has been strong opposition from multiple quarters and also petition for a bridge between Madh island and Versova from various parties concerned.

Property developers and property sellers in Madh island have kept selling the Madh Versova bridge story to potential buyers and investors and the investments have kept pouring in Madh island residential properties, Madh island plots and land in Madh island in the hope that the bridge would happen sooner or later.
Around 2017 the BMC made a strategic change to the plan and the shifted the landing of the bridge thereby avoiding any disturbance to the existing koli houses in Madh village. Technically this has made the bridge viable and with coastal road plan coinciding with it, the whole scope and effect of the Madh Versova bridge actually gets amplifies further.





Why is Versova-Madh sea bridge significant?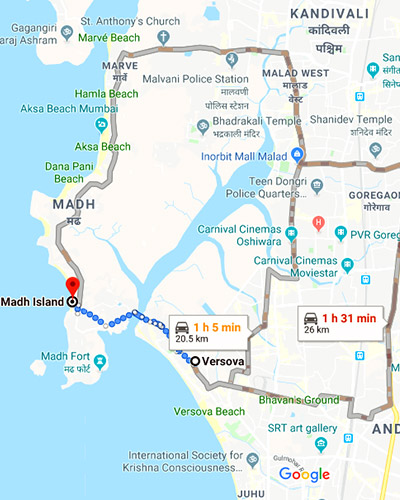 The Versova-Madh sea bridge is not only important but it is surely a major game changer as far as the connectivity and convenience factor is concerned.
Currently there are two ways to reach Madh island:
1. By road – You can reach Madh island via the Madh Marve road which is a more than 20 km distance from the Kandivili link road or from the Mald link road. This is quite a journey as the road has a lot of traffic and travelling is time consuming.
2. On water – The ferry ride from Versova jetty to Madh is another option and it takes hardly 7 to 10 minutes to cross from one bank to another. However the limitations are that you cannot take your four-wheeler vehicles across on the other side and even taking a 2-wheeler vehicle across is highly cumbersome.

In this sense the proposed 2 km Madh-Versova bridge is going to be a boon as it would bring down the time taken to reach from Versova to Madh or vice versa by a whopping one and a half hours wiping off nearly 18-20kms of the road distance.
Combined with the new proposed coastal road the Madh bridge will also connect to the Versova-Bandra Sea Link and in fact make travel to South Mumbai a breeze from Madh island.
It is therefore a no-brainer that the real estate prices in Madh island would make a huge positive jump and probably beat the Versova property prices too.


What is delaying the Madh island – Versova bridge?
The Versova-Madh Island Elevated Road or the Madh Versova bridge has been some sort of a puzzle for all who are interested in this location.
Apparently a few factors including the following are delaying the construction of Madh-Versova bridge:
1. Environmental clearances
2. Fear of Ferry operators losing their business
3. Fear of more traffic & pollution
4. Threat to Marine biodiversity
5. Fear of Madh island losing its sanctity

There is no question that Madh island is an eco-sensitive zone and any infrastructure work there should be carried out with utmost care and concern for its natural surroundings.
The new Versova bridge plan has managed to quell the fears of the fishermen as their homes would not be disturbed as the landing has been shifted to avoid them.
However the altered plan has mangroves in its path and clearing them requires permissions from the environment ministry, which is a time consuming affair. Not only that the BMC needs to have a nod from the Maharashtra Coastal Zone Management Authority, the State Environment Impact Assessment Authority and also the consent of the Bombay High Court to actually start proceedings.
As per reports the BMC has carried out the geotechnical survey with regards to the new position of the Versova Madh Sealink bridge.
There are other basic protocols that would follow including the final design of the bridge as well as the total cost estimate calculation of the construction as per today's market. All these activities consume a lot of time and skeptics feel that the proposed bridge to Madh island from Versova will remain a plan on paper forever.


However the fact that the bids by BMC inviting tenders for construction of the Versova-Madh sea bridge have appeared in major newspapers in the second half of 2019 has reignited hopes for many.


Ferry services to and around Madh island

The quality of ferry services as well as the Versova Madh ferry timings and the fares have been absolutely comfortable and therefore the entire population of madh island and others use these services.
Of course once the Madh bridge sees the light of the day there are many ferry services which will possibly cease to exist. Some of them are as follows:
Ferry services from Madh island to Versova
From Marve Beach to Manori
From Marve beach to Essel World
From Borivli to Gorai

With the easy access and entries of vehicles it is feared that the pollution level in the fragile environments of Madh, Marve, Aksa, Manori and other small villages would increase and spoil the entire area. The peace and sanctity which are the major attraction factors for people to come here would vanish and Madh island would become a traffic infested concrete jungle. When real estate developers in Madh island have been selling properties in Madh island using the Madh Versova sea bridge as a carrot to many investors, many fear that they will run riot and construct irresponsibly once the bridge comes into existence.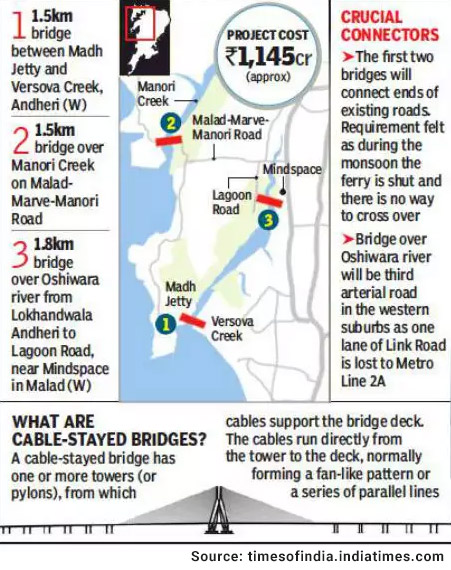 However there are many who vouch for the benefits of the Madh Versova Sea bridge and feel that it will reduce traffic in the overall vicinity, reduce travel time, give easy access to the Madh locals to other parts of the city, increase investment, increase jobs, empower locals and also bring a substantial increase in Madh island property prices.
There are some who are taking a balanced approach to the Madh island development plan. Mr. Babu Ghadi, a local Madh island resident pitches in for a sustainable development pattern. He feels that the impact on the environment, adverse effects on the local population have to be taken into account before going ahead with the construction of the bridge. The residents of Madh island have to be taken into confidence, have to be explained the details and also have to be provided with necessary compensation for any losses arising out of this huge infrastructure activity in this quaint area.

Overall, looking at the flurry of activities in the second half of 2019, it is most likely that the construction of Madh Versova bridge might start in 2020. In case this happens then all the stake holders in Madh island – its current residents, Madh island property investors are in for a huge windfall. Most property experts have predicted a very strong property price increase in Madh island that might even surpass the property prices in Versova.
The influence of Raheja Exotica on Madh Island development and real estate growth
The last two decades have been quite eventful for the entire Madh island region and this is likely to continue for the next 10-15 years too. This is majorly due to one giant residential gated community project in Madh that is known as Raheja Exotica (rebranded as Raheja Ocean City). This 33 acres mega project by Raheja Universal Pvt Ltd has been a huge game changing influence for Madh Island as a location itself. The perspective of Madh Island being an area meant only for weekend parties and the thought that Madh Island is just a second home destination has changed mainly because of Raheja Exotica.

The excellent facilities and amenities that Raheja Exotica provides to its residents has ensured the overwhelming presence of a very smart gentry out here which is educated, updated and most importantly living in Madh Island Raheja Exotica as a first home option. Due to the presence of these people and the focus shifting on Madh Island as a primary residential destination the demand for an infrastructure upheaval has increased. The possibility of the Madh Island Versova Sea Bridge coming into existence is very high because there are thousands of residents here who are now commuting from Madh to Versova via the ferry or from Madh via the Marve road to all parts of Mumbai. Raheja Exotica is definitely a great cog in the wheel as far as development of Madh Island is concerned in the larger scheme of things.
One also has to bear in mind that most of the areas close to Raheja Exotica have been influenced in terms of up gradation. A huge residential project like Raheja Exotica is like an ecosystem that sustains a lot of businesses, livelihoods and influences the growth of its neighborhoods. Many private transport providers, house maids, security service providers, domestic workers, movers and packers, real estate agents, food service providers, coaching professionals, etc. have been able to generate good regular income because of the scores of opportunities created in Madh due to the healthy amount of population in Raheja Exotica. This project has also brought about vibrancy in the entire Madh island location. The huge multi activity 5 acre club house along with an international quality restaurant, an amazing open air amphitheater and a lot of other salient features in Raheja Exotica Madh Island attracts a lot of property buyers to move here every year.
The word of mouth publicity that Raheja Exotica has managed to generate for itself is amazing and its residents are its biggest brand ambassadors. Therefore it is no surprises that Raheja Exotica has residents literally from across India and across the world. There are a lot of property owners from South Mumbai, Bandra, Malad, Andheri, Goregaon and other parts of Mumbai. Also there are a lot of NRI buyers who have booked properties in Raheja Exotica and who regularly visit this place extending their circle of influence effectively. Of course the fact also remains that the allure of owning sea facing homes in Madh island in itself is a very big source of influence for property investments in Raheja Exotica.
---
---
--- Written by
Robin Gangawane
A soft spoken and modest guy, Robin is a powerhouse when it comes to getting a job done online. On the professional front, Robin is an SEO & SMO geek working meticulously to ensure the best rankings for all his web c

Read more
---
---