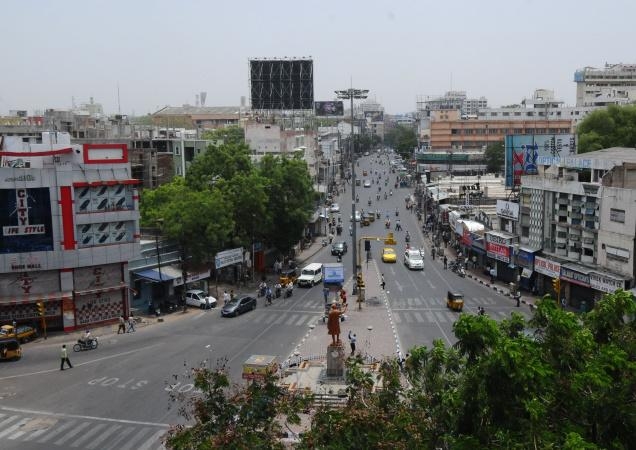 Packed with all-round amenities for doing business, living, shopping, entertainment and education, 'Abids' or 'Abids Shop', as it was once known, is a balanced place, most sought off to live in Hyderabad.

Abids or 'Abid Shop' as it was formerly called is a well known and much sought after, major commercial center in Hyderabad. It gets its name from the time when the area had a shop owned by Albert Abid, a valet in the service of Nizam VI of the State of Hyderabad. Abid is acknowledged as one of the oldest and most famous business location in Hyderabad. It contains extensive shopping options, residential areas, many schools and coaching classes, the Andhra Pradesh State Financial Corporation (APSFC), Directorate of State Audit and the renowned President Plaza and the headquarters of BSNL. The well known Jagdish Market is a hub for custom notified shops and is a den for the gray market of mobiles and other branded electronics. Other attractions include the Anjali Mall, Samasthan Gadwal Handloom Center, Meena Bazaar, and many more such reputed shops. The Greater Hyderabad Municipal Corporation (GHMC) which is the urban planning agency that administers Hyderabad and Secunderabad is also situated here next to the GPO.

Abids has certain advantages which make it one of the most sought after places in Hyderabad. Markets in Hyderabad are usually known to specialize in certain specific trades or products and attract only those interested in that. However, Abids has the unique distinction of being a market place with a wide variety of business in operation there catering to multiple needs of its residents. It boasts of great connectivity as it is centrally situated within reach of Hyderabad, which is about 3 kilometers from there and Secunderabad, which is only 6 kilometers travel time from there. Abids Road, which is the principal commercial area here, is a one kilometer stretch beginning from Gun Foundry and running up to General Post Office (GPO). The area that falls behind Abids Road is the residential area of Abids. Abids is about 15 kilometers away from the commercial hubs of HITEC City (The Hyderabad Information Technology and Engineering Consultancy City) and Gachibowli, the major IT hub of Hyderabad. Major roads that service commuters from Abids to other parts of Hyderabad and Secunderabad are the Masab Tank Flyover, Tank Bund Road and the Nampally Station Road. The presence of the Nampally Railway Station increases the importance of Abids as it ensures good railway connectivity for the residents. It also enhances the rental value of Abids as people working in Hyderabad prefer to stay here due to connectivity offered by Nampally Railway Station. Abids is also connected to the International Airport at Shamshabad.

At Abids, prices can vary in the range of Rs. 3250 to Rs. 4500 per square foot for 1BHK, 2 BHK and 3BHK apartments. However the rental prices are a little steep with a 1BHK fetching a rental in the range of Rs. 6000 to Rs. 10,000, and 2 BHK being let-out for Rs.10,000 to Rs. 20,000. A 3 BHK would command a rental of anywhere between Rs. 16,000 to Rs. 40,000 per month. These relatively high rates of rentals are largely due to the employment opportunities on offer on account of the commercial nature of the area. The locality is mostly inhabited by the middle class and upper middle class business people and government officials who work nearby. In addition, a large number of students studying in coaching classes situated in the area converge and snap up the cheaper rental accommodations and paying guest facilities, influencing the rates of the remaining rental residences.

The social infrastructure available in the area includes reputed schools like the Bacchpan Play School and Slate-The School and many more primary schools. A number of prestigious high schools also exist throwing up a rich choice of schools for parents to choose from like the St. John's High School, the Seventh Day Adventist High School, The Nazareth High School, the Stanley Girls high School, the Rosary Convent High School, the Methodist Boys High School, St. George's Grammar High School, Little Flower High School, All Saints High School, among others. The Osmania University is nearby and caters to the needs of college going students. Medical care is abundantly provided for with hospital like the Medwin Hospitals, the Kamineni Hospital, Care Hospital, Fernandez Hospital, Neoretina Eye Care, Ramayya Pramilla Urology Hospital and many more such specialty hospitals.

Abids emerges as an exceptional destination to live one's life surrounded by the convenience of having all our requirements being within our reach. Connectivity to other surrounding areas is also possible in reasonable travel time and hence Abids shines among the choices available to citizens of Hyderabad.
Add a Comment