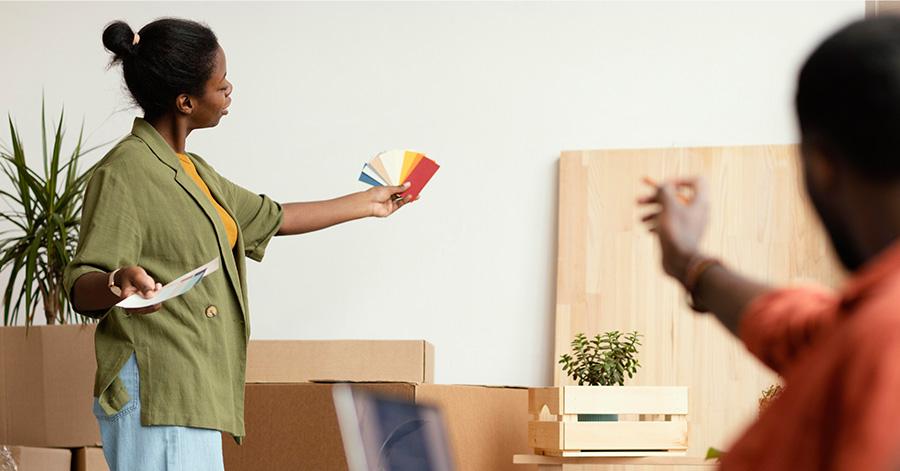 No matter how lavish your furniture is or how small or big your home is, the real ambience is always created by the paint. There are so many different paint colors to choose from when deciding on what your house needs, but the question is always how to choose the best ones.
Thankfully, this house painting article on 99sqft has some great color ideas for you that will make sure your home looks beautiful and trendy.
What is The Best Color To Paint Your House?
Painting your house a color that is too vibrant or too dull will not provide the look you want for your home. If you are unsure, it is best to consult with a designer before making any decisions about colors for your house.
What The Different Shades Of A Color Mean
There are many colors that you can use in your home to create a unique, beautiful look. You can find shades that you love or complement the colors of your décor. Here are some different colors with their meanings and what they look like when mixed together.
How To Create Your Own Color Palette
It can be difficult to create a color palette for your room. Deciding on one color and sticking with it throughout your entire space can be monotonous and boring. In order to avoid this problem, you should consider using a few colors as accents in different areas of your room.
The popular 7 Colors for painting your home
This spring, don't go for the normal colors you find in your home. Instead, paint with these vivid and bright colors that are perfect for this season. If you'd like to try some of these colors, read on!
1. Bright Blue
A bright blue color is perfect for your living room, because it keeps the room bright and energized. It's also great for your dining room, because it gives the room a more cheerful vibe.
2. Bright Green
Bright green is a great choice for the bedroom, because it uses a calming effect to help relax you after a busy day . Bright green is also perfect for the living room, because it's a color that enhances your energy.
3. Orange
Bright orange is a great choice for adding some vibrancy to your living room . It also works great in the kitchen, because it's a color that keeps you energetic and inspired.
4. Pink
Pink is a color that always seems to be on the rise, and for good reason! This color brings fun, vibrancy and happiness to any room of the house.
5. Purple
Purple has been making a comeback this year and that's because it's a color that brings joy and clarity to any room. It will help you feel positive, happy and energized.
6. Yellow
Yellow is one of those colors that has both a calming effect and an energizing effect on the mind, body and spirit. It 's also a color that makes you feel happy and energized.
7. White - Off White
White is another color that's on the rise! There is something about white that always gives a calming effect.
Bonus tips to keep paint from dripping onto your furniture
Painting your house is a big task and it is not always the easiest thing to do. There are several ways to avoid paint from dripping onto your furniture, so follow these tips for a successful painting project. Examine any furniture that you are going to move in the room to make sure there is nothing on it that could be damaged by paint. When applying paint to any furniture, make sure you use a brush. Brushes are the most effective tools for applying paint. If you have a lot of furniture that you are going to paint, it is best to buy more than one small brush for each color. It is also important to coat your furniture with a clear coat sealer. Clear coat is a protective layer that prevents paint from rubbing off the wood. Once you have finished painting , be sure to wipe down the furniture with a damp cloth. This will help reduce dust and minimize the spread of paint throughout your home. When you feel like your furniture is dry enough, you can buff off the finish with a soft cloth. Be careful not to scratch your furniture when buffing it.
---
--- ---
---