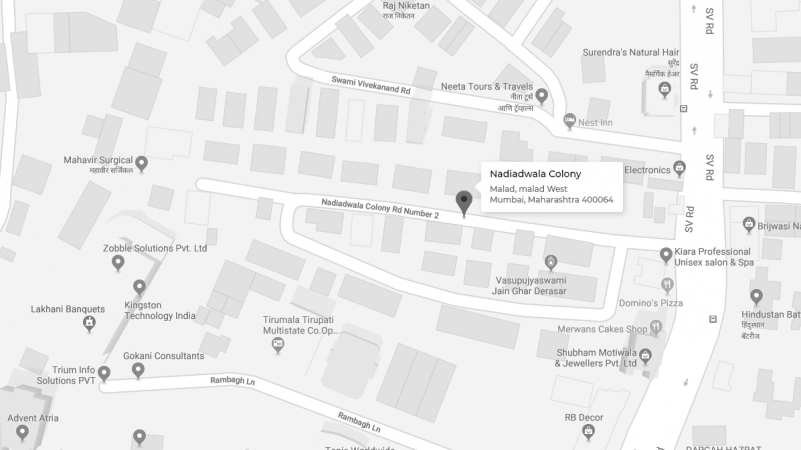 Nadiadwala colony, Malad west – A beautiful residential secret place that few know about.
As you cross the busy signal at Chincholi Bunder on SV road Malad west and cross the State Bank of India (I am assuming that you are travelling from Goregaon west to Malad west direction), you witness a sudden left turn that you are not expecting to appear. Welcome to Nadiadwala colony (also known as Nadiyadwala colony),Malad west, off SV Road near Chincholi Bunder. As you admire the beautiful tree laden lane which is well shaded with small boutique residential buildings on both sides, you definitely ask yourself one question. Why have I not visited this nice colony before? It looks a perfect residential place to have your own cozy home very close to the busy SV road yet nicely cocooned and insulated from the noise and humdrum of the crazy traffic. There are two lanes in Nadiadwala colony diving it into Nadiadwala colony 1 and Nadiadwala colony 2.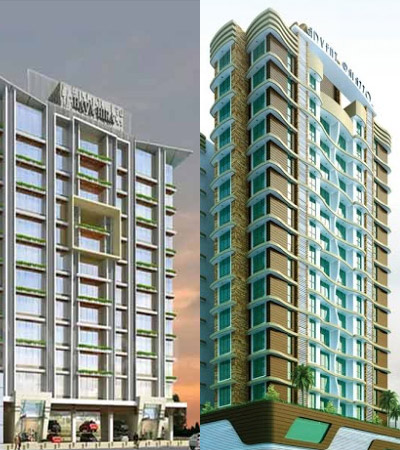 There are not too many flats for sale in Nadiadwala colony Malad west simply because there are not too many buildings here. However there are a few new projects in Nadiadwala colony that offer some very good homes for sale. Some of the under construction projects in Nadiadwala colony include Arihant Shree Santosh Apartment, Patel Hava Hira, Advent Palazzo and a few more. Among the few ready to move projects in Nadiadwala colony Malad west are Sankalp Heritage and Sharanam height by Satsang developers. These buildings offer some of the best 1 BHK flats for sale in Nadiadwala colony and also 2 BHK and 3 BHK apartments which are ready to move in homes with Occupation certificates received. It means that when you buy these new flats in Nadiadwala colony then you do not have to pay any GST charges on them. There is no doubt that if you are searching for a good new residential flat for sale in Malad west then the properties in Nadiadwala colony would surely attract you both in terms of the reasonable price and also in terms of the charm that they ooze. In case you need a further bargain you can also choose to buy a resale flat for sale in Nadiadwala colony Malad west in one of the older buildings standing proudly on both sides of the road.
Although Nadiadwala colony real estate is surprisingly not too much in the limelight, it still manages to floor you with the amazing serenity and peace that its landscape provides. Nadiadwala colony is also very well connected to the SV road and also provides easy access to the western express highway via the Goregaon – Mulund Link road flyover just 5 minutes away near the MTNL signal. You also have a very simple and easy access to the entire Mindspace area by taking a turn at the SV road Chincholi Bunder signal and reaching the Malad west link road. Technically you are close to all the major landmarks, hospitals, restaurants on the SV road and also to the Inorbit Mall, Infinity Mall on the Malad link road and also to the Oberoi mall across the Goregaon flyover on the Goregaon east western Express Highway.

There are many other residential, commercial and retail buildings near Nadiadwala colony. The famous Malad Dal Mill area, Quantum Tower, Kalpataru Plaza, Advent Atria, Love Dale are all very good commercial and residential buildings in Malad west which are close to Nadaidwala colony. Ramniwas Bajaj English High School and Mainadevi Bajaj School are good schools nearby. The Bajaj hall on the SV road is a very famous hall where one can host marriages, social gatherings and other functions. The very famous Ramanjaneya restaurant on the Malad SV road is just a stone's throw away from Nadiadwala colony and so is the Indian Oil petrol pump. The Rambagh lane, the Underai road, Nanbhai Bhuleshwar Marg, Harun Khan road, Anand road, Pawan Baug road, Sunder nagar road are all nearby locations to Nadiadwala colony. There are also good super markets like Madam homes, Rambhias Super market which are extremely close to Nadiadwala colony. Also one can easily find vegetables, fruits and other necessities in the markets on the SV road.
If one is working in the Mindspace area or anywhere in the Malad west or Goregaon west or Kandivali west belt then Nadiadwala colony is the perfect place to buy a property in. If your search is for a low budget flat for sale in Malad west in a good location then again Nadiadwala colony would fit the bill perfectly. Among all the under construction projects in Malad west you would find that the average price of a home in Nadiadwala colony highly competitive and reasonable. In fact the per square feet rate in Malad west has drastically increased on the Link road side because of the glamour quotient and SV because of limited supply. In such a scenario buying a good flat for sale in Nadiadwala colony makes a lot of sense as it saves a considerable amount of your money as well as provides you all the basic comforts of good home and a good address.
There are many shops in Nadiadwala colony on the SV road side that provide good business as the roads are always full of people going from one place to another.
Overall, Nadiadwala colony Malad west is a very serene and calm place to have your cozy flat in Malad west with all the advantages of good connectivity, civic facilities and reasonable price.
---
---
--- Written by
Robin Gangawane
A soft spoken and modest guy, Robin is a powerhouse when it comes to getting a job done online. On the professional front, Robin is an SEO & SMO geek working meticulously to ensure the best rankings for all his web c

Read more
---
---