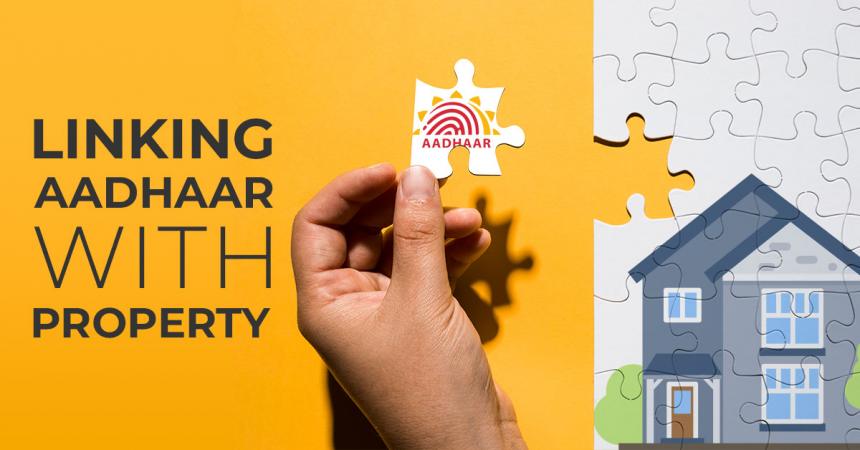 Linking Aadhaar with property could be the turning point for Indian real estate. Do you agree?

There is a certain buzz in the Indian real estate circles with regards to a major step by the government to link Aadhaar with property deals. Many Indian real estate experts feel that this could bring a big revolution in the Indian property market making it cleaner and more transparent.
Apparently after the herculean demonetization step back in 2016, this Aadhaar-Property linking proposal, if implemented, would be the biggest step by the government of India to crackdown on black money and corruption in Indian real estate.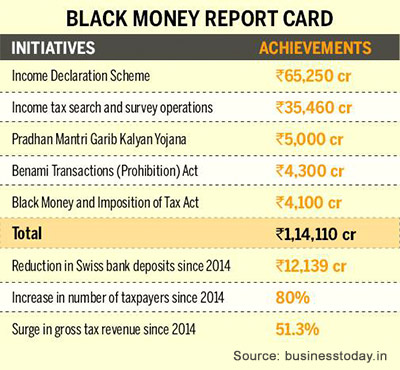 After the implementation of RERA and many other measures to streamline property market in India, the verification of immovable property by Aadhaar number would no doubt be a revolutionary step.
This news has been whispered in the Indian real estate market for quite some time now. However as we approach the year 2020 the news of compulsory linking of Aadhaar with property deals in India seems to be getting louder and therefore feels like it could get implemented any time soon.
There was an appeal recently with regards to the connecting of immovable or other kinds of assets of Indian citizens to their respective Adhaar numbers to help strangle the menace of black money, fraudulent dealings as well as benami or proxy transactions in the Indian property market. The honorable Delhi high court during the last quarter of 2019 asked the Unique Identification Authority of India (UIDAI) to respond to the above appeal.
Most property pundits as well as real estate professionals across India feel that the linkage of Aadhaar details with a real estate transaction would have mammoth effect on the Indian property market, immediately as well as in the long run. The entire real estate industry in India as well as the Indian economy overall would be measurably affected mostly for the better. The process to link aadhaar card to property registration can be a milestone in the history of Indian real estate as per most of the stake holders in the industry. There have been a lot of people who wondered how to check property details with aadhaar number. Well, if and when the Aadhaar card-property transaction linking happens it would possibly be a very simple procedure going forward.

Homelessness versus 'Owned yet vacant' homes in India
The primary pitfalls of the corruption and rampant benami transaction in Indian real estate have been the hoarding of homes by property investors and over selling of properties to buyers who are not the end users. This has resulted in many homes being sold but remaining vacant thereby strangulating resources and liquidity in the Indian economy. The practical bad effect of this is that many home seekers who desperately need homes in a given real estate location are not able to buy since the homes are 'sold out' and the buyers of these sold out homes are unable to make any money out of these extra properties that they have bought since nobody can afford to pay the extra margins that they seek. Essentially the black money in Indian real estate sector gave a free hand to many property investors to buy multiple properties in key markets and helping them indulge in unfair property trading. All these actions lead to artificial price increase in Indian real estate and home buying became absolutely unaffordable to many genuine home seekers.
The action of linking property transactions to Aadhaar would definitely be instrumental in curbing this menace thereby creating at least a bit of level playing field for all home buyers in India. The overall real estate industry in India could see a uniform growth and could also witness a real price correction creating a fair & organic property price scenario in the Indian real estate sector in the long run.
Possible short-term effects of Aadhaar-property linking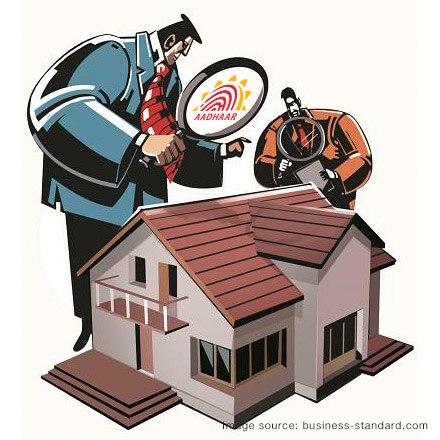 In the days gone by it was relatively easy to pump in tons of cash and black money into property buying, especially land buying. The difference between the actual transacted value versus the declared value on the Agreement or the book or ready reckoner value of a given property in India was huge. All the unaccounted cash would easily get converted into property and thus real estate in India became an easy parking ground for black money. The demonetization in 2016 has definitely put the brakes to this unfair practice to a large extent. And now with the potential integration of a property purchase with Aadhaar, it would be extremely tough to deploy unaccounted money for buying real estate projects, flats and land for sale in India. Since every property buyer would be completely exposed to the government via his or her Aadhaar number, the fear of being caught in case of any wrong doing would loom large in front of every buyer. Another effect could be the boom of resale properties in the Indian real estate ecosystem as every benami property owner in India would exit due to the fear of being exposed and penalized heavily by the law. Property prices in India could see crazy mood swings because of the uncertainty that would prevail after such a drastic technical move by the government. Some stake holders like real estate developers, real estate owners might inflate real estate prices causing a bit of panic and instability, at least temporarily. These scenarios could be expected in the short term post the Aadhaar-property transaction linking in India.
Long term and positive effects of Aadhaar-property buying linkage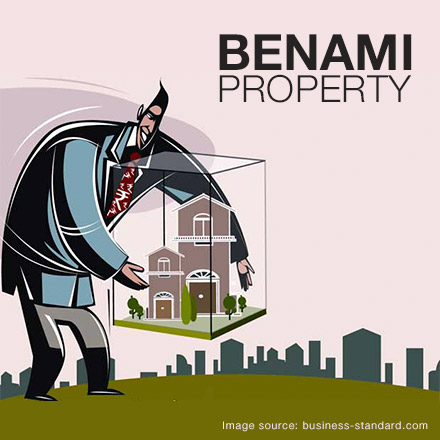 Increased supply of resale homes in Indian markets
As discussed, many benami properties, extra homes hidden from the government could come back for sale in the property markets as the owners would prefer to avoid legal trouble. This would result in the artificially increased prices created due to the artificial 'home supply shortage' to normalize.
Real home seekers, homeless property buyers would get a chance to purchase homes and property in their preferred areas in India at actual fair prices.
With transparency coming to even land parcels for sale in India, there could be a surge in huge property developments across large land banks in existing key housing markets and even new emerging real estate locations in India. With a lower cost in land investments, property developers in India would be able to deliver better quality homes at lower prices.
Organized real estate policy in India
As each property deal would be linked to Aadhaar, the government would have access to clear and transparent data of home buyers, home owners, homeless adults, etc. It would be relatively easy to identify the supply, demand in each location in India and also to identify & rectify any concerned challenges. Other issues like infrastructure impediments, erratic growth patterns affecting realty growth could be addressed looking at the vast amount of data that would actually reveal a lot of key parameters. Essentially all of this would help the government to from a robust and effective housing & real estate system for the benefit of all Indians.
A new chapter for land in India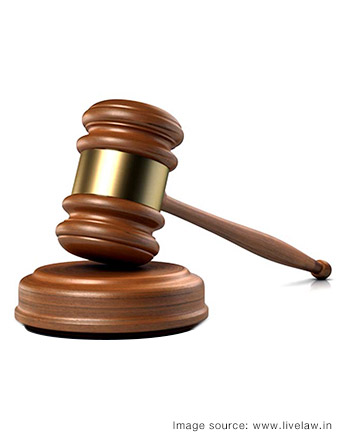 The linking Aadhaar with property transactions could be the biggest dose of life for the land transaction culture in India. Land disputes, land-related court cases, land-related frauds have plagued India for many centuries. If India has to grow organically and if Indian real estate where, obviously land is the biggest raw material then the change in land laws in the country are critical. This can very well happen now due to the link of Aadhaar with land transactions bringing transparency to a highly challenging section within the Indian real estate sector. Infrastructure development, farming, commercial developments could all be streamlined and organized much more effectively and easily after this huge step. Linking Aadhaar to property purchase in India could also help identify various types of land and also give a clearer picture of the kind of property that Indians hold across the big Indian landscape. As lucrative as this sounds, the linking of Aadhaar with property transactions, the subsequent mapping of relevant data and then the use of the generated data would require a lot of efforts from all concerned departments of the Government and of course also require understanding, patience and participation from all the stakeholders in the Indian real estate sector, Indian economy – in other words from every citizen of India.
---
---
--- Written by
Robin Gangawane
A soft spoken and modest guy, Robin is a powerhouse when it comes to getting a job done online. On the professional front, Robin is an SEO & SMO geek working meticulously to ensure the best rankings for all his web c

Read more
---
---