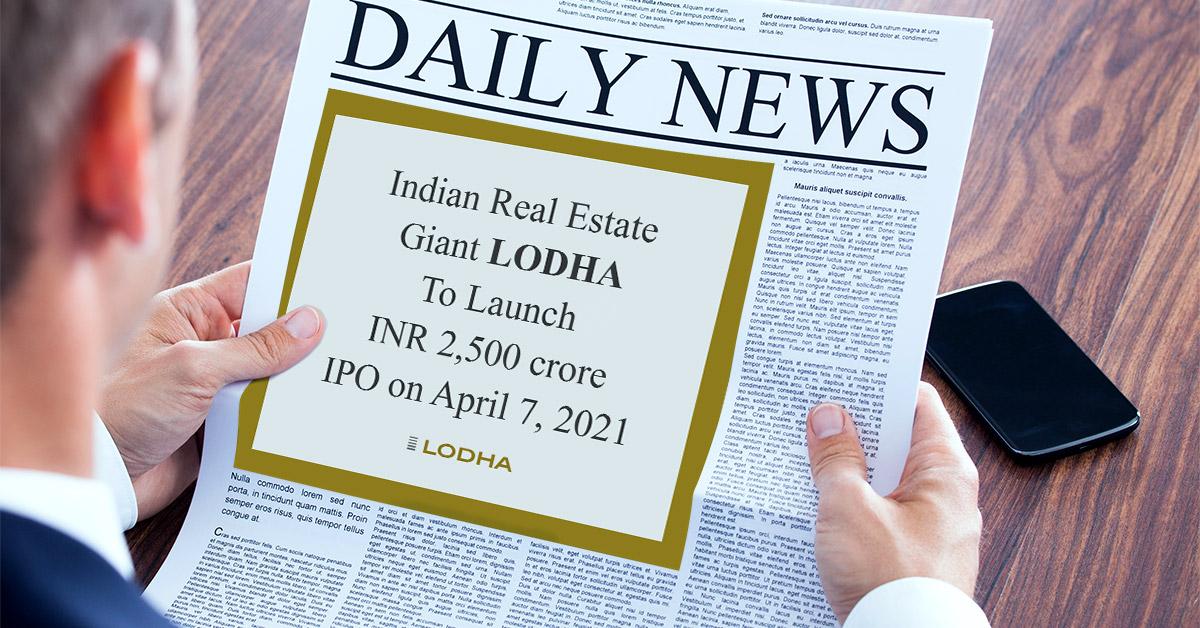 Lodha Developers comes knocking on the Indian Stock Exchange

One of the biggest private real estate developers in India, Lodha Developers is in all probability coming to the stock exchange on April 7, 2021 with INR 2,500 crore initial public offer (IPO).

One of the major reasons for this big step is to raise funds from the market to decrease its current debt and accelerate its growth in the coming days and months and years.
The Mumbai-based Lodha Developers Ltd now call themselves Macrotech Developers and have filed the draft red herring prospectus (DRHP) with the Securities Exchange Board of India (Sebi) in March 2021.

There have been a few announcements in the newspapers speaking about the achievements, facts and figures of Lodha Group which have hinted towards this particular step.

Third Time Lucky?

The company had filed its DRHP for the first time in September 2009, with an aim to generate around Rs 2,800 crore. Although Sebi did give its approval to them in January 2010 but later dropped the idea because of a highly volatile market post the global financial meltdown.

A similar story played out in April 2018 wherein Lodha Developers filed the DRHP and got SEBI''s approval in July 2018 to launch its IPO trying to notch up close to Rs 5,500 crore.
As per many banking sources, Macrotech Developers has got the SEBI approval to launch its IPO and subsequently the public issue will hit the capital market on April 7, 2021.
There have been two more previous attempts by The Lodha Group to list on the stock exchange and they surely would be hoping to get third time lucky with their latest bid to launch a public issue and list their shares on the stock exchanges.
As per initial updates from sources within the Indian real estate industry, Lodha Developers was targeting to raise an amount of around Rs 2,500 crore through its IPO with a dilution of 10 per cent stake. The funds thus collated from the markets will be utilized to reduce the debts and for construction and development of further real estate projects.


One of the biggest in Indian real estate
Lodha Group which is surely one of India's biggest private real estate developers was founded in 1995 by Mangal Prabhat Lodha. Within a short span of time Lodha has created a niche for itself in the highly competitive business of real estate development in India. With a very strong presence in Mumbai, Lodha Developers is also active in Pune real estate, Hyderabad real estate and Londonreal estate.
Biggest in terms of sales bookings
When it comes to the sheer volume of real estate sales, Lodha Group is without any doubt the most prolific residential real estate developer in India by a long margin. It has to its credits many firsts and that includes foraying into the London real estate market in 2013, acquiring two prime real estate sites in central London and pumping in close to 400 million British Pounds for this particular venture.
What does this mean for Indian real estate?

If Lodha Group has a successful launch in terms of its Stock debut then this could really fuel and add impetus to real estate in India overall. This could act as a big confidence booster for the Indian real estate industry and would surely help Lodha Group focus on developing its humungous land banks further with the world class real estate that it is now very well known for. There could be other big real estate developers in India that could pick a page from Lodha's book and follow suit. All in all this could be a big and an extremely key moment for the property industry in India.
---
---
--- ---
---