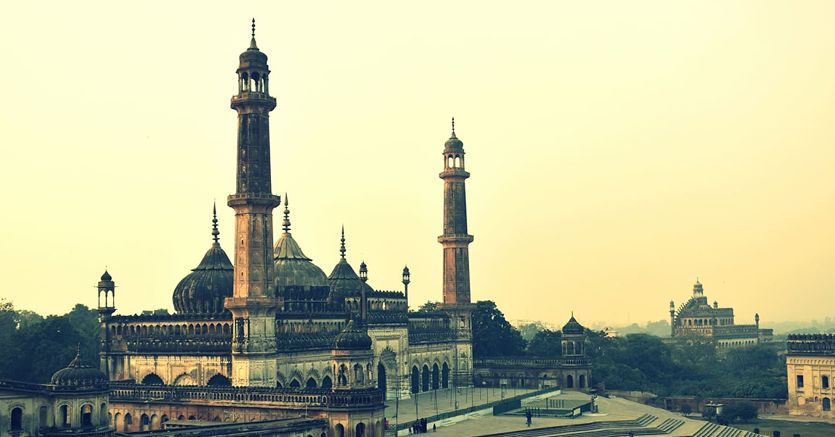 Now-a-days, all that matters is how happy you can be in the city. You might find tallest buildings, luxury in any metropolitan city however if you are looking to be happier than you are now you should consider the city that has the potential to do it.

Did you know lucknow is India's second happiest city?

Well yes that's true.

Before we get into the discussion of how it has an influence to your happiness, let's see some fun facts about lucknow city.


Lucknow was renamed a couple of times

Lucknow city was renamed a couple of times, the city of Lucknow first derived its name from Lakshman, Lord Rama's younger brother.
Lakshman was asked by Lord RAMA to establish a city of his own. Over the time, the city's name changed from Lakshampuri, Laksmnaut, Laksnaut, Laksnau to Laknau and finally Lucknow.


Anarchism began in Lucknow

It was in Lucknow that the seeds of the first rebellious activity against Britishers were first sowed in. The word then spread to the other parts of the country, and the city quickly became popular for its uprisings against the British Raj.

You now know that lucknow is one of those cities that work towards the happiness of the people of their people.

Isn't it a good idea to surround yourself with people who work towards each others freedom and happiness.


Talking about infrastructure and connectivity is a must when you are looking to invest in a home in a new city.
So let's get to it.

Lucknow is the state capital of Uttar Pradesh. It has shed its image of a Tier-II city and grown much beyond the expectations in the last few decades especially from 2009 to 2019. The city is now witnessing great changes in terms of developments ranging from transit corridors to rising information technology sector, and growing housing to revised master plans.


We have made a list of 10 such reasons that makes now a perfect time to invest or buy a home in Lucknow.

Some of the major reasons why Lucknow is already a realty hotspot are as follows.

1. Tier II City Lucknow

Lucknow, the capital of Uttar Pradesh, is steadily transforming into a real estate hotspot, shedding its hitherto Tier-II limitations. Lucknow is witnessing rapid development including the growth of the IT sector and the development of transit networks.
2. New Real estate zones
The 2021 Master Plan has already proposed a revision and inclusion of 197 fringe villages under it. This means that facilities offered by the corporations will be available to surrounding areas and outskirts, thereby creating newer real estate zones and high future appreciation prospects.
3. Socializing
In terms of shopping and the commercial sector, areas like Rae Bareli Road, Faizabad Road and Sultanpur will be developed into prime commercial hubs and residential markets surrounding these areas will witness hefty appreciation in terms of prices.
4. Road ways
The LDA (Lucknow Development Authority) has also approved the development of a ring road which is 150 metres wide and this should also boost the development of private residential projects in surrounding zones.
5. Parks, projects
The master plan also includes a proposed Knowledge Park located between the Jail Road and Mohan Road which will have several coaching and educational institutions and a 100 kilometer Outer Ring Road will be surrounding the peripheral zones of the city and will encompass housing projects, townships, Awadh Shilp Gram, CG City and a cricket stadium.
6. The Lucknow Metro
The Lucknow Metro will also give a huge boost to intra-city connectivity and will lead to an appreciation in values of residential projects along this entire corridor. Bids are already being invited for 8 planned metro stations which are expected to be functional soon.
7. Strategic intervals
Terminals have also been proposed at strategic intervals by the town and country planning department for monitoring heavy vehicles like buses and trucks on the city's outskirts.
8. Townships with latest tech
The IT city will come up over 100 acres in Chak Ganjaria and is being built by ACL Technologies. There will be three townships developed with the latest technologies along with many other integrated townships.
9. Smart cities
Lucknow is also present in the list of Smart Cities and this will boost aspects like transport, waste management, sanitation, water supply and e-governance greatly in the future. Leading hospitals like Narayana Hrudalaya Aarogyam and Medanta have already come up in the city and several mid-range, affordable housing and luxury real estate projects are being developed here as well.
10. Residential projects
There are several prime residential projects already being built in Lucknow including Urban Axis Urban Woods at Sushant Golf City, one of the city's flagship integrated townships.
Let's look at how the average price of property in Lucknow has changed over a period of ten years, from 2009 to 2019.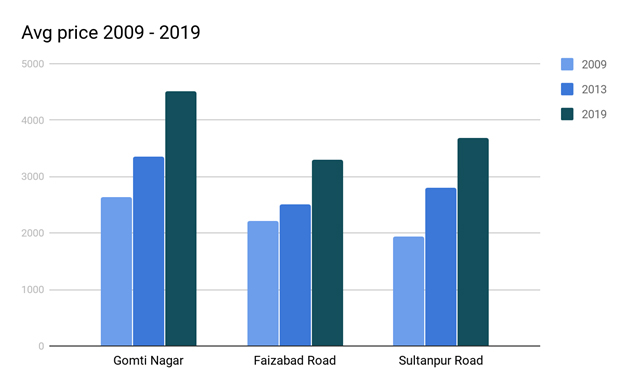 The above mentioned graph shows the avg price for few of the most famous localities of Lucknow.
To conclude, going back to speaking about the city of happiness..
Here is what you need to know..
According to a survey conducted in 2015, Lucknow is the second happiest city in India and that is how the phrase, "Muskuraiye aap Lucknow mein hain" made its entry.
After reading this article if you feel the need to research more about Lucknow as a good investment idea, nothing like it. Because we believe that it's best to be sure before investing.
And if you are already convinced and are just searching for the best options to invest for your new home, go ahead and checkout :
Lucknow real estate
Disclaimer : The views expressed above are for informational purposes only. We do not guarantee the accuracy and completeness of the information and shall not be held responsible for any action taken based on the published information.
---
--- ---