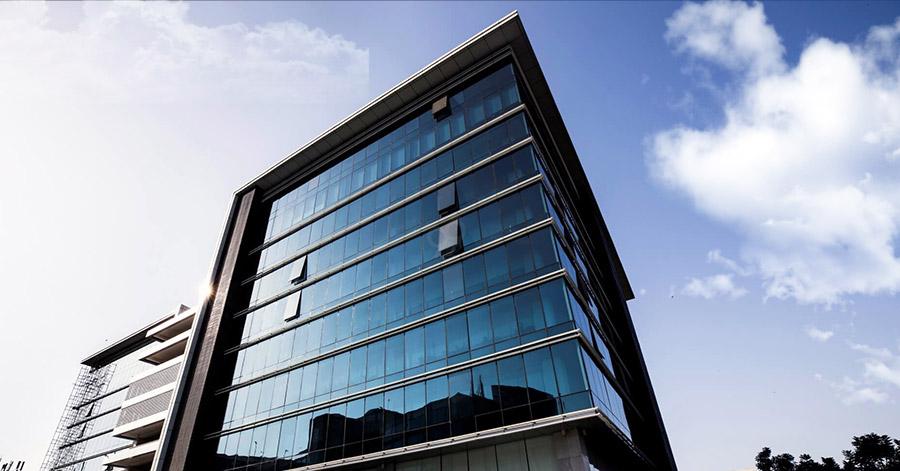 Hiranandani Fulcrum is a superbly built commercial building at one of the most prime locations in Andheri east, Mumbai - close to the Mumbai Airport.
This imposing glass tower is an example in work-life balance. Being a preferred choice of leading industries, corporates and business firms, this commercial landmark is strategically located at CSIA, the centre of suburban Mumbai business district. Situated almost at the airport itself, Fulcrum is a convenient drive from the central suburbs and is close to the arterial train and metro stations. Undoubtedly it's one of the choicest business destination offering both large and small format work spaces for people who want to strike of the best deals in their very first impression.
Fulcrum is a joint venture by Nafees Ahmed Khan and Hiranandani Developers. It stands in a premium location conducive to business growth, featuring a comfortable and stress-free environment. This ultra-modern commercial landmark comprises nine floors with ground and basement area and a glass façade. It also boasts an elegant lobby, high-speed elevators, and a remarkable floor-to-ceiling height, which all create an inspiring and innovating ambience for business ideas. It is accessible to Mumbai's modes of transport, and communications and business hubs.
Amenities nearby Fulcrum include:
Restaurants :Peshawri - 0.30 Km
The Brasserie - 0.40
KmHotel : ITC Maratha (5 Star Hotel) - 0.30 Km
JW Marriott (5 Star hotel) - 0.50 Km
Hyatt Regency (5 Stars) - 0.10 Km
Horanandani Fulcrum Distance from Airport:
4.5 Km to Domestic Airport
1.8 KM to Chhatrapati Shivaji International Airport

Some of the noteworthy companies in Hiranandani Fulcrum include the following:


Cleansolar Renewable Energy Private Limited
Divine Solren Private Limited
Hannover Ruck Se
Clp Wind Farms (Khandke) Private Limited
Fosma Maritime Institute And Research Organisation
Royal Rajasthan Foundation
Hannover Re Consulting Services India Private Limited
Routes Mines Gold International Private Limited
Blenheim Chalcot It Services India Private Limited
Royal Multisport Private Limited
Vigi Medsafe Private Limited
Foreign Owners Representatives And Ship Managers Association
Agilisys It Services India Private Limited
Getinge India Private Limited
Ppd Pharmaceutical Development India Private Limited
Getinge Medical India Private Limited
British Asian India Foundation
Ocean Network Express (India) Private Limited
Clarks Future Footwear Private Limited
Gajshakti Agrotech Private Limited
Clearscore Technology Services India Private Limited
Marvellite Aromatics Private Limited
Firstchoice Properties (India) Private Limited
Spring11 Research And Consulting India Private Limited
Marvel Data Services Llp
Jotun India Private Limited
Sachana Exports Private Limited
Sodexo Svc India Private Limited
River Journeys And Bungalows Of India Private Limited
Globally Managed Services India Private Limited
Avanse Financial Services Limited
Pullog Global India Private Limited
Shree Balaji Lnb Mercantile India Private Limited
Pluggers Sports Lifestyle Private Limited
S.J. Financial Advisory Llp
Niz Logger Private Limited
Marriott Hotels India Private Limited (Trf.)
Ethnicity Limited
Gsr Capital Resources Llp
Biyani Capital Resources Llp
Shree Balaji Selangor Retail Private Limited
Fulcrum Training Services Private Limited
Skechers South Asia Private Limited
Skechers Retail India Private Limited
Kingjims Textile Private Limited
---
--- ---
---