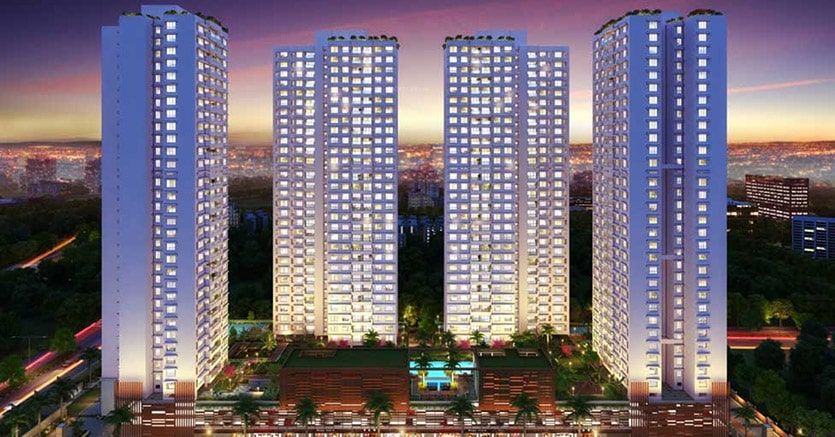 Siddharth Nagar – A place to reside

The first thing that strikes your mind when you begin searching for a good locality in Goregaon West is Siddharth Nagar. The reason is very obvious; Siddharth Nagar has been a very good, proven and preferred residential location for families and multiple generations. In fact this location in the heart of Goregaon west is more than a century old. With that kind of longevity it is no wonder that homes in Siddharth Nagar are very popular and it is a highly respected and sought after area in the western suburbs of Mumbai city.

The popularity and preference for Siddharth Nagar also has many other reasons. One of them is its close proximity to literally everything. The railway station, SV Road, Link Road and even to the Western Express Highway.


Connectivity

Siddharth Nagar in Goregaon West is a place where you will find every facility that you would wish to go for. It is just 10 minutes walking distance from the Goregaon station and you can easily get an autorickshaw or avail the BEST bus service to reach the same place. Apart from this you can easily get buses to reach almost all corners of Mumbai as the Oshiwara bus depot and the Goregaon bus depot are also close by. In short the connectivity to Siddharth Nagar from any part of Goregaon west and also any part of Mumbai is great.


Education

The quality of education that you can access in Siddharth Nagar is also of good quality. Vivek Vidyalaya School & Junior College is an English medium institution that has been imparting good education to Goregaon West residents for more than half a century. There are many students who come here from other parts of Mumbai as well. Siddharth Nagar also has a municipal school and college which provide affordable education to needy students.


Facilities

Although today people seldom use the postal service, Siddharth Nagar does provide you the post facility as there is a very old but efficient post office nearby. Some of the best doctors have their clinics in Siddharth Nagar and also there is a very big government hospital called "Siddharth hospital" with good medical facilities and very affordable treatments.

There are good banking facilities available in Siddharth Nagar. Indian bank is a very old and established one in the premises of the Vivek Vidyalaya School. Apart from this there is another bank called Mumbai Bank which has sprung up in one of the new redevelopment buildings near Vivek School again. Both of these banks also provide ATM facility.


Sports, Fitness & Cultural Activities

This location is blessed with a lot of open and green areas. There is a huge playground called Prabhodhan Krida Bhavan where you have space for sports, exercise and yoga. The Prabodhan Krida Bhavan also has every good gym and fitness centre in its premises called Parulekar's gym and it is headed by some of the most professional body builders & fitness gurus in Mumbai. Apart from this at around the distance of 5 minutes, there is Prabhodhan Jogger's park where you can jog and enjoy taking walk around. This jogger's park also has lawn tennis facilities and you can learn to play tennis from professional coaches here. The facility also has provision for a wonderful library where you can avail some of the best books to exercise your minds.

Prabodhan Krida Bhavan also hosts a lot of cultural events regularly and the residents of Siddharth Nagar get to enjoy a variety of such shows throughout the year. Great artists like Mr.Shankar Mahadevan, Ustad Zakir Hussain, Mr. Shivamani and many more have enriched the atmosphere with their mesmerising performances on the Prabodhan ground. There are also a lot of inter school and inter college sporting events that are hosted in Prabodhan. There are many young and aspiring cricketers who train here under professional cricket coaches to enhance their game and take it to the next level. The Prabodhan ground has full-fledged facilities for budding cricketers to learn and play the game.


Ozone swimming pool

Siddharth Nagar boasts of The Ozone Swimming pool – a state of the art swimming facility. With the Olympic size pool and the professional coaches, training, equipments – this swimming pool is a dream for someone who wants to be a professional swimmer at the highest level. The Ozone swimming pool has consistently produced national and state level swimming champs for a number of years. Of course you can also just go there to swim, relax and enjoy. The premises of Ozone swimming pool also has a very good gym and fitness centre called the Talwalkar's gym . It also has a very good banquet facility for parties and get-togethers. There is a very good Grade I family restaurant and bar called Supreme Spice in Siddharth Nagar which is again housed in the premises of The Ozone Swimming Pool. The back area of this pool is also used as an archery academy and there are many young archers learning from some of the best teachers here.


Real estate in Siddharth Nagar, Goregaon west

Being an ideal residential property destination, Siddharth Nagar has now got the attention of some of the biggest property developers in Mumbai. Since there are vast expanses of landed houses (referred to as chawls) and many old buildings too, redevelopment is the buzzword in Siddharth Nagar for the past 5 to 6 years. Many 4 storied old buildings with small houses have been brought down and replaced with spanking brand new flats in Siddharth Nagar, Goregaon west. With the amount of construction happening in Siddharth Nagar today, it is now an ideal destination for you to find modern and new flats in Goregaon west. Some of the noteworthy under construction and new projects in Siddharth Nagar, Goregaon west include the likes of Kalpataru Radiance, Ekta Tripolis and Luxor by Sangam Lifespaces.


Kalpataru Radiance

Kalpataru Radiance at Siddharth Nagar, Goregaon West, Mumbai gives you a luxurious way of living in one of Goregaon west's most popular location. The fact that Kalpataru Radiance Goregaon west is being developed by Kalpataru Limited, a 50 year old construction company & part of the Kalpataru Group, gives a lot of confidence to property buyers. One of the major highlights of Kalpataru Radiance is the fact that it is a well planned gated community with well planned apartments. There are many 2/3/4 BHK apartments for sale in Goregaon west, however the apartments in Kalpataru Radiance have the distinction of being spacious, grand, in a good residential complex and in a very good residential area, Siddharth Nagar.

Connectivity and convenience are the default values that Kalpataru Radiance Goregaon west offers. The apartments for sale in Radiance have been planned in such a way that the 2, 3 and 4 BHK residences make perfect luxury and happy homes. The common amenities here include huge open green acres of landscape that are spread across the ground & podium level. You also have the children's play area, barbeque area, CCTV, retail shops, rock climbing wall, tennis court and swimming pool with pool deck. The contemporary Club house is designed for today's times and boasts of all modern facilities that include a very huge party hall, a gymnasium with all latest equipments, indoor games room, mini-theatre and squash court. For someone searching for an under construction project in Goregaon west or for someone who is looking to buy a ready to move flat in Goregaon west, Kalpataru Radiance makes a lot of sense as one phase here is about to be delivered and there are some flats for sale in Kalpataru Radiance in the next phases which will take a couple of years to see the light of the day. All in all Kalpataru Radiance is definitely a very good luxury residential project in Goregaon west and it has definitely enhanced the reputation of Siddharth Nagar as the residential hub of this western Mumbai suburb. 99sqft.com has identified Kalpataru Radiance as 1 of the 3 new residential projects in Goregaon west that has uplifted the face of Siddharth Nagar as a location further.


Ekta Tripolis

Another feather in Siddharth Nagar's real estate cap is an under construction project that is very close to possession called Ekta Tripolis. Being brought into existence by the well experience development company called Ekta World, Ekta Tripolis Goregaon west brings to the fore some finely designed 2 & 3 BHK apartments for sale in Goregaon west.

Destined to be a great landmark, Ekta Tripolis is a posh gated community with 36 residential floors in one of the greenest parts of Goregaon west – Siddharth Nagar. Among many other powerful features, Ekta Tripolis also boasts of the first ever Evander Holyfield Gym in Mumbai. Evander Holyfield Gym also happens to be one of the world's biggest & finest international gym brands.

This well crafted luxury residential project in Goregaon west has the unique distinction of blending luxury with exercise & fitness and thus taking fine living to whole new level.

This project is now on the verge of completion and if you are searching for a modern & extraordinary apartment for sale in Goregaon west or planning to invest in a luxurious flat in Goregaon west then you should look no further than Ekta Tripolis. This master piece from Ekta World is an amalgamation of the best in everything, right from well planned apartments, spacious interiors, modular kitchens, imported marble flooring and some of the best amenities that Goregaon west has ever seen. Ekta Tripolis is now one of the most awaited ready to move in projects in Siddharth Nagar, Goregaon West.

Being in Siddharth Nagar, this classy project is also surrounded by some of the best facilities and social infrastructure including Inorbit Mall, VIBGYOR School, Vivek Vidyalaya School, Ozone Swimming pool, etc. It is also close to all major landmarks in Mumbai including the International Airport.

Another very unique feature that Ekta Tripolis brings to the table and which almost all buyers in this project have appreciated is the affordability factor. Being compact & well planned and with very less wastage the 2 / 3 BHK flats for sale in Ekta Tripolis have been pocket friendly too. Hence the number of aspirational buyers who were searching for an affordable flat for sale in Goregaon west yet having all amenities and luxury facilities found their answer in Ekta Tripolis.

99sqft.com rates Ekta Tripolis as one of the three new residential projects in Goregaon west that have been responsible in glorifying the face of Siddharth Nagar as a western suburb location.


The Luxor

As the name suggests, The Luxor Goregaon west is a luxury project taking shape very close to Ekta Tripolis. This is one of the 3 luxury projects in Goregaon west, Siddharth Nagar that have been discussed in this particular article.

Being developed by a relatively lesser known company called Sangam Lifespaces, The Luxor Goregaon has an interesting combination of apartments to offer. The Luxor has 2.5 / 3.5 / 4/ 6 BHK spacious and well laid out apartments and these happen to be some of the best luxury apartments for sale in Goregaon west today. The sizes and the grandeur that these apartments manage to create are definitely not a common sight in Goregaon west real estate market. To be honest there are no actual 6 BHKs for sale in Goregaon west that any developer has ever advertised before. (Combining 2 apartments of 3 BHK to make a 6 BHK is a different thing altogether !!)

The Luxor also has some of the most modern amenities to offer to its discerning buyers. Some of these include Italian marble flooring, video door phone, imported bath fittings, cricket net, grand entrance, car wash, swimming pool, water harvesting and so much more.


The Luxor Goregaon symbolises the new status of Siddharth Nagar as an upcoming super prime location and Goregaon west as a suburban destination as a whole. Also the kind of aura that The Luxor has been able to create, 99sqft.com would definitely not hesitate to rank it among the 3 top new projects in Siddharth Nagar, Goregaon west that have been highly instrumental in taking the brand value of this location few notches higher.
---
--- ---
---